ShiftCon Love Package
Have you heard about the ShiftCon blogger conference? ShiftCon is an eco-wellness influencer conference focusing on wellness and health. I was planning on attending the conference this year in California but I couldn't make it. Thankfully, I didn't miss out on all the fun because I was lucky enough to receive a love package from the many ShiftCon partners. I can't believe how good everything is.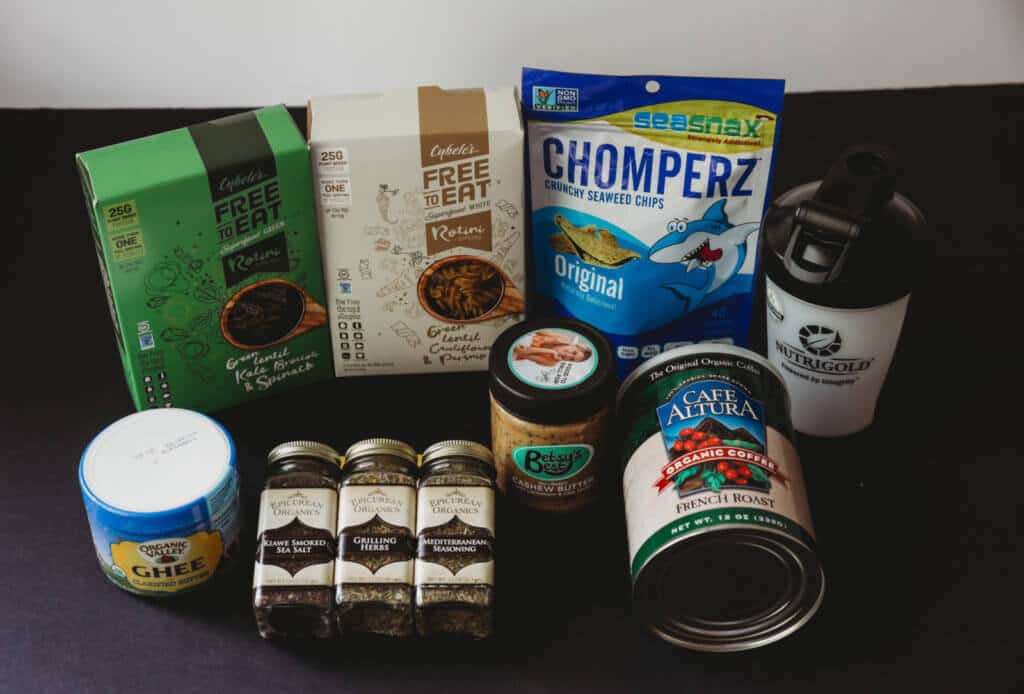 Gluten-free and organic foods
I received many food items from brands like Ona bars, SeaSnax, Cafe Altura, Cybele's Free-to-Eat, Organic Valley, Betsy's Best, and Mountain Rose Herbs.
We used our Mountain Rose Herbs to marinate steak last night and wow, the flavor was incredible. We also got seaweed chips from SeaSnax that were surprisingly delicious too. To cook the sautéed potatoes we had with steak, we used the Organic Valley clarified butter. Mmmmmm!
Willy loved this rich and yummy organic coffee from Cafe Altura, and he brings the Ona Bars (that are vegan and gluten-free with no-added sugar) with him when he goes out for a snack.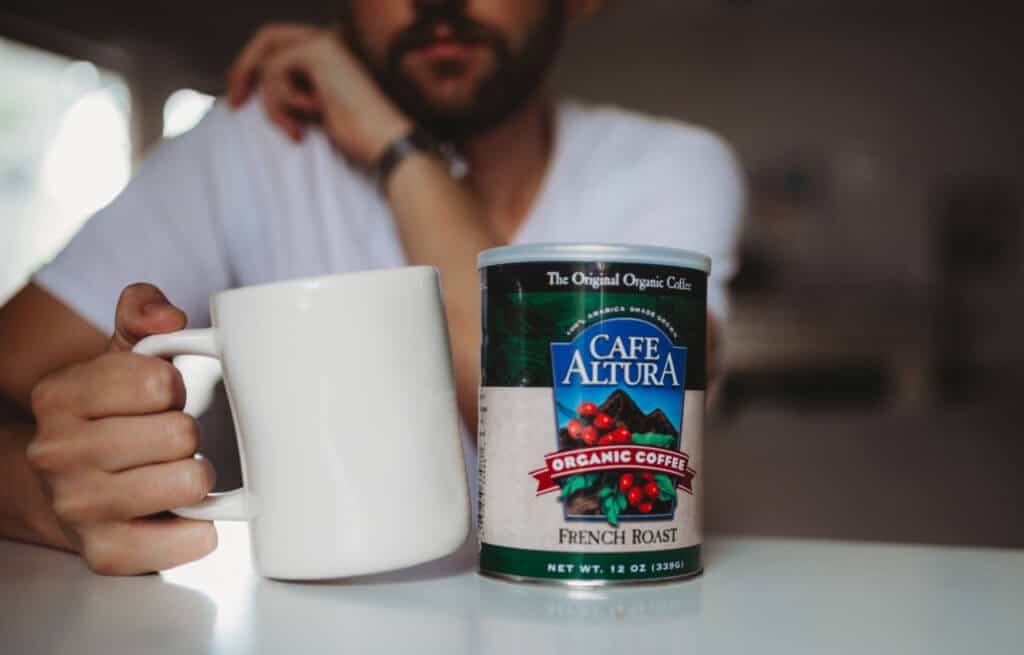 We've been making sandwiches for the boys with the cashew butter from Betsy's Best, and Charlie and Jude approve. It's a great option for us in lieu of peanut butter which is not allowed at Jude's school. Cashew butter and jelly sandwiches!
Last of the food stuffs but not least, the amazing pasta from Cybele's – We limit gluten as much as possible in our house so these were a big hit.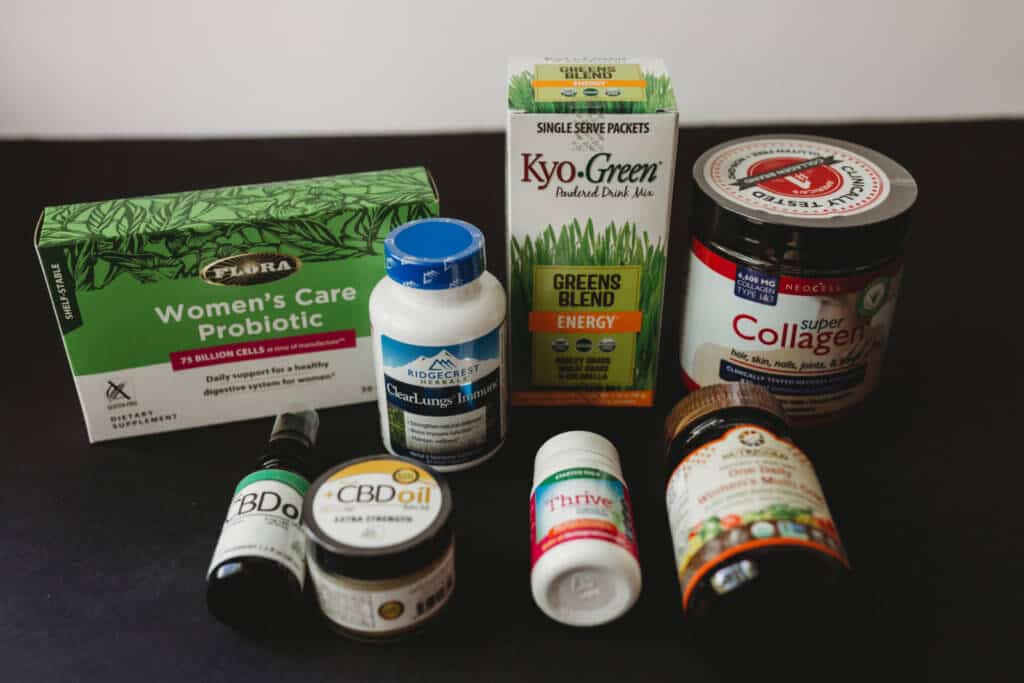 Supplements and Vitamins
We got lots of vitamins and supplement which I'm a proponent of. They're all high quality. There are some that Willy uses and some that I kept for myself.
Willy's been taking the Kyo-Green energy supplements and also CBD oil supplements from PlusCBD Oil. Additionally, he's been taking the RidgeCrest Herbals ClearLungs Immune supplements that boost your immune function and help maintain health. He hasn't been sick all winter. Woohoo!
I've been taking One Daily Women's Multi Gold from NutriGold. I think it's important to take a multivitamins everyday. I started when I was pregnant with Charlie and never stopped.
We also received other amazing supplements and vitamins that I haven't had a chance to try yet from Flora Inc., Women's Care Probiotics, and also NeoCell super Collagen, which is good for hair, skin, and nails. Finally, we also have RidgeCrest Herbals ClearLungs Immune supplements and Thrive probiotics.
We and the kids take all sort of vitamins, supplements and probiotics every day and it may be a coincidence but we haven't been sick all winter. These products are definitely a big part of our lifestyle. Check these awesome brands out!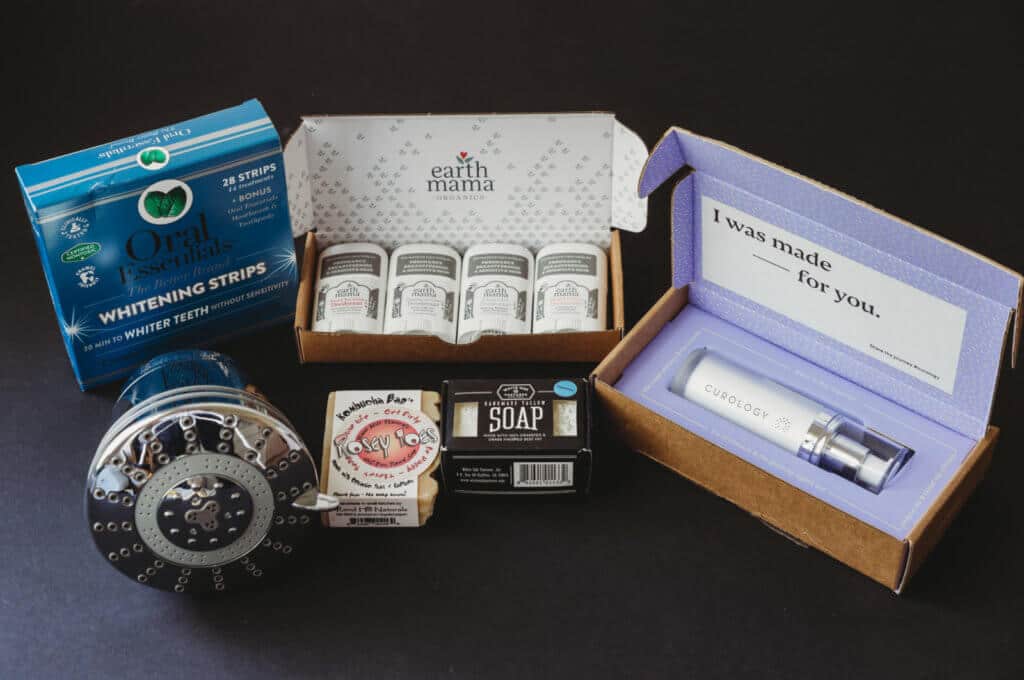 Beauty and self-care natural products
Next, I received products that allow me to take care of myself. I got two great soaps. One from White Oak Pastures and another one from Kombucha Kamp. If you know me, you know how much I like kombucha so I was excited to try it. We're not ready yet to start brewing our own Kombucha but when we are we'll get everything we need from this company.
I was also super excited to receive Whitening strips from Oral Essentials, Inc.that do not cause sensitivity. I have sensitive teeth and these usually hurt me so bad. I was pleasantly surprised with these.
Then, I also got natural deodorants from Earth Mama Organics. I know what you're thinking: natural deodorants don't work. I was skeptical too but these worked for me when I tried them and they smell amazing thanks to the essential oils used.
Finally, I received this amazing showerhead from Clearly Filtered Inc. I haven't installed it yet because I'm saving it for when we move to our new house but I love the concept. It's a shower head that filters the water as it passes through it.
Here's a recap of these amazing brands. Check them out!
To see more of my autism blog posts, click here.
To see more of my mom blog posts, click here.