Going out in public
If your child has autism or not, you know how chaotic running errands can become. Honestly, sometimes I choose to stay home because I don't want to be stuck in a situation where Charlie will be having a huge meltdown in public where there's nothing I can do to stop it. It happens often, and it's frustrating for both Charlie and me. I love going to Target but if Charlie's in a grumpy mood, I often won't risk a public meltdown. That said, there are things you can do to make it easier. You can plan ahead and have a plan in case your child has a meltdown. That way, if your child does have a hard time you'll be prepared.
Bodomint diaper bags
Don't underestimate the importance of a good diaper bag. Having a functional diaper bag is very important. At some point, I decided that a diaper wasn't needed anymore because the boys were getting bigger. I'd just just toss a diaper and a pack of wipes in my handbag but boy was I wrong! It wasn't convenient and it was frustrating to look for something in my giant bag without pockets. I decided I needed to find a good diaper bag to make running errands easier and less stressful for all of us. Now, I can fit and organize all of Charlie's favorite items and my own stuff in one place.
I recently stumbled upon this diaper bag brand on Instagram: Bodomint. First of all, her bags look amazing. I'm superficial. Fashion is important to me, I can't help it 😉 . I've seen some diaper bags full of pockets that are super-functional but they looked like backpacks you'd take out on a hike in the mountains, and that's just not my style. It would most likely have stayed in the closet looking new forever. I'm sure other moms and bloggers know what I'm talking about. Anyways, BodoMint diaper bags are so stylish, and I love them for it, but most importantly, they are also highly functional.
Bodomint diaper bags feature plenty of outside pockets and inside pockets:
6 interior pockets including 2 interior side bottle pockets
5 exterior pockets including 2 exterior side bottle pockets
Magnetic closures so you don't have to fumble with snaps or buttons
Zip top closure
Wipeable PVC-free coated cotton canvas exterior, faux leather trim, black nylon lining
2-way convertible: messenger or backpack style, stroller straps sold separately
Diaper changing pad

Diaper bags and autism
Having a functional diaper bag with me when we go out with Charlie has provided me peace of mind. I never know what Charlie will need to soothe himself if he happens to have a tantrum in public so I like having a few options in our diaper bags. I usually pack:
iPad
Blanket
Favorite book
Favorite toy
Diapers
Wipes
Many different snacks
Bottles
My wallet
My phone
Yep, that takes up a lot of space. You understand now the importance of a diaper bag with lots of pockets. I'm also very organized so I like being able to grab something right away without having to dig through my bag. I can fit a lot in our Bodomint bag and it's organized! That way, if Charlie has a meltdown, I have everything easily available to soothe him. I can even fit in his little blanket in it without sacrificing other items.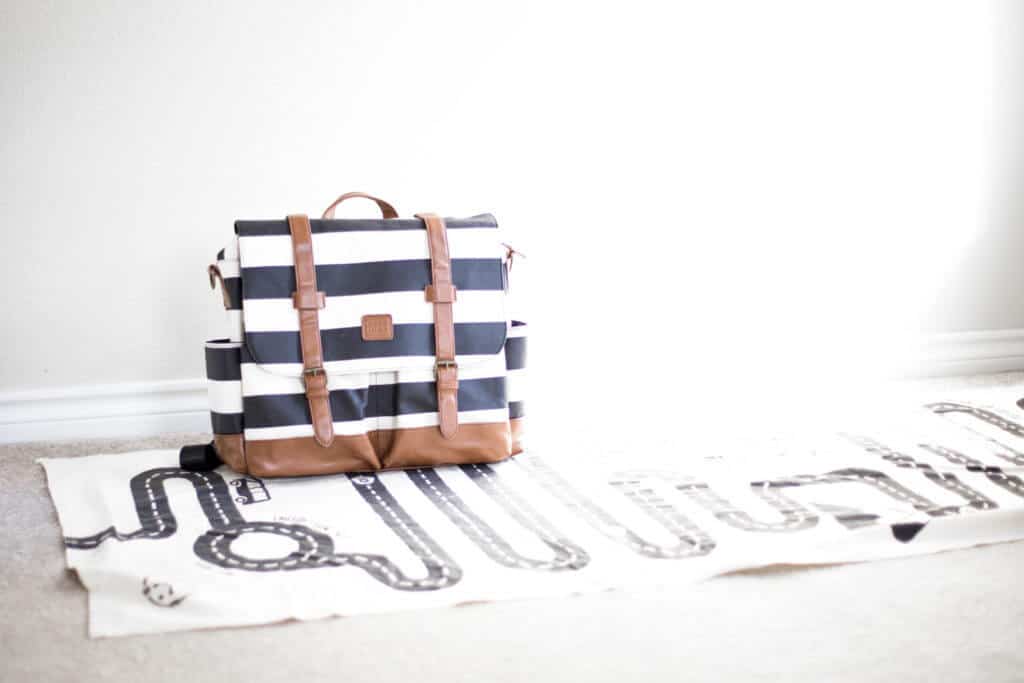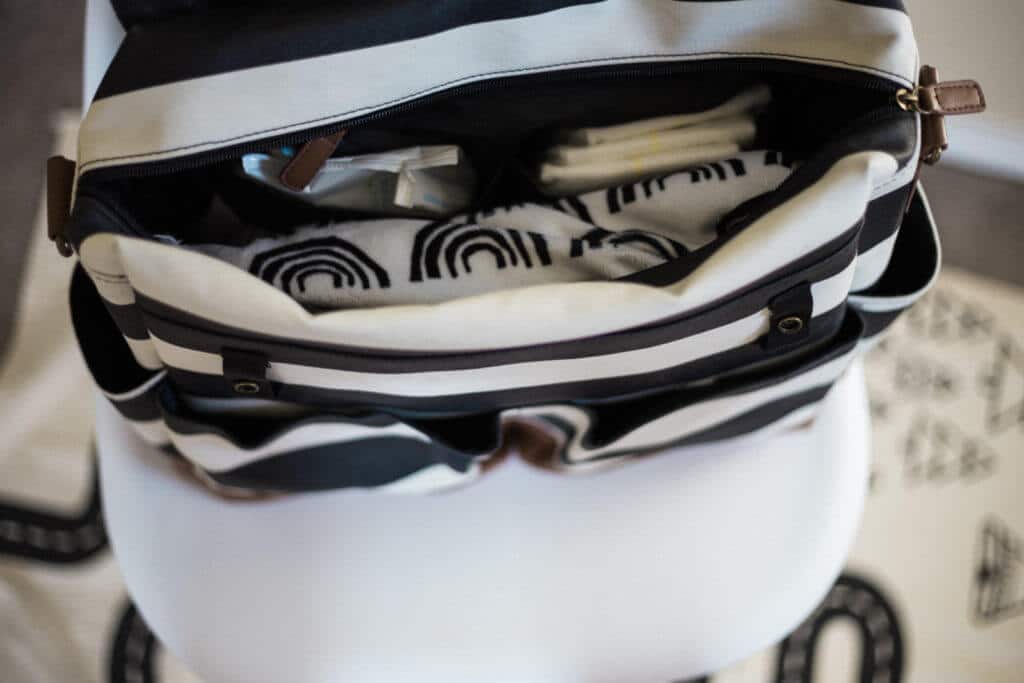 Autism and running away
Antother common issue with many children with autism is their tendency to run away and not follow directions. It's obviously a safety concern. Charlie is a runner. When I'm out and about with him it's crucial for me to have both of my hands free. Bodomint diaper bags are awesome for that because they can be used as a backpack. Like this:
It's a lot easier to go out with him and tend to him when both of my hands are free. And I use this diaper bag when I'm not with the kids too. We're planning a trip to the beach next month and this is going to be an awesome beach bag! It's gender neutral too so my husband doesn't mind carrying it.
Thank you Bodomint for such a beautiful functional bag!