Playing dressed up is great. It's fun, it encourages kids to use their imagination, and it sparks their creativity. It's even more important if your child has autism because it's often difficult for autistic children to play pretend. Playing dressup is a great way to work on that skill.
Charlie doesn't understand the concept of being a superhero but he loves wearing his cape from Little Dress up Shop. He likes to run with it to make it fly behind his back. It's so sweet.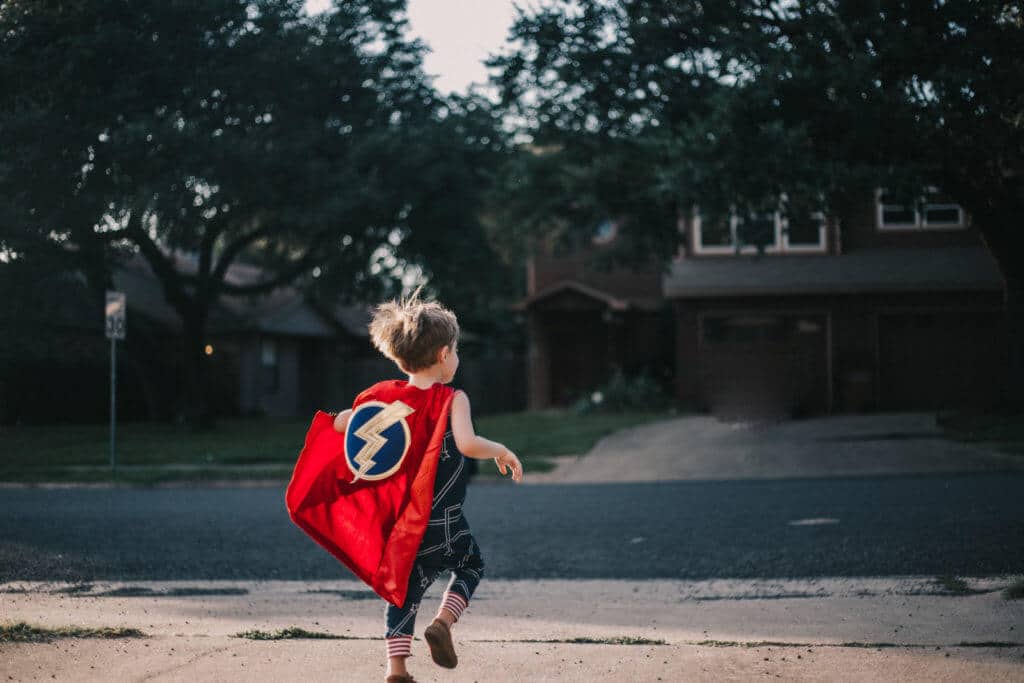 5 reasons to encourage your kids to play dressup
1. Imagination
Children's minds are pure. Stimulating their creativity from a young age is key to them being successful and creative adults. Kids truly need time and space to develop their creative imaginations away from the structure that defines their day so often.
2. Motor skills
Costumes are a great way to encourage our kiddos to put on their own clothes. There are a variety of clothes for playing dress up, and they'll all have little challenges like zippers, buttons, sleeves, hats, and glasses to work through. It teaches your children important self-care skills. Not to mention, when your kids are finally dressed up as their favorite character they can physically imitate them. Jumping like superman, dancing like Michael Jackson, or kicking the ball like Zinedine Zidane. These all encourage different motor skills.
3. Empathy and emotional development
Encouraging your child to be a doctor or a veterinarian can teach them empathy. If your child plays doctor, they can pretend to take care of a sick stuffed dog. Is the kitty hurt? What should he do? It's a great way to increase children's problem solving skills too.
4. Social development
Playing pretend is a good way for children to socialize with their friends. While playing dressup, they can learn skills like turn taking and imaginative play. Someone can be the cop, and the other can be the bad guy, or something like that. They learn to pay attention to their peers.
5. Increase vocabulary
Finally, another awesome thing about playing dress up is that it has the ability to increase your child's vocabulary. Talking about activities and stories specific to what your child is dressed up as will encourage him to learn new words and expand his vocabulary while still having fun.

Little Dress Up Shop
As you know, both Charlie and Jude have sensory issues and are picky with clothing. Costumes can be itchy and uncomfortable for children so I was so happy to find Little Dress Up Shop. Their costumes are adorable! They have all kinds of costumes for children 3 years and older. I got Charlie this superhero cape and this super-cute UPS guy costume. Jude loves when Charlie puts on the UPS guy costume.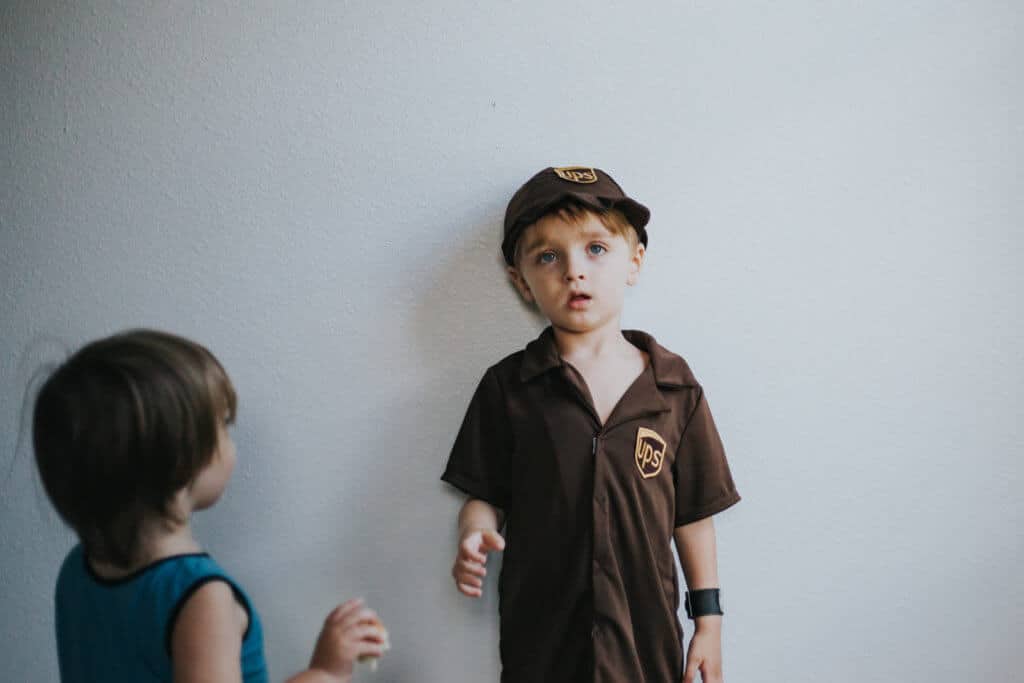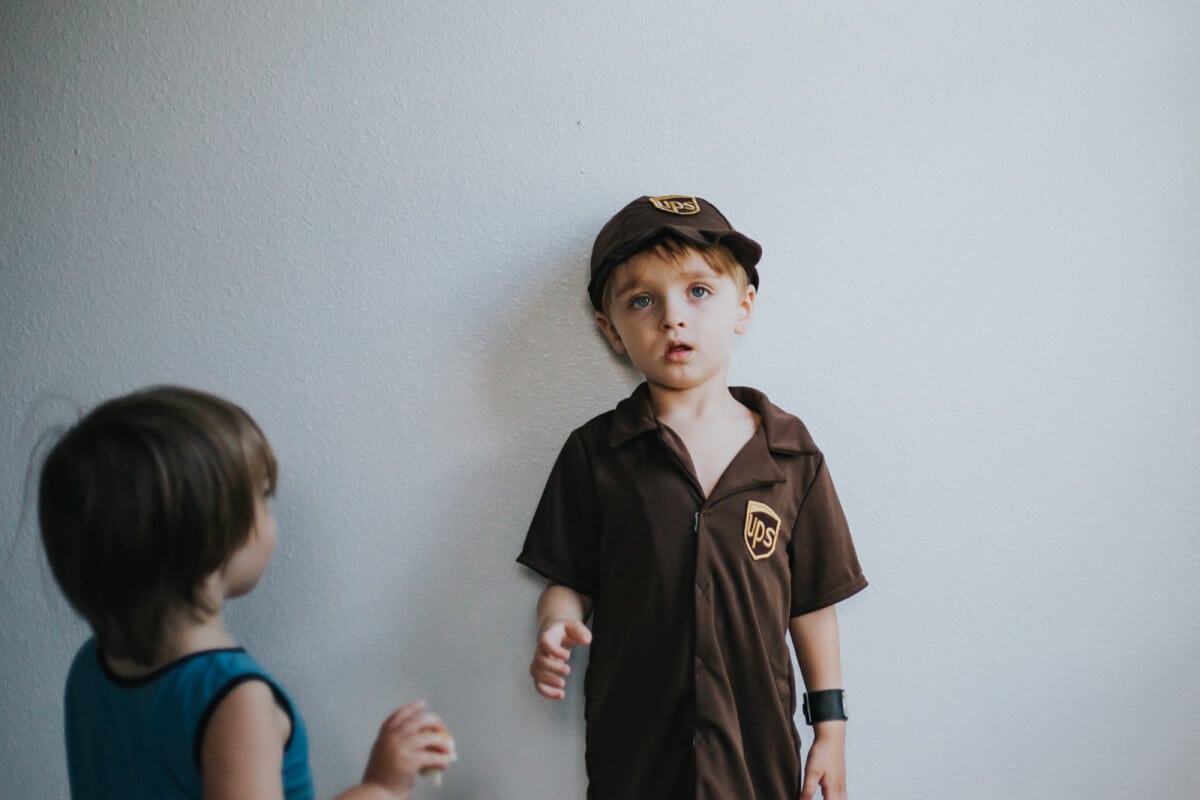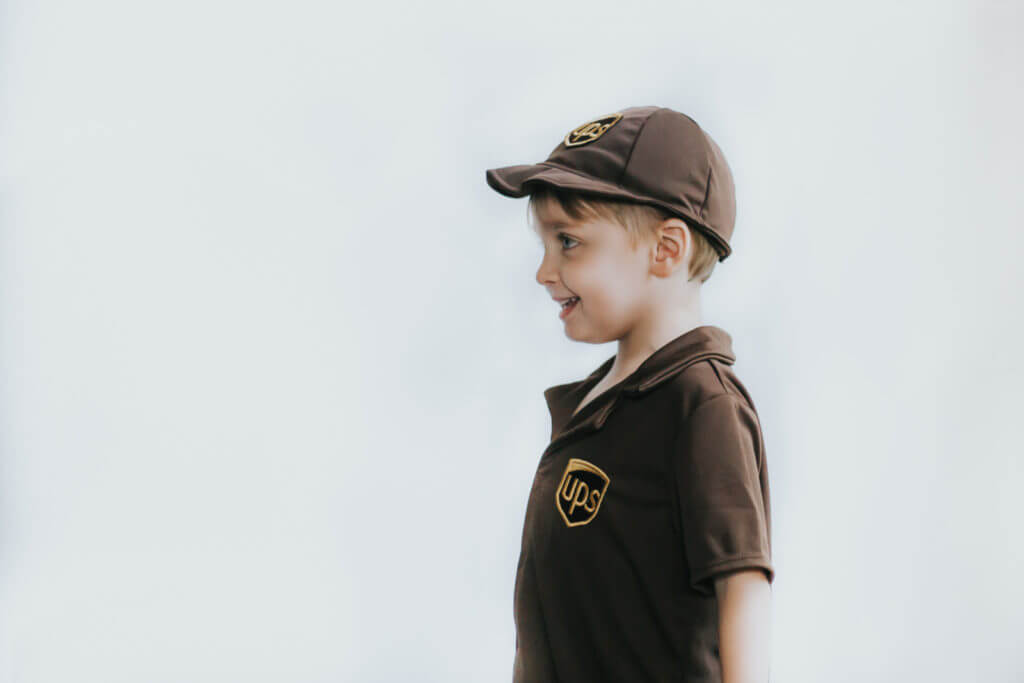 The cape is the perfect weight too. It's not too heavy on Charlie's neck when he runs with it making it fly. He doesn't have the prerequisite skills to be able to play-pretend yet but this cape fits children up to 8 years so I'm sure he'll be able to play superhero before he outgrows it.
Kids should love being kids and delight in playing dress-up without being bothered by any itchy fabrics.  They know that discomfort just leads to costumes that hang in the closet so they've made sure all of their costumes are kid tested and pass the non-itch test.  They also make sure that the dress-ups sold in their store are apparel quality so that they last and last, all year long.  Everything they sell is machine-washable and won't shed glitter in your machine or all over your house! Little Dress Up Shop guarantees a delighted child by making sure everything is Itch-Free, Glitter-Free, Washable, and Durable.
Little Dress Up Shop is having a Christmas in July sale that you don't want to miss!
Christmas in July

use code JULYJOY5 FOR $5 OFF $35
use code JULYJOY10 FOR $10 OFF $70
(no exclusions, so these are good even on sale-priced items, clearance items, and discounted sets.)