Wooden Water Table DIY
I love wooden toys for the kids and I've wanted to get a wooden water table because, in Texas, it's already hot as hell.
That is until my jaw dropped after seeing the price of water tables on Wayfair, Amazon, and other popular websites.
I showed Willy, and we decided it would be way cheaper and super-easy to make our own. So we did. I'm going to share a simple tutorial where you head to Home Depot or Lowes and ask them to cut wood to the right size. All you'll have to do is assemble your water table with screws!
It cost us about $30, bin included. Say what?? Okay, sharing my secrets now 🙂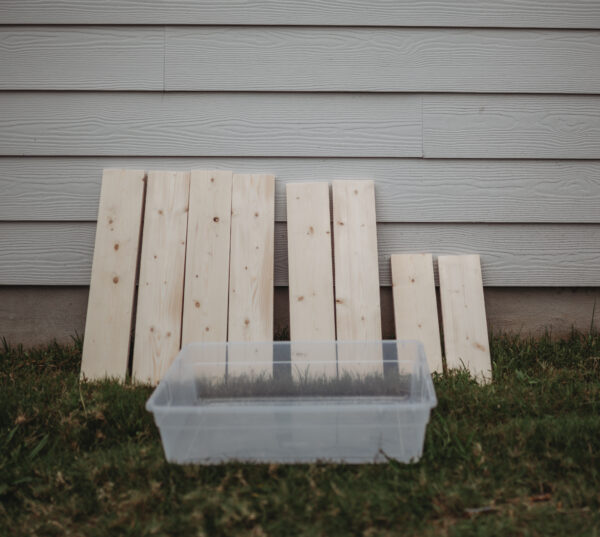 DIY Wooden Water Table Tutorial
Material:
(x20) … 1¼-in. wood screws

(x1) ……

Bin, Sterilite 28qt

(23-in. L // 16¼-in. W // 6-in. H)


(x2) ….. Wood (8-ft, L // 5-in, W // 0.75-in. H)
Instructions:
Ask for your wood to be cut into pieces of these lengths:

(x6) 22.5-in (length-pieces and legs)

(x2) 14.75-in (width-pieces)
Build the box:
Align the two shorter width-pieces so they butt up against the sides of two longer length-pieces as pictured above.

Using an electric screwdriver or drill, screw four screws in to make a box, as pictured above.
Build the legs:
Place the 4 remaining pieces of wood, 2 on each short side of the box, so the top and side edges are flush with the box's.

Make sure each leg-piece covers the seam where the width and length-pieces join.

Use four screws on each leg, as pictured, to secure each leg to both pieces of wood it's against.

Place your bin inside — the box should hold it firmly in place — and fill with water.
Et voila! Your water table is ready!
Perfect water table for autistic kiddos who are sensory seekers
As an autism mom, I'm always looking for ways to satisfy Charlie's sensory needs, and this has brought him so much pleasure and entertainment. He squealed when he saw it after therapy yesterday. He instantly started splashing and pouring water from one cup to the other. I have a feeling that'll last us all summer and more.
Try it out and let me know how your DIY wooden water table turns out!