Autism, SPD, and feeding issues
As you may know, something my boys struggle with is eating. Charlie is okay at feeding himself… Well, he understands the concept of using a spoon or a fork ,but what a mess! If you come by our house after a meal, it looks like a scared raccoon got trapped in the fridge and fought his way out. Crumbs everywhere, yogurt smushed in the carpet, ketchup splatter on the walls… You know what I'm talking about. Anyway, the main issue with Charlie is actually getting him to try new foods and textures for the first time. He'd be happy to just eat toast and bacon for the rest of his life, but unfortunately that's not an option.
Jude's feeding issues are different than Charlie's but they're improving. He's definitely adverse to trying new foods and he has this quirk of gagging on many textures. Right now, with his therapists, we're focusing on Jude sitting at the table and exploring different foods by playing with them. The goal is to make feeding fun. We've tried singing and playing with the food but progress is slow.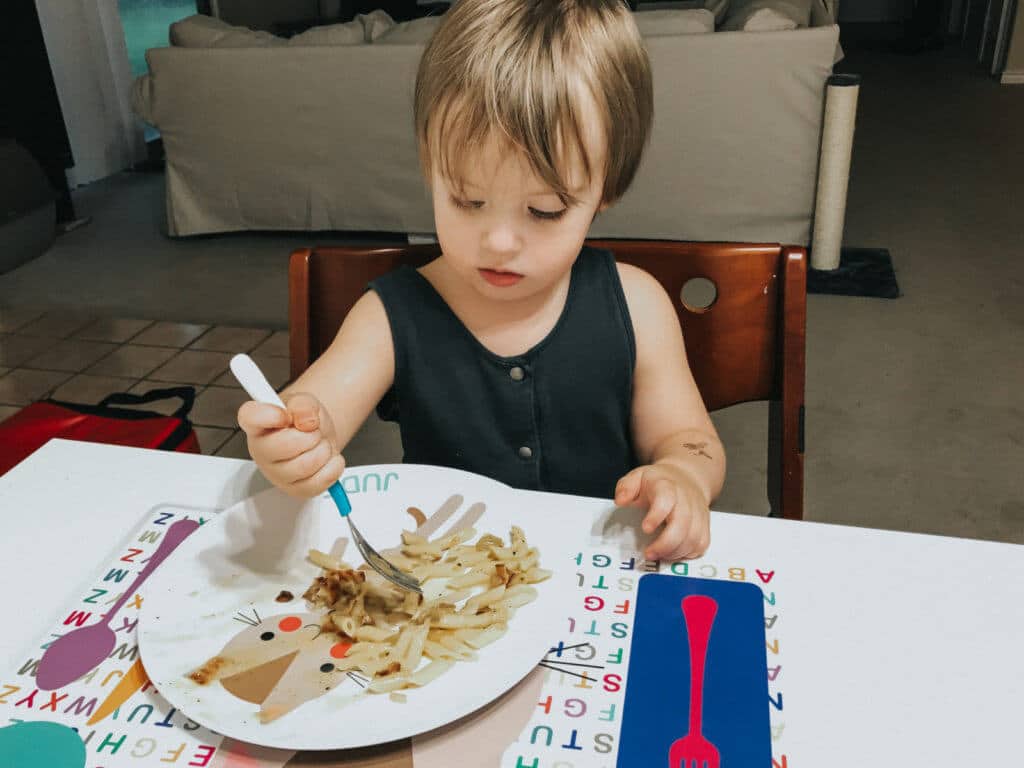 Dylbug: Cute plates to make eating fun
I was at my wits ends so I searched the web for a solution and came across this company, Dylbug. They make incredibly cute baby plates. Jude loves animals so I figured I'd give them a shot. A key thing about Dylbug plates is the food cutter they sell with it that makes food-clothing for your animals. How fun is this? Jude actually loves it. It helped with step 1 of the feeding process: touching the food.
Where it gets even better is that Jude now enjoys meal time. He happily sits at the table with us and yells "MEOW" when we tell him it's time to eat, all because he wants the cat plate with his name on it from Dylbug.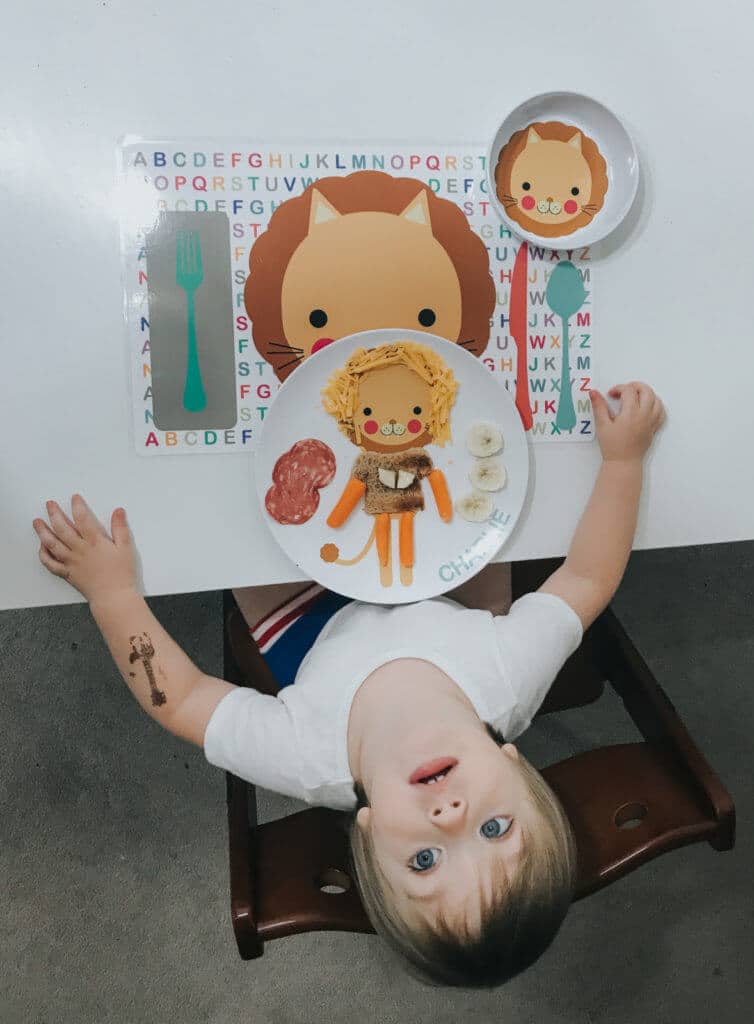 I knew it'd be more challenging with Charlie. It's hard to get him interested in anything but he does love lions. That's why I got the lion plate and placemat for him. He likes to look at his new set so it helps him stay put at the table while we're having dinner. He's pretty inconsistent with trying new healthy foods but I didn't expect a miracle.
How to use Dylbug as a teaching tool?
Generalization and rigidity
Another great thing about these Dylbug plates is that they are a great tool to teach children about generalization. Children with autism often struggle in that area, as well as being overly rigid. For instance, Charlie won't eat toast unless it's perfectly square. His rigidity is the cause of many tantrums. His therapists try to work on flexibility as much as they can. Toast won't always be cut perfectly square, and it won't always be the same brand. This is just a little anecdote but when I used the Dylbug food cutter to make a lion outfit, Charlie actually ate it. 🙂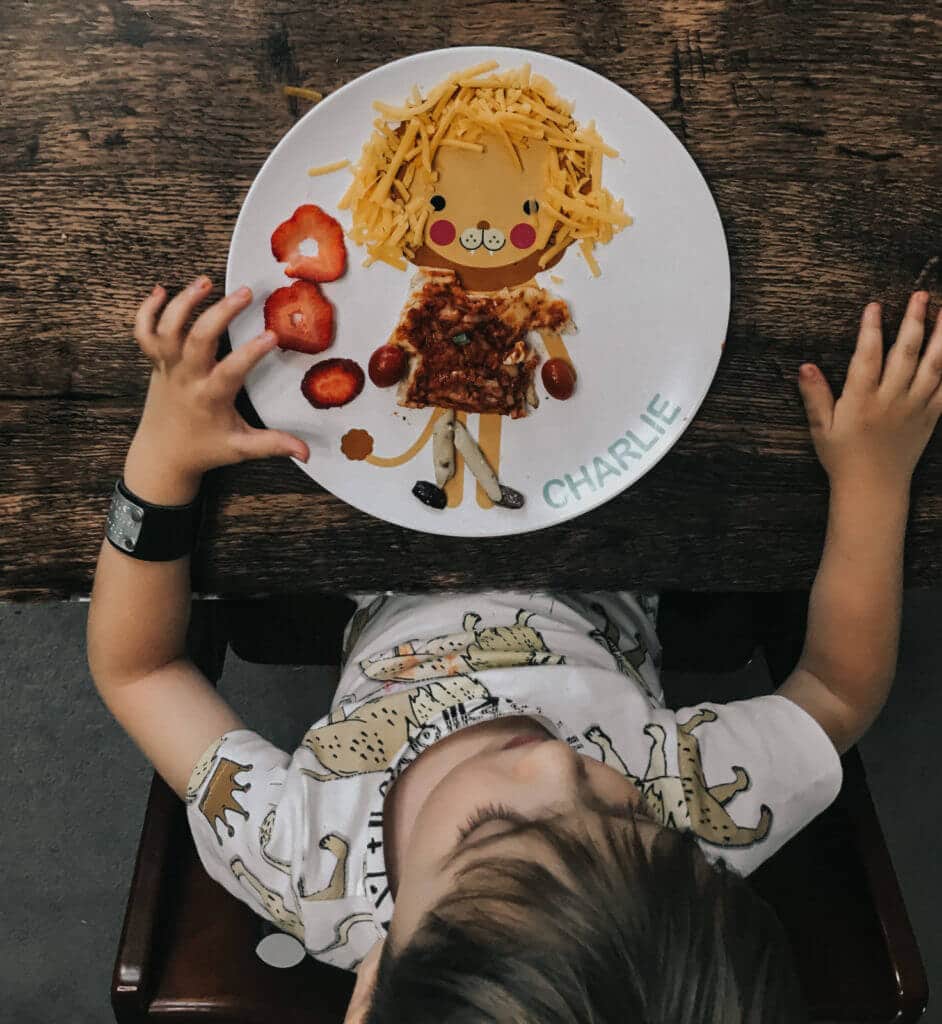 Pretend play
These plates are also good for pretend play. This is linked to generalization, the ability for a child to see more than the actual object in front of him. Special needs children often can play less and demonstrate fewer varied pretend play behaviors than children with typical development. This is a very advanced skill for a child like Charlie so I didn't get a chance to test it out but it worked wonders with Jude. We pretend we're feeding the cat and the lion while making chewing noises.
Preschool skills
Dylbug is also a great tool with which to teach children preschool skills like colors and letters. Every night, Jude points to different part of his plate or placemat to show us that he knows his colors. You can also work on animal soundsand counting,
Dylbug: A great tool for your picky eaters
These plates and accessories have so much potential. The mealtime possibilities are plentiful! If you need inspiration you can check out the Dylbug Instagram page here.