I was diagnosed with high-functioning Autism as an adult. It may be a surprise to some of you, but possibly not so much for other people who know me well. You must be wondering why I haven't spoken about it before, especially after I was attacked for talking about my son's autism from a "neurotypical perspective". How ironic…
So, here are the main 3 reasons why I haven't talked about it before today:
Reason #1: I attach a lot of importance in being diagnosed professionally. People can have autistic tendencies/behaviors and not be autistic. Just because someone is socially awkward and flaps his hands doesn't make him autistic. My therapist had previously mentioned to me that I showed signs of Autism Spectrum Disorder but we didn't pursue any testing at the time. More recently I wanted to know for sure so I decided to go through a full therapeutic assessment.
Therapeutic Assessment is a paradigm in which psychological testing is used to help people understand themselves better and find solutions to their persistent problems.
It differs from traditional psychological assessment, whose main goal is to diagnose disorders, plan treatments, and evaluate the effectiveness of interventions.
Therapeutic Assessment can serve all these purposes as well, but its primary goal is to facilitate positive changes in clients.
With a psychologist, I went through extensive and expansive testing. I took questionnaires, lengthy cognitive tests, the Rorschach test (ink blot), hours of interviews, and she got feedback from my mother and my husband. After a while, the psychiatrist was able to give a diagnosis. I have high functioning autism which would have been considered Asperger's before the recent change in terminology broadly lumped it into Autism Spectrum Disorder.
Reason #2: Autism is very complicated. The spectrum is wide and no two people on the spectrum are the same. I don't want to confuse people. How can Charlie and I both be autistic when he can't even answer to his name and I've managed to have a family of my own?
Doesn't that not make sense? It's confusing to me… I feel like it's not fair. A part of me is mad. It doesn't mean I don't accept our diagnosis because I do. I understand how the spectrum theoretically works but in my mind the severe side of the spectrum, where Charlie lives, should have a different official term to avoid confusing people, and better be able to describe the person's abilities and disabilities.
People all over the autism spectrum do struggle in the same key areas as each other like social communication, restrictive interests, repetitive behavior, and social intent. But they struggle differently and on different levels, and they have any number of other idiosyncrasies that can make one person on the spectrum totally foreign looking to another.
Charlie is on the severe end of the spectrum. He struggles in more areas and more severely than most people on the spectrum, and I'm on the mild end of the spectrum. Yet, we both fall under that same umbrella called Autism Spectrum Disorder. Phew. Complicated.
I like this excerpt from a comic I found online. You can see the full version here.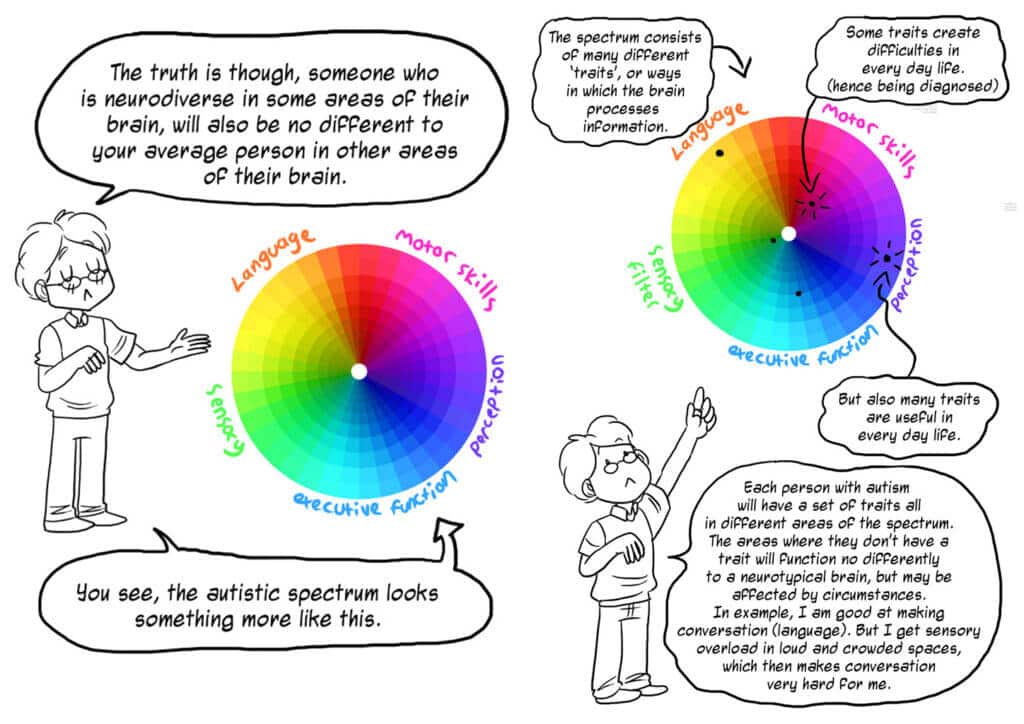 Reason #3. Finally, it's taken a lot of courage for me to put this all out there. I feel very vulnerable and it's not pleasant. It's not easy for me to talk about myself. But I also feel like I'm helping more people when I share Charlie's story as opposed to mine. I'm 27, I was able to have a family of my own. Yes, there are things I cannot do like other people but overall I have it pretty easy compared to Charlie. I find that there's a lot of information on the internet about high-functioning autism but not so much about severe autism. That said, I want people to realize that there's more to autism than just social awkwardness and stimming behavior. High-functioning autistic people struggle too. I like this quote which sums it up perfectly:
The difference between high functioning autism and low functioning autism is that high functioning means your deficits are ignored and low functioning means your assets are ignored. 
P.S. If you're a neurotypical parent of an autistic child, I don't think you should let anybody tell you what to say or not say about your child, or that your experience is somehow not relevant or valid. You have the right to share your kid's journey with autism even if you're not on the spectrum. Your experience and point of view is just as important.