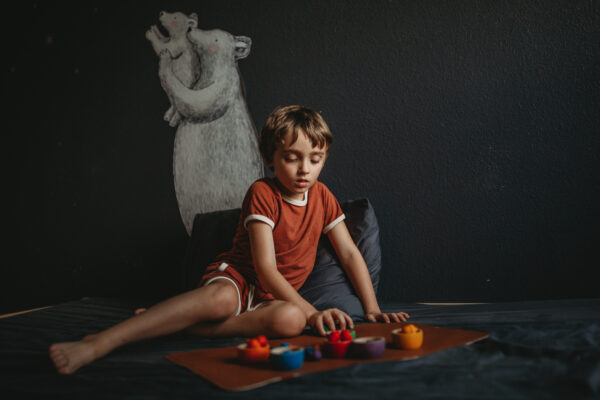 How to make learning fun
When it comes to learning and teaching the boys skills, I like to keep it fun. It's more motivating for them, and they don't even realize they're learning. In their eyes, we're just playing. I say "they", but Charlie's learning different skills than other children his age. At 7, where kids are learning to read and write, Charlie is working on skills like sorting and matching. Of course, our main focus is for him to learn to talk but his lack of verbal communication doesn't prevent us from trying to teach him developmental skills.
Autism and skill-learning
To teach Charlie matching and sorting, we're using the Grapat Bowls and Acorns Sorting Game.
Charlie works on these skills daily with his team of therapists but sadly, because of his autism, he has a hard time maintaining skills. Concretely, what it means, is that if he doesn't practice a skill for a while, he'll forget how to do it, so having toys at home that allow me to work on these skills with Charlie is useful.
Addionnaly, the Grapat acorn set is amazing for fine motor skills. Charlie's just now getting the hang of a pincer grasp. The set comes with tongs that Charlie doesn't know how to use yet but that's perfect because it gives us a goal to work towards. Fine motor skills play a big part in the ability of a child to learn sign language, which is one of our goals for Charlie!
These are from Rose + Rex. I love them because their toys are open-ended, eco-friendly, great to teach kiddos new skills, and of course beautiful. They have a big selection of our favorite wooden toy brands like Grimm's and Grapat. And they also carry some of our other favorite brands like Sarah Silk and Maileg that are amazing for pretend play and imagination. We're not there yet with Charlie, but it's right up Jude's alley.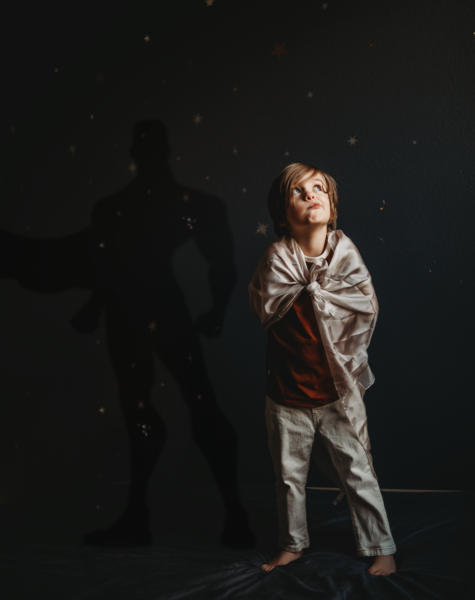 Imagination and pretend-play
Pretend-play is such an important part of development. Children's minds are pure. Stimulating their creativity from a young age is key to them being successful and creative adults. I love our play silks because there are so many ways to use them. They multiply the role-playing possibilities. For instance, Jude uses them to pretend he's at the park having a picnic, or he'll use the blue Sarak Silk as pretend-water for his sea animals. He also uses the bigger ones to make forts, and all of them serve as capes.
These are available at Rose + Rex. It's a one-stop-shop for all your sustainable, beautiful toys. While shopping their website, I also recommend getting their Everyday Play Deck.
Each deck celebrates sustainability, imagination, and the joy of childhood.
The ideas shared in the deck are meant for every child, of all ages and abilities. There's no need to buy anything special, it gives you ideas of things to do using things around the house.
Rose + Rex parenting philosophy aligns perfectly with ours. They share great advice on Instagram, on top of sharing their amazing toys.