Hot summer days are behind us and it's time for pumpkin pie, flannels, and hot chocolate. That said, cooler days bring on the dreaded end-of-year colds and viruses. I'm going to share with you a few tips to help prevent catching a cold, as well as few home remedies for if you do unfortunately end up getting sick.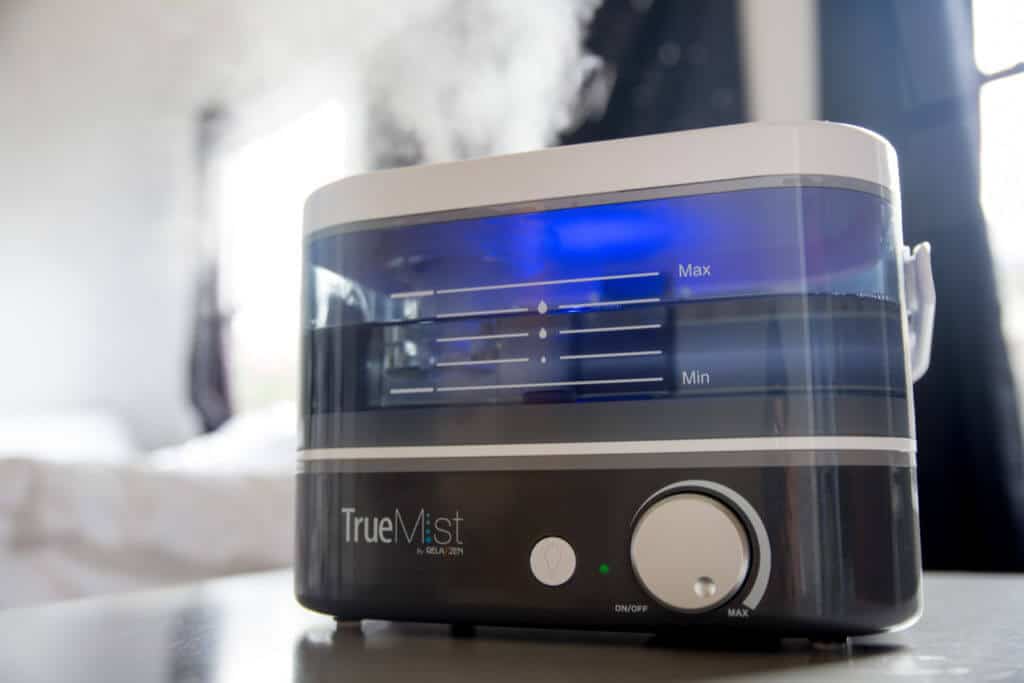 3 tips to help prevent getting sick
This may seem obvious but this is the easiest step in preventing the spread of viruses. Wash your hands often, and if you can't do that use hand sanitizer while entering and leaving different environments. This is especially important if you have children who attend school. We have one bottle of hand sanitizer in the car, one next to our front door, and one inside our house. Too much? Maybe, but probably not.
Make sure you get plenty of rest. I know it's not always easy when you're a busy mom but it's important. Take care of yourself. Additionally, you can also get a flu shot too, and avoid getting close to people who are sick
Learn proper sneeze etiquette!
Do you know how to sneeze, er, rather, where to sneeze? It's certainly not into your hand – the very hand you use to touch everything with that spreads your germs. Flex your arm up and to the side, and sneeze into your upper arm! This is how you sneeze without putting others at risk. And please, people, don't touch faces. That's how you introduce the germs you've touched into your body!
If you've followed all my tips and you still got a cold, well, that sucks. But here's the good news: there are things you can do at home to make that cold more tolerable.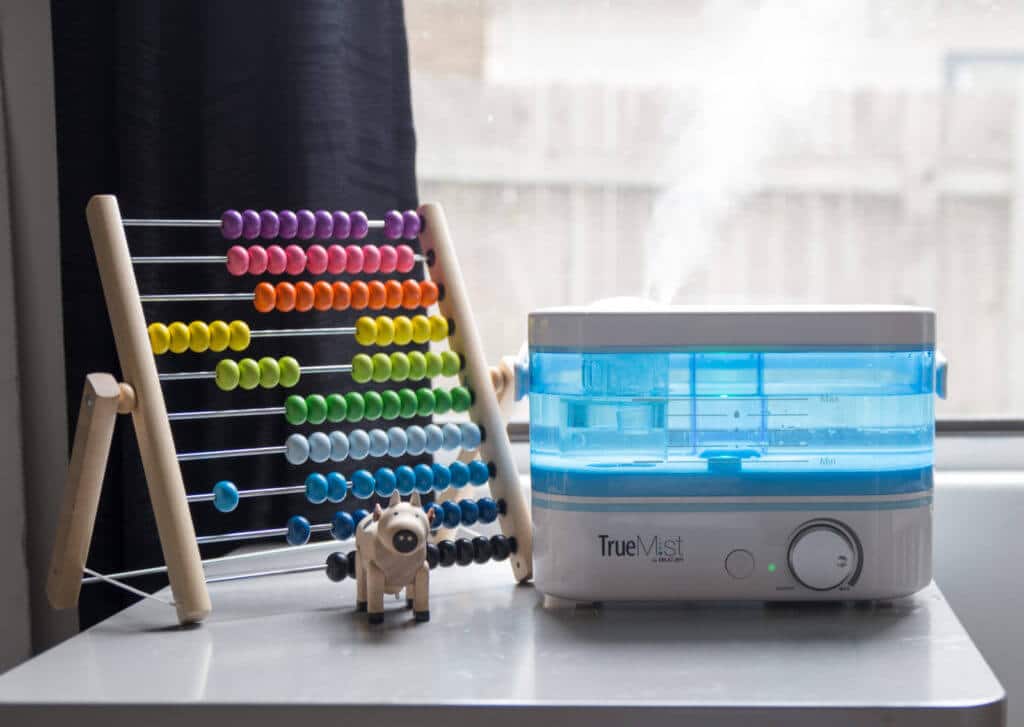 5 tips for when you're sick with a cold
Drink plenty of fluids to make sure you're staying hydrated. Chores can wait. Take care of yourself and rest. This is so important for recovering quickly and fully.
Make yourself a hot tea. One of those sickness or throat related ones. Add some honey in it. It has a soothing effect, especially if you have a sore throat.
Smoothies are great. They're easier to drink than food if your throat is hurting, and you can introduce many healthy vegetables and fruits in it that will help your immune system.
Over the counter medicine
The obvious tip here is OTC cold medicine. This stuff can really take the edge off or help you sleep if you so desire. Ask your a pharmacist before taking any if you're pregnant or breastfeeding.
Last but definitely not least, and this is important, use a cool-mist humidifier. Added moisture in the air helps ease respiratory symptoms, and if you have dry sinuses or cracked lips, this will help too. Humidifiers are great at helping to ease symptoms of a cold, and allowing you to wake up feeling a little bit better the next morning.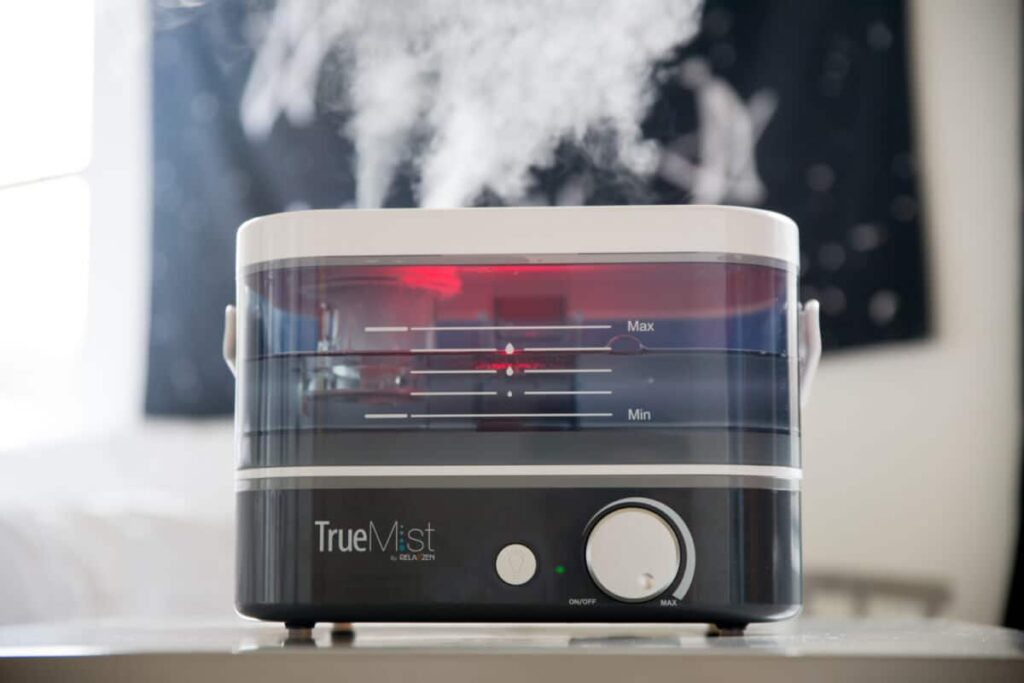 TrueMist Humidifier
TrueMist is a must-have item in every household for the fall and winter. We have one in each bedroom in our house.
When it comes to choosing the right humidifier, I consider myself pretty knowledgable. We've tried a lot of different models and I usually end up disappointed. Something breaks, or it turns out that it's not a cool mist, or the water tank doesn't last the night.
This year, we tried TrueMist and I'm delighted to report that they're incredibly easy to use, the tank is big and lasts over night, and I love the look of it. There are different light settings with many colors you can scan through. You can even buy it on Amazon with free 2-day shipping here.
Compared to other humidifiers, TrueMist by Relaxzen is really easy to fill up too. Just lift the handle and the tank comes right off. You put it under the sink faucet and it fills up in seconds.
TrueMist is also very easy to clean! It has a wider, fully open tank (no hard-to-reach areas or components) which helps maintain mist quality and extend product life. There's also no messy filter to change. Plus, the carrying handle keeps a full tank balanced to avoid spills.
We use it often, even when we're not sick. Charlie's nose gets stuffed up easily so he sleeps with it at night. It helps tremendously. It's also great here in Austin, TX when the seasonal allergies are at their peak.
TrueMist is a must have now that the seasons are changing. Shop here.