Thank you Grimm's toys for sending an amazing selection of wooden children's toys to help with Charlie's and Jude's development.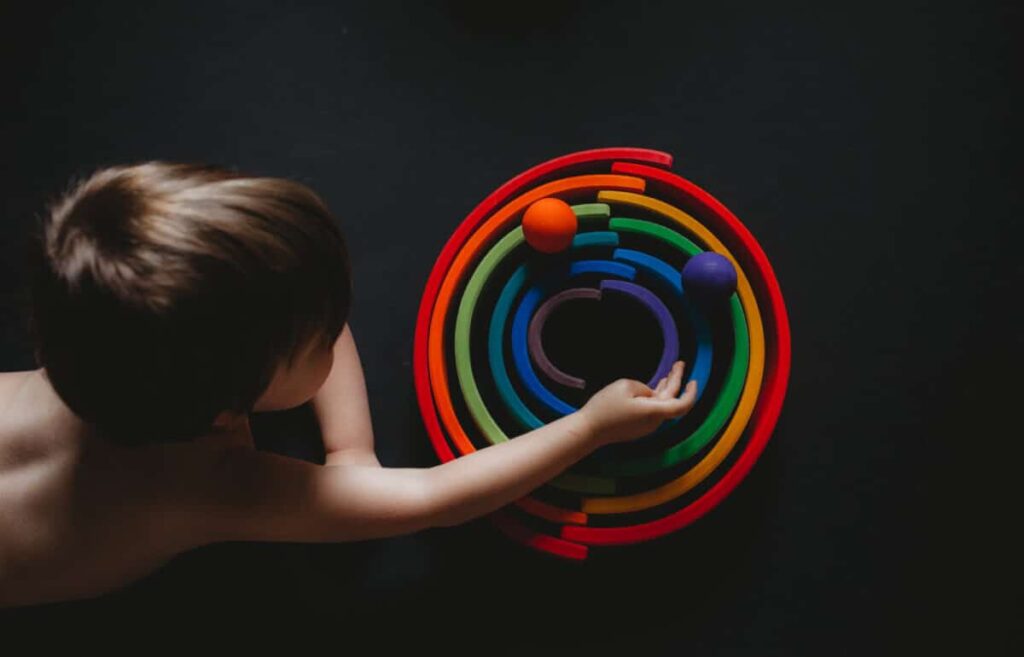 The importance of stimulating your child's imagination for their development
There are many benefits to engaging in imaginative play for children. By encouraging your child to play creatively and think outside the box, you're helping him develop essential skills for life. Imaginative play helps in several important areas. It helps with social skills, problem-solving skills, language skills, emotional skills, and even gross- and fine-motor skills!
Jude's fine-motor and language skills are solid but he struggles playing with toys differently that the way they're intended to be used. He's rigid, and likes things to be the same way every time. When Charlie was two, he used to love ring stackers, and sorting objects by color. I remember how impressed I was and how I loved his way of sorting everything. A few years later though, he's completely lost this skill. Charlie also struggles recognizing colors. Regressions are common in kids with autism, and to limit the chances of one happening, constant vigilance with maintaining skills is required.
So, I look for toys that would help us work on all the skills the boys need help with but would also be fun for them. This is how I found Grimm's, and how I've since fallen in love with Grimm's toys. Check out this stunning color: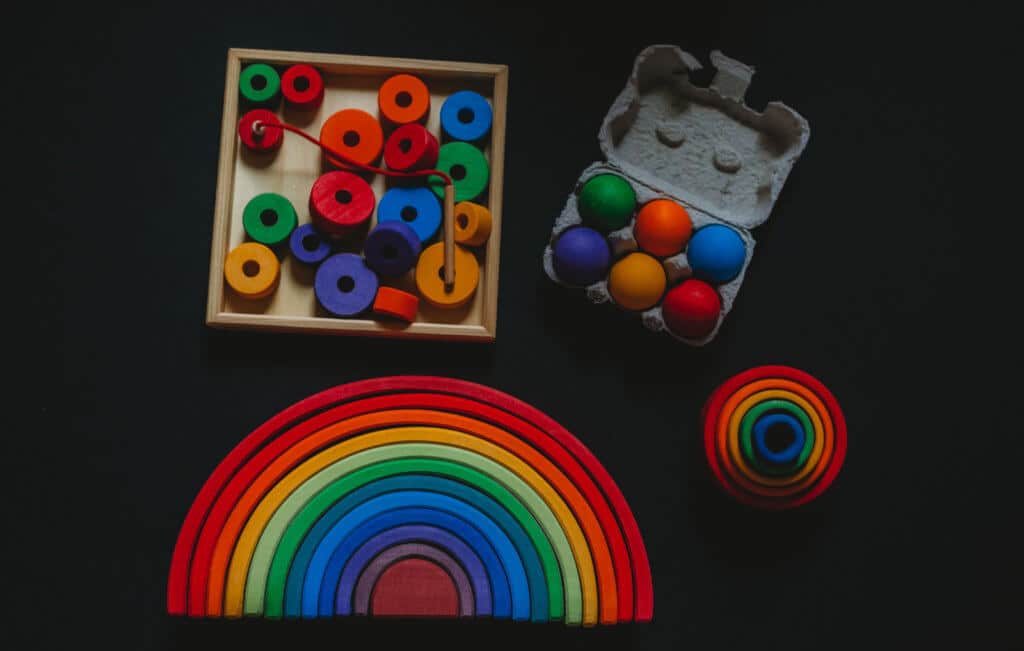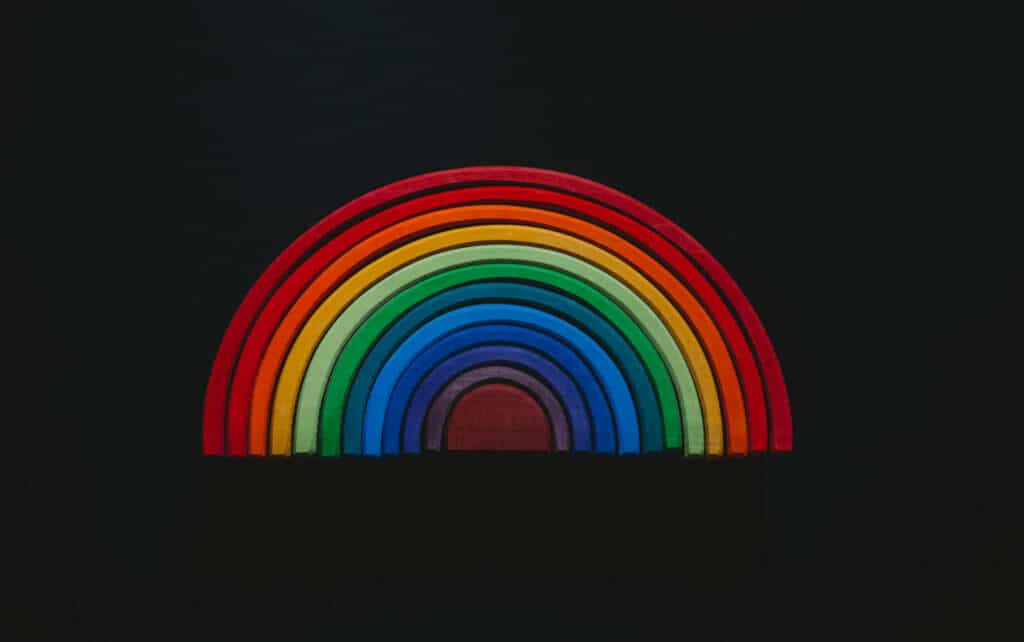 Grimm's toys: perfect for child development
First of all, I love that Grimm's is producing natural and sustainable wooden toys. Their toys are all unique, made in Germany. Here are some more specifics about their manufacturing process.
I knew the boys would love their new toys. Jude's been playing with his Grimm's toys for two weeks now and he's already made progress with creative play. We used this amazing rainbow, with a set of matching colored balls which came in a cute egg carton packaging. We made a tower out of the individual rainbow pieces, and then we also put them on their sides in pairs to create a track for balls to roll down. The possibilities are endless, and that's the point.
Jude also tried to use one of the rainbow parts as hat. It's silly but it's positive, meaning that he's using his imagination to play differently. With the help of his daddy, he made that long track for those colorful wooden balls. I think it's my personal favorite, and with another wooden toy propping up the end of the table a few inches, I love how fast and smoothly the balls rolled down the track.
Charlie gets so excited watching the ball roll all the way down the track. Here are a few photos of the different ways you can use your Grimm's rainbow stacker. Pretty amazing!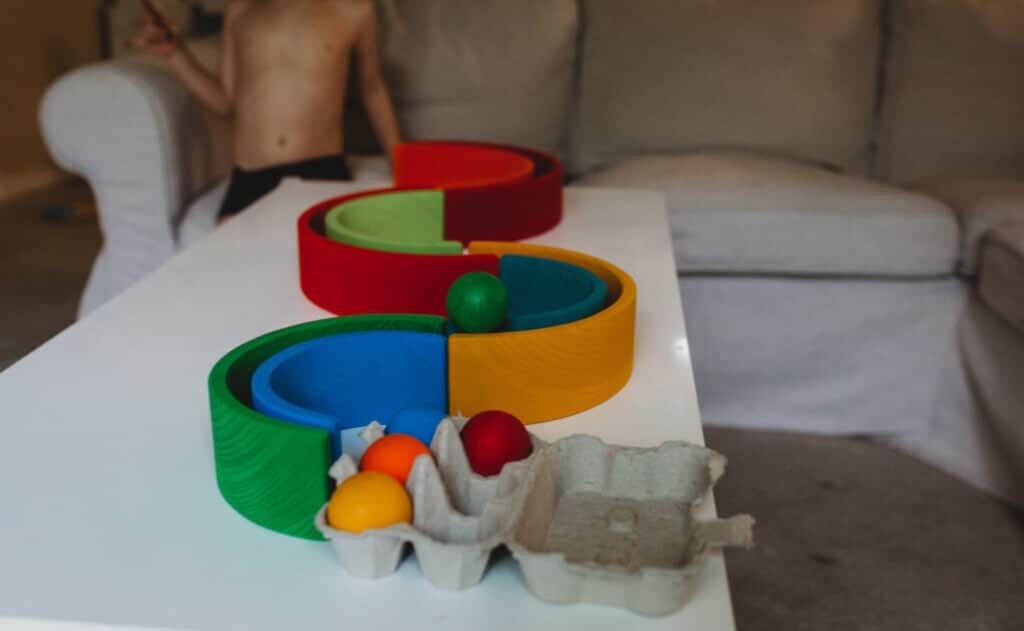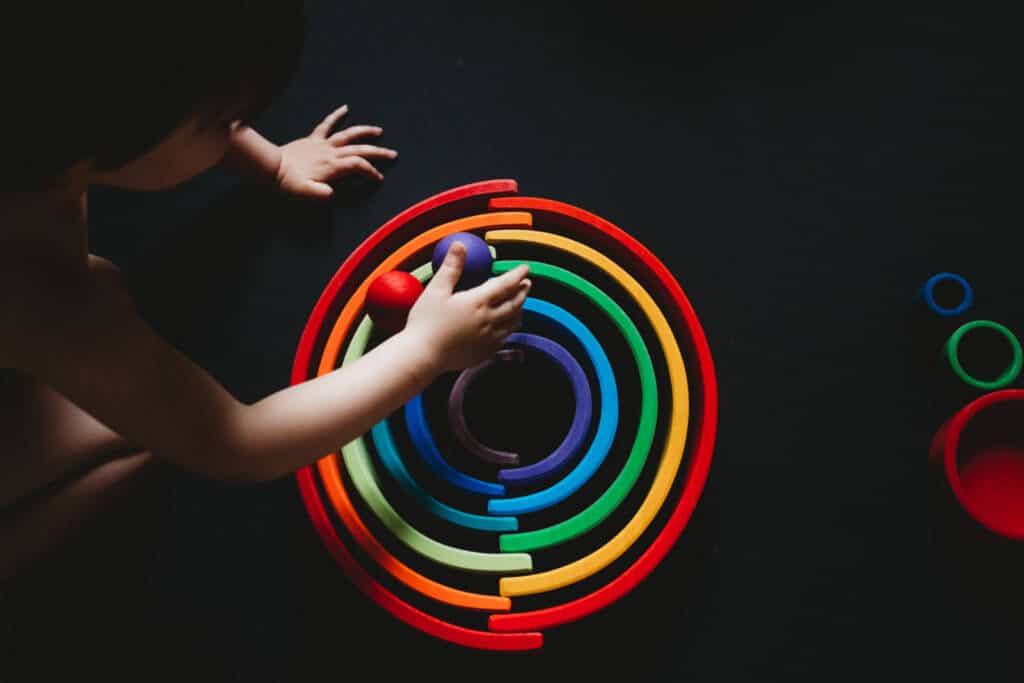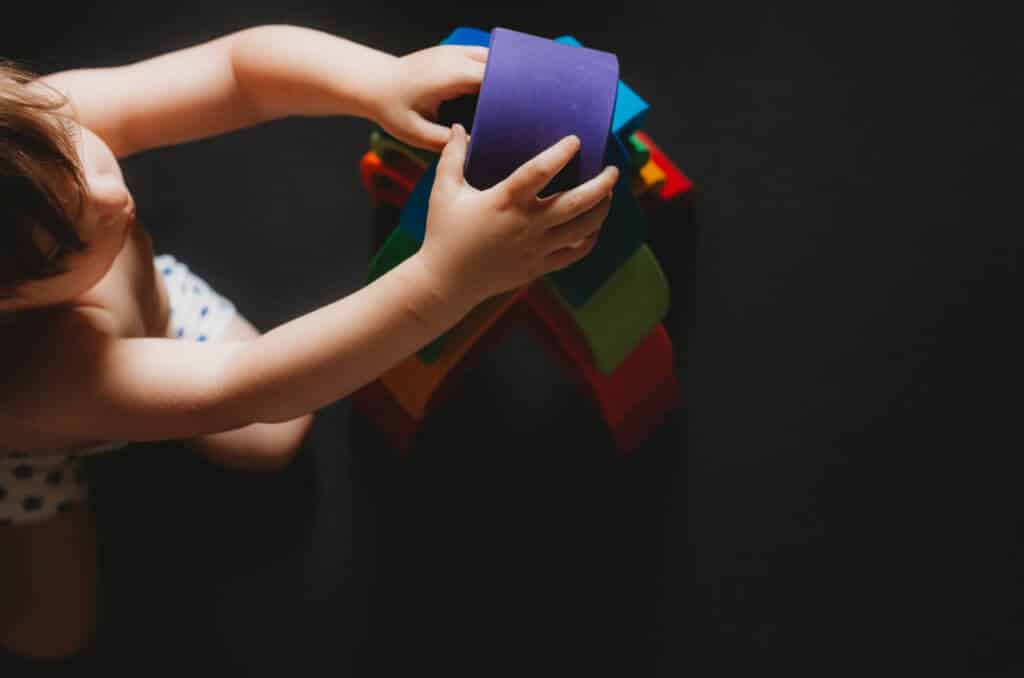 Toys to help with learning colors and matching
These toys are also effective tools to teach your kiddo colors and matching skills. The colors are bold and clear. I don't want learning to be something the boys dread, so by buying them toys that they enjoy playing with, I can teach them things without them even noticing. Charlie loves rainbows and colorful paintings so he's very fond of his new toys. When we move to the new house, we're planning on making his room a rainbow room. These Grimm's toys are going to be a nice addition.
Jude uses the balls and stacking cups to simply match the colors. I think this will be a great starting point for Charlie in his learning journey with matching and colors. Like I mentioned earlier, Charlie's been re-learning to do a ring stacker in the right order. I love that this Grimm's stacker is more difficult than the other ones on the market. Jude still struggles with it. It's challenging him!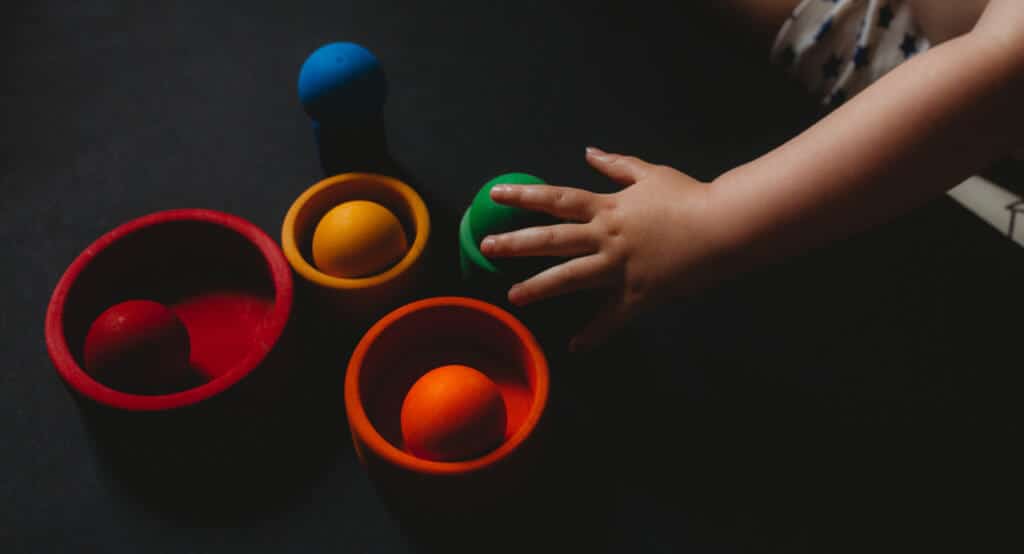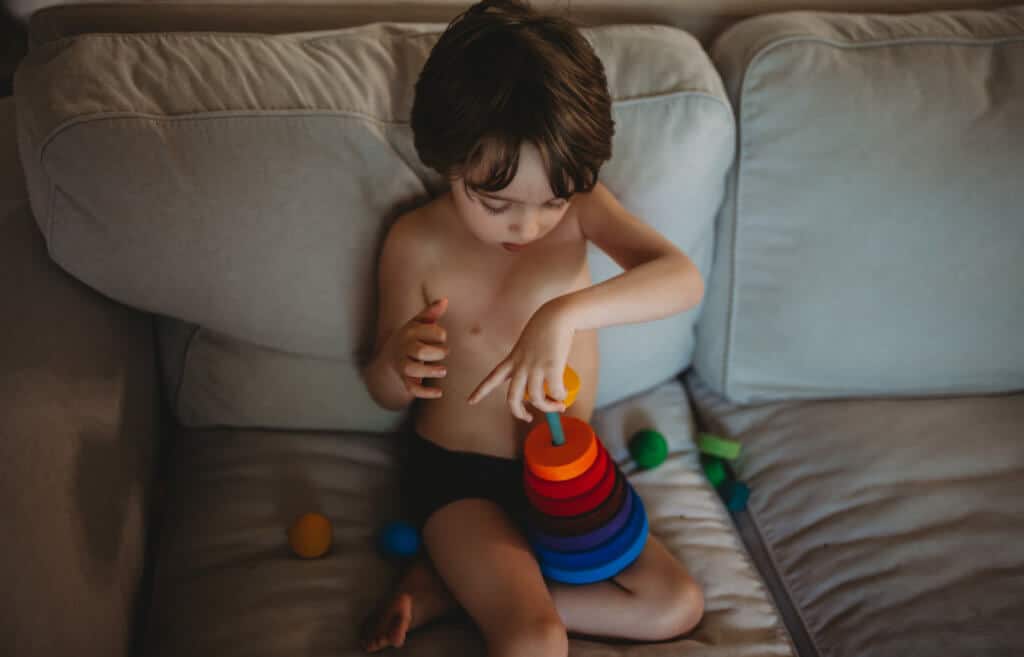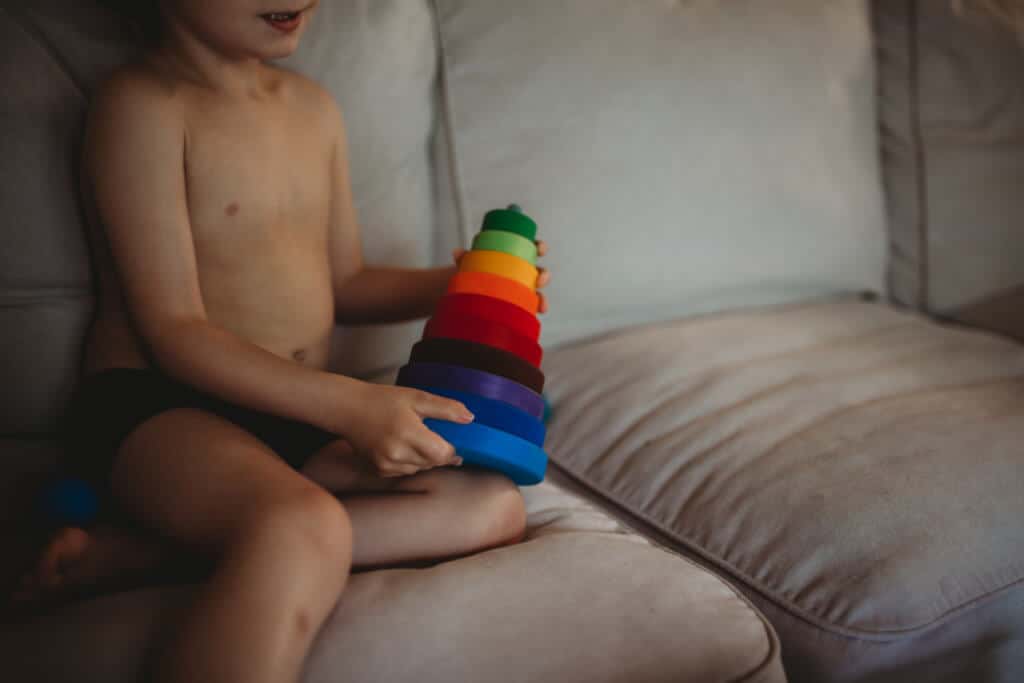 Finally, we have this awesome toy that helps with fine-motor skills. Because Charlie still mouths small items, we can't have any of the common smaller bead-and-string toys. These, pictured below, are big, sturdy, and colorful. They're a great starting point for a child like Charlie who struggles with fine-motor skills. We'll be using these in therapy, and of course, Jude loves them too and likes to show off his stringing skills. These toys are just amazing.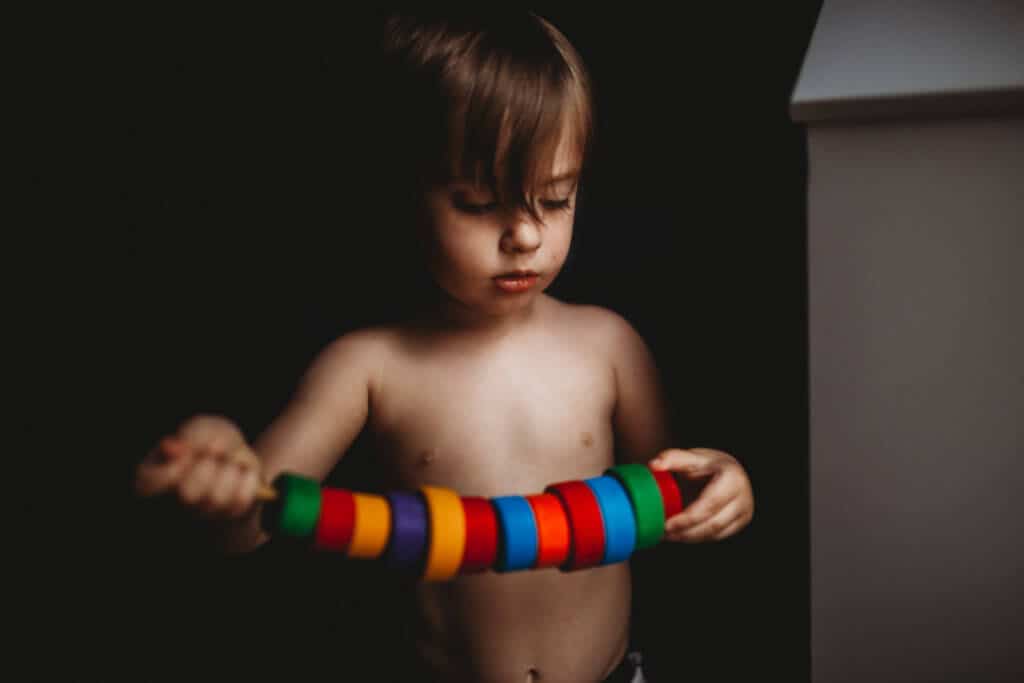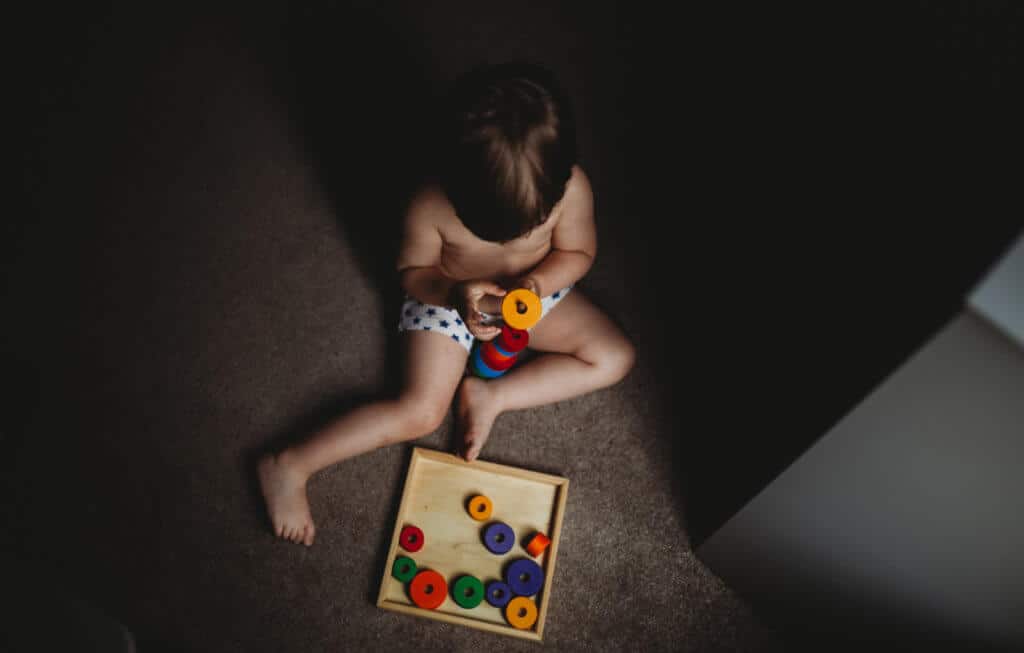 Which one is your favorite Grimm's toy? I know it's hard to choose just one. I couldn't… 😉
To see more of my autism blog posts, click here.
To see more of my mom blog posts, click here.