Autism, SPD, and feeding issues
Many children on the autism spectrum struggle with feeding. In most cases, it's due to sensory issues. The texture of certain foods can be aversive to some people. Some kids, like Charlie, will prefer to eat food that are crunchy (toast, crackers, crispy bacon…), while others prefer puréed food. Charlie's made a lot of progress in the eating department but his diet is still restricted. He won't eat any vegetables and only a few different fruits here and there, like blueberries and apples. He eats a fair amount of food but isn't gaining weight as he should be. He only gained 1 pound from his third birthday to his fourth.
Then there's Jude, who has an even harder time with eating. Much of his nutrition still comes from breastmilk. Due to sensory issues, he gags on many foods, and avoids certain textures altogether. To put it into perspective, with his occupational therapist, we cheer when he eats 3 pieces of cereal in a row without spitting them up. Needless to say, his diet isn't great either, but his weight gain is actually very strong.
A good feeding chair is important for good eating
Our OT recommended that we get a feeding chair to help with Jude's posture when he's eating, because a good posture reduces fatigue and creates a more stable platform during meals. With his feeding chair, Jude doesn't have the option to leave the table like he does now when he sits at his big boy dining table. He's strapped in, but he's eating at the adult's table. I found out about this amazing organization called Charlotte's Day who is devoted to helping families with children who have feeding issues. Their goal is to provide families with feeding chairs. They only provide families with Stokke Tripp Trapp and the Keekaroo Height Right High Chair. If you have it in your heart, you can make a donation right here. Every little bit helps! It's a great cause.
So what solution did I find for the boys to eat nutritious foods? 
One solution is KidzShake
Because of the boys' eating struggles, I often worry about their nutrient intake. I want them to be healthy but I usually can't force them to eat healthy food. For instance, Jude was iron deficient for a long time so we had to give him a supplement everyday. I tried making sneaky desserts with zucchini and spinach but no matter how good it tasted, it's like they knew I had sneaked in some veggies!


My friend and blogger, Amber, told me about KidzShake, which was started by a doctor from Australia named Rachel. After learning about the unhealthy habits of many Americans and their children, she created KidzShake. Did you know that 1 in 3 American is obese? Rachel created a recipe with zero sugar, no artificial sweeteners, and most importantly many vitamins, probiotics, nutrients, and all the good stuff our kids need.
They come in 4 different flavors: chocolate cream, strawberry cream, vanilla cream, and orange cream. Take a look at the supplement facts and ingredients. Honestly pretty impressive!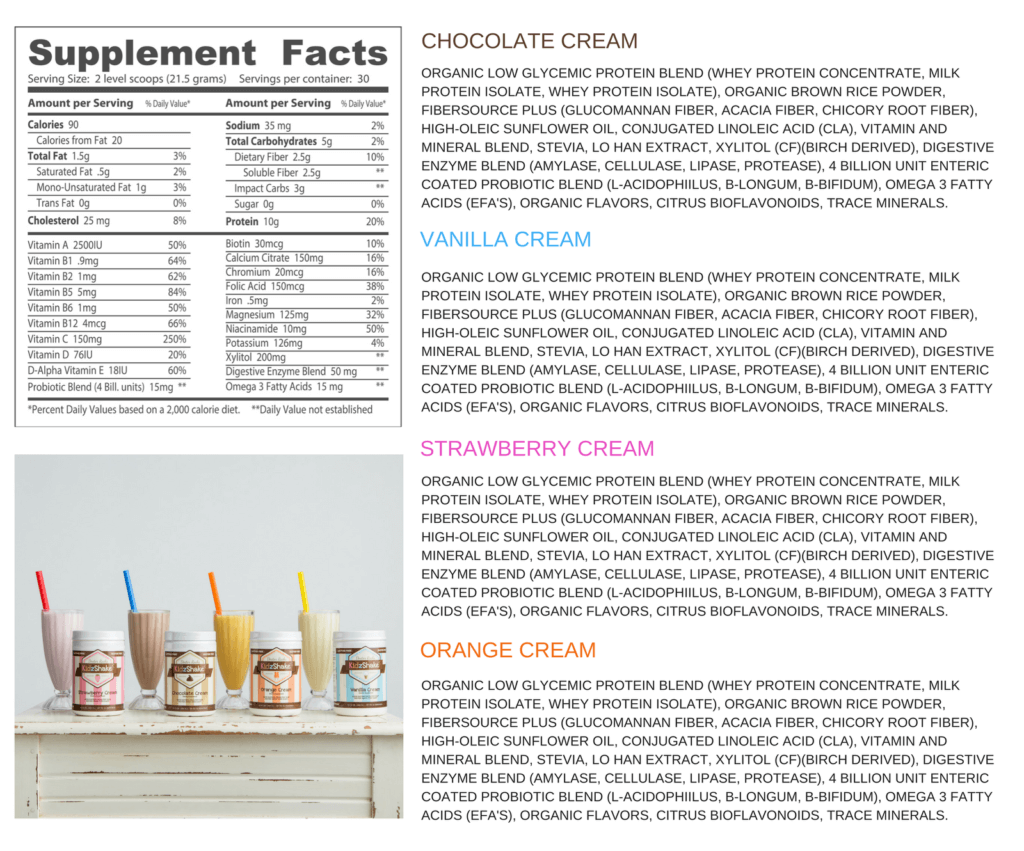 You might be thinking that your kids will never drink a shake that has no sugar or artificial sweetener, but I wouldn't be too sure about that. KidzShake tastes really good, and honestly it's amazing if you blend it up with fruit. My husband and I drink it that way. Jude, who is the most picky out of my two boys, actually drinks it with just milk or coconut milk! That said, there are many other ways to use KidzShake.
KidzShake recipes
If you don't think your kids will drink KidzShake as a shake, you can use it in these amazing recipes. I personally love the Coconut Chocolate Proffles (waffles) recipe on the official KidzShake site. I like to experiment too so I made my own low-sugar chocolate chip muffins using KidzShake. Just keep in mind that if you bake something, it will kill the probiotics. But hey, it will still have all those vitamins!
No-Added Sugar KidzShake Chocolate Chip Muffins

Ingredients:

2 cups of 100% whole-wheat flour
1/3 cup sugar-free chocolate chips
3 scoops of Chocolate Cream Kidzshake
2 large eggs
1 cup of unsweetened (no sugar added) apple sauce
1/2 cup of coconut milk or almond milk
2/3 cup of honey
1/3 cup of olive oil or unsalted butter
2 teaspoons of baking soda
1 teaspoon of baking powder
A pinch of ground ginger
A pinch of salt
Optional: a few raspberries, blueberries

Instructions:

1 – Preheat your oven to 400 degrees

2 – Mix the dry ingredients together in a large bowl: flour, chocolate chips, baking soda, baking powder, ground ginger, and salt

3 – In a separate bowl, whisk the wet ingredients together to combine them: eggs, apple sauce, coconut milk, honey, and olive oil

4 – Gradually stir the wet mixture into the dry ingredients

5 – Fold in your fruits if you chose to add any

6 – Either grease your muffin pan or put in baking cups

7 – Pour your mixture into the pan, leaving a little room for rising

8 – Bake for 14 minutes, and then let cool a little before eating

Et voilà! Your low-sugar chocolate muffins full of vitamins are ready! Did I mention they are picky-eater approved? 😉 Bon appétit!
I'm so happy I came across this brand. It's definitely taken away some of the stress from having to make sure my kiddos are meeting their daily requirements without having to force them to take OTC vitamins. Thanks, KidzShake!