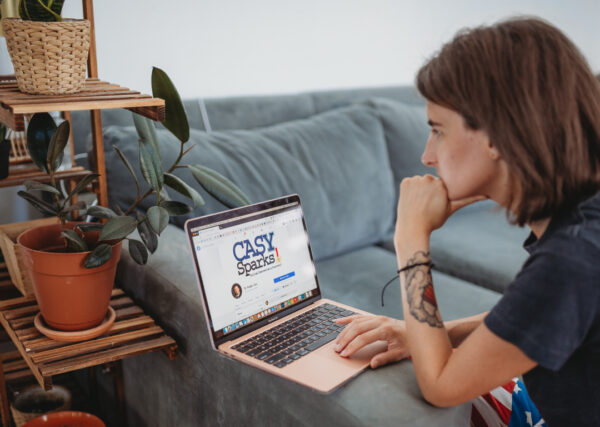 After I was diagnosed with autism, I longed to find people who understood me and what I was going through. It's comforting to be around others who "get it". I found my tribe through my social media but I know this isn't easy for everyone, so that's why I'm going to share with you some amazing resources and communities for autistic people and their loved ones. Now more than ever is a time when we need to connect to feel a little less alone.
I recently started chatting with Dr. Roger Jou, a psychiatrist, and researcher at the Yale Child Study Center, and all I can say is wow! He's doing so much for autistic people and the autism community. It's inspiring. One community he founded that everyone needs to hear about is called CASY.
CASY: Community Autism Socials at Yale
Dr. Roger Jou founded CASY (Community Autism Socials at Yale) in 2014. CASY is a "hybrid community" that combines online and local individuals on the autism spectrum, and the families, friends, and professionals involved in their lives.
Their main purpose is to promote a high quality of life for individuals with autism.
But you know, 2020 happened. CASY had to adapt in response to community needs during the COVID pandemic. Since local events were not an option anymore, its emphasis was put on "distance socializing" using available technology. The rapid succession of ideas and new online opportunities led to the moniker "CASY Sparks."
CASY Sparks is such a great autism community
CASY Sparks is 100% online (and FREE) through Zoom and other social media to encourage distance-socializing. They have hangouts and meetings of all types. For instance, some are just for women on the spectrum (Dr. Roger Jou does not attend these groups), others are open to everyone like a weekly community meeting and Friday happy hour (alcohol-free).
They also offer "classes" with experts in their field, for instance, meditation and financial planning with Andrew Komorrow and Becca Lory Hector. Groups are also led by adults on the spectrum – popular examples include their book club and team-building groups.
They've been offering many virtual events during the pandemic and are continuing to grow at an unprecedented rate, especially as new members join from across the country. Find all of their events on Meetup.
I know it's not always easy for autistic people to socialize but CASY Sparks makes it easy. I'm not very good myself at socializing, so what I love about CASY Sparks is that there are many ways for people to form connections and be part of a community on their terms. If you're more a Facebook-type person, then check out these Facebook groups:
This

CASY group

was created specifically for people who prefer Facebook over meetup.

This

Auto and Autism group

is for everyone who loves cars and autism.

S.T.A.R. Support Group

was launched by two young women on the spectrum who are long-standing CASY members. It is a true peer-to-peer group supported by CASY Sparks.
So if you're at all intrigued, stay in the loop so you'll hear about things that may interest you by following @DrRogerJou on Facebook and Instagram.
I hope this was useful for a lot of you and that you take a shot at being part of this kind and helpful community!
Dr. Roger Jou Biography
During medical school in 2001, Dr. Roger Jou ultimately focused on research in imaging neuroscience. Impelled by the determination to understand his work in its totality, Dr. Jou's education continued beyond the M.D. he was awarded in 2003, earning him a master's in public health in 2004 and a Ph.D., ultimately, in 2012 (investigative medicine). This is the comprehensive foundation he uses to tackle some of autism's biggest, most diverse challenges.

Dr. Jou's training eventually transitioned more to clinical work through an internship, residency, and fellowship at Yale, where he gravitated to applied research (i.e. clinical studies). The culmination of these rich practical and academic experiences is also the most rewarding experience yet of his career, the community work with CASY he began in 2014.

Dr. Jou's singular objective that perpetually guides his work is deceptively simple: increasing people's quality of life. The focus was initially on adults, but now includes children and any other relevant stakeholders. The more he learns, the more interested he becomes, which relentlessly fuels his drive to find sustainable, community-based solutions that address the varied needs of individuals on the autism spectrum.
Learn more about Dr. Jou and the great work being done with CASY Sparks by following @DrRogerJou on Facebook and Instagram.