This post is sponsored by Custom Ink, all opinions expressed are my own. 
4 Paws For Ability Fundraiser
I've been wanting to start a fundraiser for one of my favorite non-profit organizations for a while but never actually followed through. It felt overwhelming to me and I didn't know where to begin. The non-profit I want to support is called 4 Paws For Ability.  They enrich the lives of children with disabilities, like autism, by training service dogs specifically for each child. This provides increased independence for the children, and assistance to their families.
Additionally, they also work with veterans who were injured in combat, for instance if they've lost a limb or their hearing. The testimonies speak for themselves; 4 Paws For Ability is changing people's life for the better.
I've been wanting to get on their waiting list to get a dog for Charlie but we didn't have a house yet and a dog is a big commitment. We will do it in the future but for now, I want to support them by raising money for them and helping their cause. But where do I start? Well, I found an amazing company called Custom Ink that helps you set up a fundraiser and designs shirts to sell to support the cause of your choice.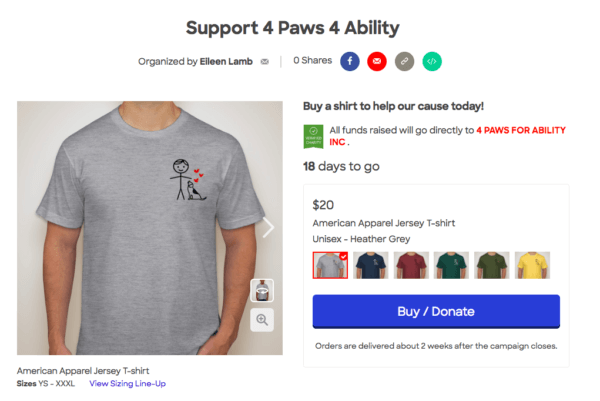 Custom Apparel to support my favorite non-profit Autism organization 
I used Custom Ink to design a shirt to support my fundraiser but Custom Ink is a lot more than that. It's also the place to go for high quality custom products needed for weddings, birthdays, graduations, family reunions, girlfriend getaways and more.
I had so much fun bringing my idea to life for my fundraiser. It was a good surprise to see their large selection of clothing. I chose to design my t-shirts on American Apparel. I love how they feel and fit and they have them available in many different colors. They have all kind tees though from brands such as Under Armour, The North Face, Nike, Adidas, Hanes, Champion & Comfort Colors. They have short sleeves, long sleeves, hoodies, jerseys, tank tops, jackets and more… Sizes go from infant to 6XL so you're sure to find something that fits your style.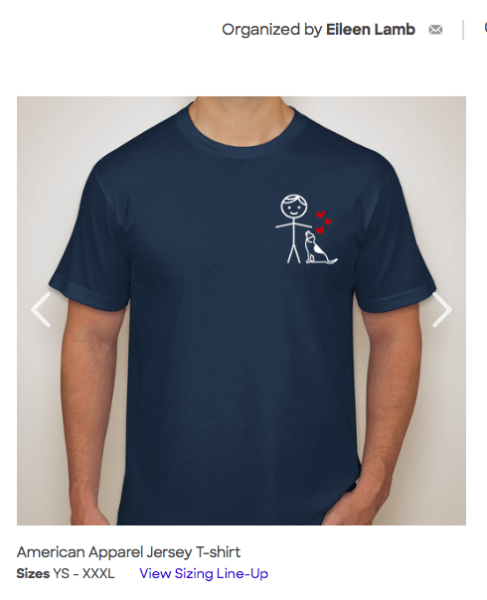 Custom Ink Fundraising
When it came time to customize my design, I told my idea to the Custom Ink team and they designed the perfect logo for my t-shirt. Look at this adorable thing above. I wanted it to showcase a human and a dog in a simple way and they nailed it! I'm definitely not an artist so I really appreciated getting help from the team to design a tee for my 4 Paw for Ability fundraiser.
The Custom Ink team really creates a fun and collaborative design experience that brings your ideas to life. Check them out if you ever need custom apparel to celebrate milestones and other important life events. It's not a surprise to me that Custom Ink has helped people create more than 100 million custom products.
Don't forget to check out my fundraiser where you can purchase a t-shirt to support 4 Paws For Abilities.