/>I received product and compensation from Mead Johnson Nutrition to create this post written by me. All experiences and opinions expressed in this post are my own and not those of Mead Johnson Nutrition. You can contact Mead Johnson Nutrition with product related questions or comments toll-free at 1-800-BABY-123 (1-800-222-9123).
Celebrating developmental milestones
Jude is now 2 1/2 and it's such a fun age. Because Charlie, his brother, is severely autistic, I never got to experience the exciting milestones toddlers reach between 2 and 3. Charlie just turned 5 and he's now able to imitate and use a few single words. Though he's still mostly non-verbal, it's been amazing for us to witness his progress. Because of Charlie's severe developmental delays, I've learned to not take anything for granted. These developmental milestones that Jude is currently reaching are even more special to us. We celebrate the small achievements.
I remember the day Jude first pointed. I got teary-eyed because it was a sign that Jude was developing joint attention. Did you know that 85% of brain growth happens in the first three years of life? For our family and for every family it's important to ensure kids are getting important DHA to help nourish this brain growth. To help Jude get DHA, we complement his diet with Enfagrow® Toddler Next Step™.
Since so much of brain growth happens before a child is 3, now is the time to make sure that Jude gets  DHA in his diet. He's still a picky eater so it's difficult to ensure he gets DHA through food. In fact, on average, a toddler's diet only provides 25% of the recommended amount of DHA which leaves quite a big gap. A great source of DHA for toddlers is fish but if your toddler is anything like mine, he's probably not a huge fan. Jude loves cereal, pizza, cheese, bananas, milk, and carrots, but unfortunately these foods don't have DHA.
How to turn playtime into learning time with your toddler
Jude goes to Montessori school five days a week and I love how much he learns there. He really enjoys it, and it's especially nice to see how they incorporate learning into play activities. Jude knows his numbers up to 20 and all his letters too. When he gets home from school, it's important for me to play with him though, so let me share a fun and easy number-learning activity you can do with your toddler. Plus, it has the added bonus of helping with fine motor skills. It's really fun!
DIY toddler number-learning game
You'll need:
5 baking cups (muffin papers)
15+ pompoms (or similar)
Small tongs
Simply write the numbers 1 through 5 each at the bottom of a baking cup and ask your child to use the tongs to drop the correct number of pompoms into the corresponding cup. That's it! Simple, fun, and a great learning tool. Jude loves it, and I love how he sticks his tongue out when he's focused. You can even add more pompons and baking cups with higher numbers as they grow more advanced.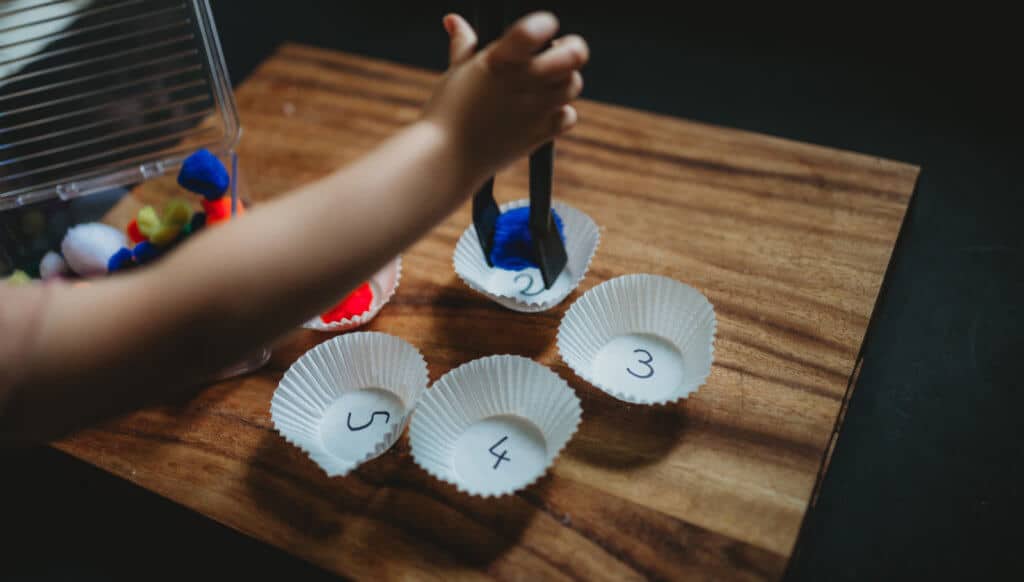 The importance of DHA for a toddler's brain development
Like I mentioned, we bridge the DHA gap with Enfagrow Toddler from the maker of Enfamil®, the #1 Brand of Infant Formula recommended by Pediatricians. Enfagrow is a milk-based toddler drink specifically made for toddlers between 1 and 3 years old. It's a really smart solution to help ensure good nutrition for your kiddo by complementing their diet and gives them DHA.
In addition to stimulating brain growth by playing fun little games like this, don't forget about the importance of DHA for this same purpose. If you're not sure about it, you can visit Enfagrow.com to learn more and even request free sample to try it. Give it a shot!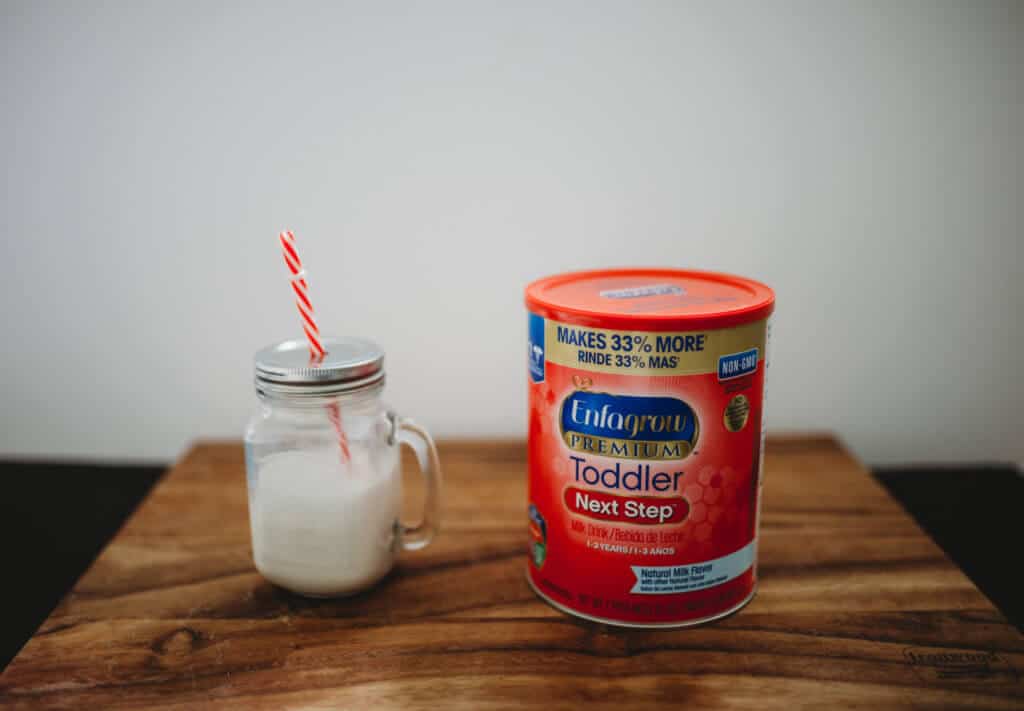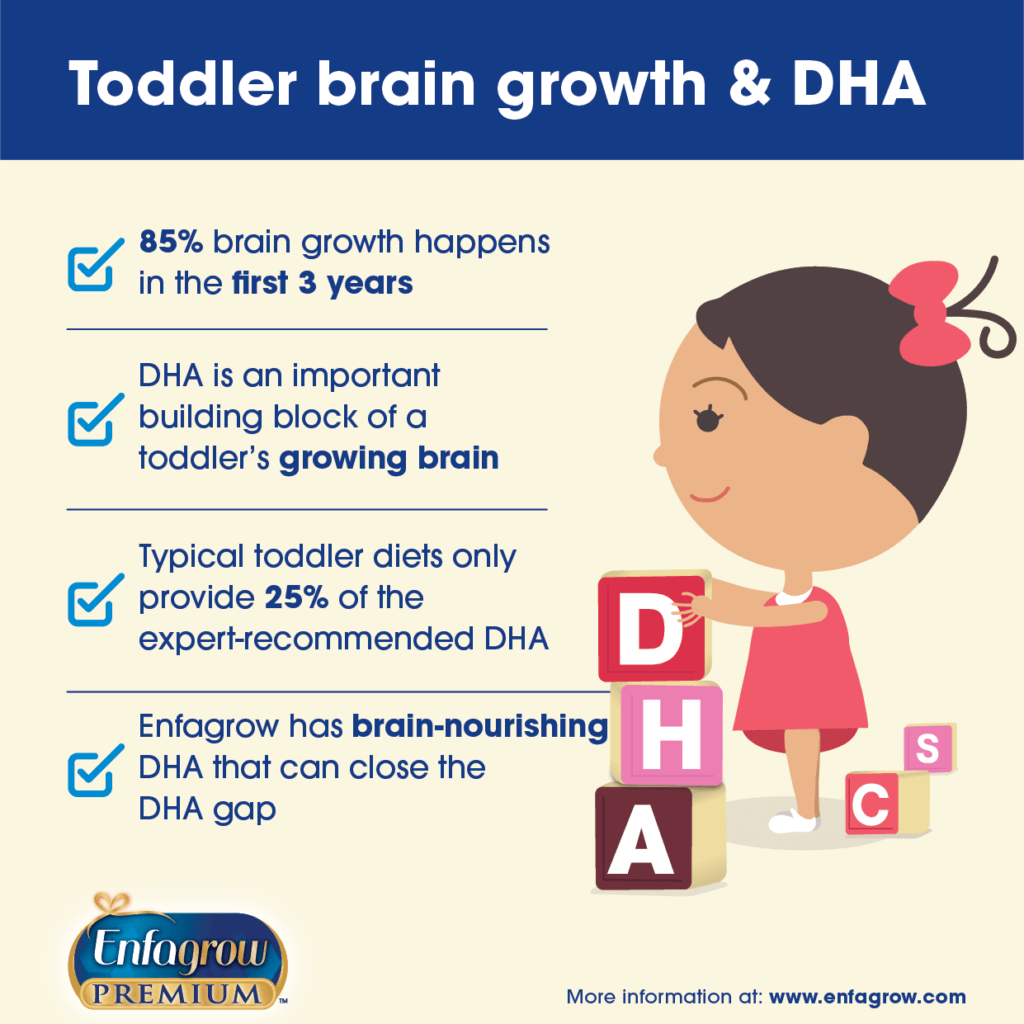 This is sponsored by Enfagrow® Toddler Next Step™.