This post was sponsored by Dave's Killer Bread as part of an Influencer Activation for Influence Central and all opinions expressed in my post are my own.
Yummy lunch for busy moms
Summer is almost here, and it seems like I just keep getting busier and busier. We're in the process of buying our first house and between work, appointments, school/therapy, and making time for myself, I'm always moving. If you're a mom, I'm sure you can relate. Come lunch time, I'm always hungry but I find myself struggling to find something quick and delicious, and most foods I love that are quick aren't really healthy. I'm guilty of sometimes just grabbing a candy bar at the grocery store and calling it a lunch. Not anymore!
When I was growing up in France, for lunch we'd often have sandwiches. We have delicious bread in France so it was always a great lunch. Here in the U.S., it's hard for me to find sandwiches that I connect with. I'm picky when it comes to bread so I decided to make my own Mediterranean sandwich and try out Dave's Killer Bread. It's as delicious as it looks and I'm going to share my recipe with you.
Dave's Killer Bread helps me maintain a healthy lifestyle
I'm thankful for Dave's Killer Bread for helping me maintain a healthy lifestyle while still allowing me to enjoy my favorite foods. Did you know that Dave's Killer Bread is the #1 selling organic bread brand in the country? It's packed with protein, fiber, and whole grains with no artificial anything. Despite being healthy, it still tastes fresh and amazing. As you may know, Charlie's favorite food is toast. I feel good giving him toast when he's eating Dave's.
In addition to being packed with awesome stuff, Dave's Killer Bread is USDA organic, Non-GMO project verified. Each slice contains 5g protein, 5g fiber, 250mg Omega-3, and 22g whole grains. Yep, pretty killer!
Dave's Killer Bread has been an asset for me to keep me motivated to eat healthy despite being busy. It's perfect toasted for breakfast with a poached egg on top, and veggie bacon on the side. It's perfect toasted with olive oil for Charlie, my little toast lover. But it's also amazing to re-create my favorite sandwich recipes from France. I'm feeling nostalgic writing about it. This Mediterranean sandwich recipe will send your taste buds directly to the French Riviera, and it works for lunch or dinner. Get the table ready outside, some French music playing, and savor this delicious recipe I'm about to share with you.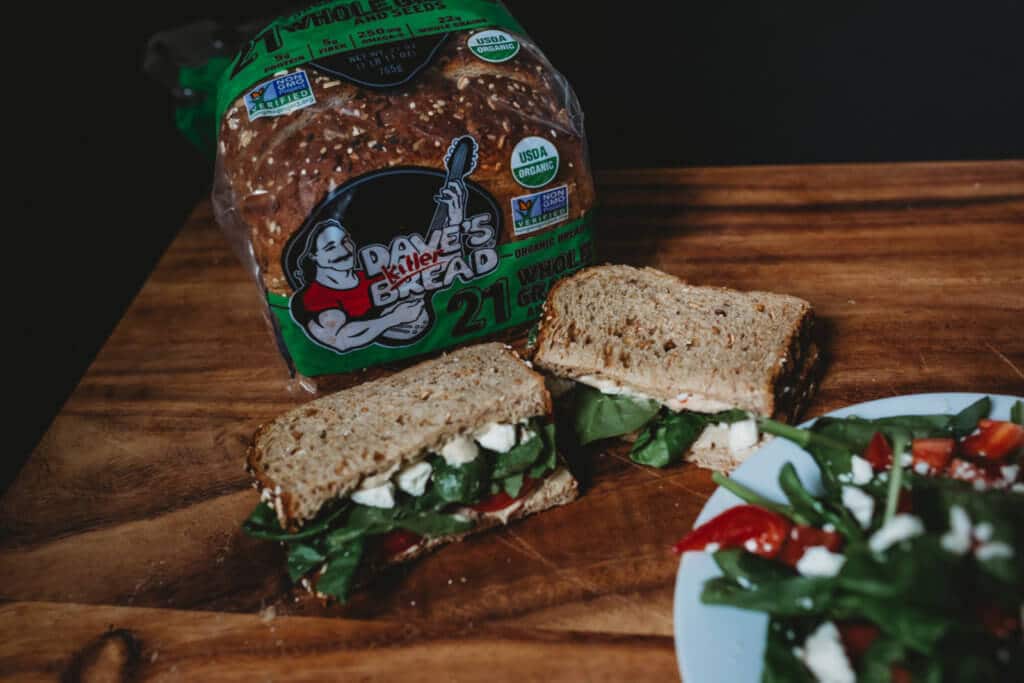 Mediterranean sandwich recipe
Ingredients:
Spinach
Feta Cheese
Tomatoes
Hummus
Olive oil and salt
Instructions:
Spread two slices of Dave's Killer Bread with hummus.
One on side, layer sliced tomatoes with a small handful of spinach on top.
Gently place the feta cheese on top of that, and drizzle with olive oil.
Add salt to taste, close the sandwich, and enjoy!
Don't forget to stop by your local Walmart to pick up Dave's Killer Bread, and try my Mediterranean sandwich recipe.