Balance Your Plate!
Between work life, taking care of the kids, household chores, and having a little time for yourself, it just isn't easy to have a balanced diet. I struggle with this myself. I have good intentions and want to cook balanced meals for our family but I often don't have the time. An easy way to balance your plate is to use frozen prepared foods as your base and pair it with an easy-to-make side dish made of fruits, vegetables, and/or whole grains. Easy as pie! Everyone wants to eat better, but we need simple solutions so we can make it a reality. If you need inspiration, look no further. I'm your girl!
Stouffer's Macaroni & Cheese
Today, I'm going to share with you one of my favorite meals. It's a relatively balanced meal that accommodates my busy mom lifestyle by helping me save time! Most importantly it tastes great, because let's face it, taste is often the only deciding factor when I choose what to eat for dinner! I'm sure at this point you're dying for me to reveal my secret dinner, so …*drum roll*… It is: Mac & Cheese, and caprese salad with balsamic reduction. For this one, I used Stouffer's Macaroni & Cheese. My boys struggle a lot with eating, so I'm always trying new ways to get around their picky eating habits. Stouffer's fits into this because for whatever reason, the kiddos usually like this stuff, and I get the taste of great food without the effort of having to cook from scratch. While homemade meals are the "golden standard" for many families, we live in a busy world where whipping up homemade dishes every night can't always happen. Stouffer's Macaroni & Cheese is an easy solution that you can feel good about feeding your family.
To complement the Stouffer's Macaroni & Cheese, I'm going to share my caprese salad recipe with you. Caprese salad is a simple italian dish made of tomatoes, mozzarella, and fresh basil. What makes my recipe even better is the reduced balsamic vinegar! It takes about 15 minutes from start to finish, and it's nutritious and delicious!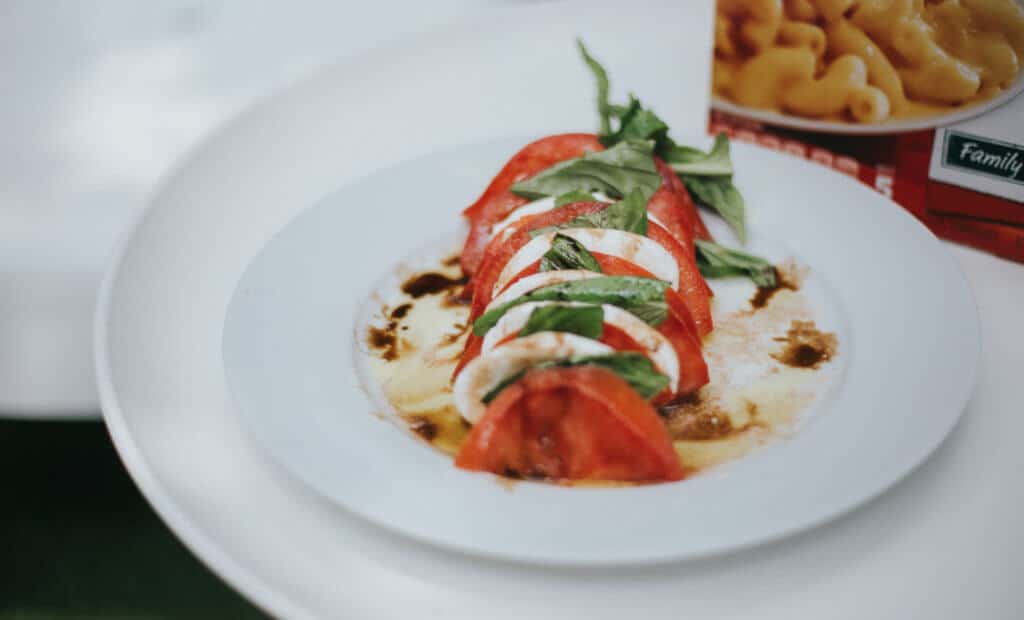 Caprese salad recipe:

Ingredients

1lb of fresh tomatoes, washed and cut in bite-size slices
1lbs of fresh mozzarella cut in bite-size slices
1/2 cup of fresh basil leaves
1 cup of balsamic vinegar
1/2 cup of honey
1/4 cup of extra-virgin oil
Salt and pepper

Directions:

1 – In a small saucepan, mix together the honey and balsamic vinegar. Turn the heat to high and bring it to a boil. Immediately turn the heat back to low and simmer until the vinegar has reduced to about 1/3 of cup. It should take about 10 minutes.

2 – Arrange your tomatoes and mozzarella on a plate, alternating back and forth. Spread the basil leaves over your salad. Drizzle  a little olive oil and balsamic reduction over the plate. Add salt and pepper to taste. Et voila!
Stouffer's Mac & Cheese recipe includes real, simple ingredients, like freshly made pasta, cheddar cheese, milk and butter. Additionally, research shows that Americans are only meeting MyPlate recommendations for vegetables, fruit, proteins, dairy and grains seven days out of 365. I know, it's pretty lame! With this easy meal, you're taking a step in the right direction! Add some fresh fruits and whole-grain bread (even if it's a dessert) and you have an easy-to-make balanced dish that the entire family will enjoy. I love dipping bread into the Caprese salad's oil and vinegar. The taste reminds me of the food I used to eat while on vacation in the Mediterranean when I was a child growing up in France. So for me, this meal is a nice way to travel without leaving my backyard!
I was selected for this opportunity as a member of CLEVER and the content and opinions expressed here are all my own.