This is a sponsored post written by me on behalf of Skinner® pasta.
The perfect meal for any occasion
It's finally starting to feel like like fall here in Texas. The weather is cooling down, the leaves are falling, and it's also time for hot chocolate and football. Yes, football! I love football season. It's a time to celebrate and get together with friends. But what would be a tailgating party without yummy food? If you're looking for ideas, I've got you covered.
I love classic recipes. I also like cooking meals that bring people together, and what's better than a big bowl of classic Pasta Bolognese? Bolognese is a meat-based sauce originating from Bologna, Italy, hence the name. It's generally made with beef, carrots, onions, tomatoes, carrots, celery and pasta. I make my spaghetti Bolognese with Skinner® Pasta.

Proud to be Texan
If you read my blog, you already know how much I love Skinner pasta. I love Skinner for several reasons. First of all, Skinner pasta is delicious. It always turns out right. Moreover, the brand has the same values. They're from Texas, and well, I love Texas and supporting local brands. I love Texas-themed everything and Skinner's Texas Shape pasta is super cute! It's the perfect base for any pasta dishes, my boys love them, and they make mealtime fun! Skinner Texas Shape is an easy way to show off your Texas pride during a tailgating party. You know, in my book, Skinner pasta and a hearty Bolognese sauce go together like Texas and football!
Why I love Skinner so much
More than just being delicious, Skinner pasta is also a budget-friendly choice. There are many pasta dishes that anyone can make for their family to save money, and using Skinner pasta helps you save even more.
Skinner Pasta is enriched and has earned Non-GMO Project Verification on its most popular pasta products. They have a variety of pasta products available including varieties like spaghetti, fettuccine, elbows, and penne, plus options like dumplings or fideo mediano, and even that cool Texas shape, making Skinner pasta work perfectly well for both weeknight meals or special dishes.
Finally, the brand is helping people affected by Hurricane Harvey. Houston is Skinner's hometown and many of its employees were affected by the flooding.

Skinner

donated 37,000 servings of pasta and rice to the Houston Food Bank and set up a food truck, traveling to areas of the city devastated by the flood and offering free hot meals to those in need.
Now that you know why I love Skinner so much, let me share with you my Bolognese recipe. It's super easy to make, but takes a little time. We usually make it in the afternoon because the sauce tastes better if it simmers in the pan for a few hours. If you're in a rush you can skip this step.
[su_box title="Bolognese sauce recipe"]
Ingredients:
2 tbsp.

extra virgin olive oil

3 cloves of garlic

One-half yellow onion

4 carrots

4 ribs of celery

3/4 lb ground beef chuck

3/4 lb ground pork

16 oz whole milk

375 ml white wine

4 oz grated Parmesan

1 1/2 28 oz cans of Italian tomatoes

1/8 tsp. Nutmeg

Salt and pepper
Directions:
1. Heat olive oil in pan on medium heat. Add chopped onion and cook for 10 minutes.
2. Add sliced carrots and celery to pan, cooking for 10 minutes, stirring occasionally.
3. Add beef and pork to pan, cooking and stirring until browned.
4. Pour milk into pan, stirring occasionally, and cooking until the milk and froth is reduced and gone.
5. Add the nutmeg and garlic. Stir and cook for 2 minutes.
6. Add white wine to pan, and reduce until gone, stirring occasionally.
7. Quarter the tomatoes from the first can, and add them and the entire can's juice to pan. Add more juice from second can if needed.
8. Simmer for 30 minutes to five hours, adding salt and pepper to taste, and adding water if sauce becomes too thick.
9. Boil a large pot of salted water for your Skinner pasta, and follow the directions on the bag.
10. Add one portion of cooked, drained Skinner pasta to each plate, and cover lightly with sauce from the pan.
11. Garnish with Parmesan and enjoy!
[/su_box]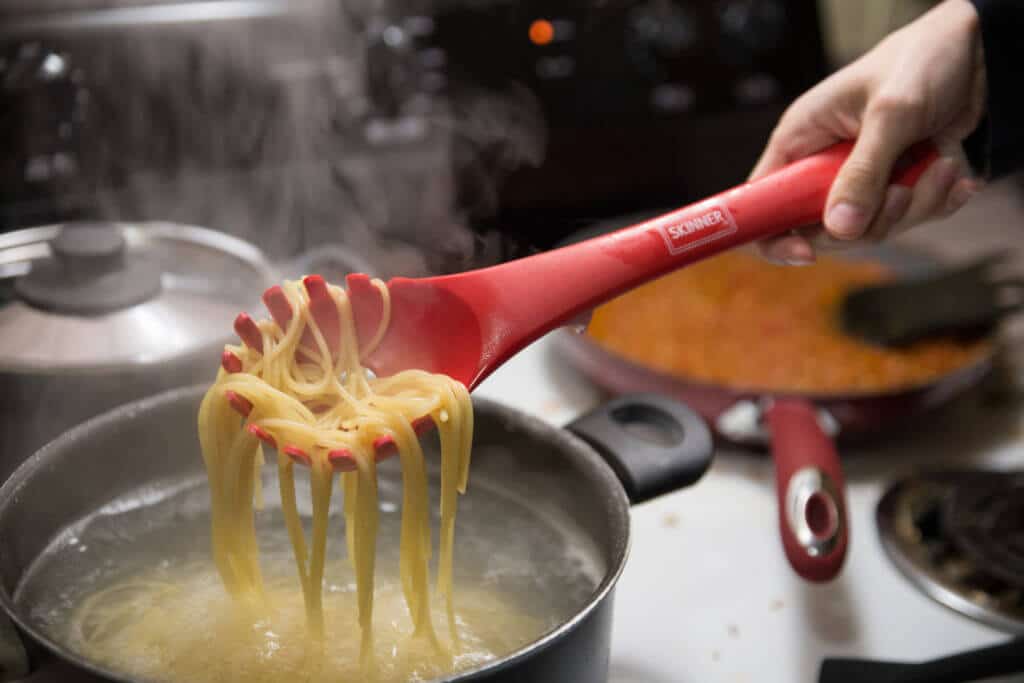 With this recipe you'll probably have leftovers! Pro-tip: save the sauce in a container and put it in the freezer. Next time you're hungry, simply make yourself fresh Skinner Pasta , reheat your sauce in a pan or microwave, and voila! An easy lunch or after-school snack.
This is a sponsored post written by me on behalf of Skinner® pasta.