Bullying and the dark side of the Neurodiversity Movement
This is a post I've been meaning to write for a while but didn't. I couldn't. Partly because I was scared of the backlash, and partly because this topic makes me feel deep emotions that I don't like dealing with — from feeling angry to sad and everything in between. Today I want to shed some light on the dangers of the neurodiversity movement.
Want to see more of the bullying by the neurodiversity movement? See this post of mine for another snippet —> https://theautismcafe.com/en/end-actuallyautistic-bullying/
What's the Neurodiversity Movement?
What's the Neurodiversity Movement, you may ask? At first glance, it seems like a good idea. Autistic individuals fighting to get autism recognized as something to not be ashamed of, fighting for autistics to not be seen as less-than and not bullied. Cool, right? Of course. I'm all for that. Charlie, Jude, I, and all autistic people, are just as cool and worthy of being loved and respected as anyone else.
Here's where it gets tricky: the majority of neurodiversity proponents that you can find under the hashtag #ActuallyAutistic are extremists. Not only are their views on autism harmful to autistic people, but the vocal ones, in my experience, have been vicious, and constantly attack autism parents and autistic adults who disagree with them on social media.
Neurodiversity proponents believe that:
"Parents shouldn't be allowed to speak about autism."

They believe that only autistic people should be able to talk about autism because they're the ones living with it. The idea is "nothing about us without us." The issue is that they completely exclude many individuals on the autism spectrum, who are severely affected by autism and don't have the luxury of being able to express themselves on social media to give their opinion.

Another issue is that they only want to include autistic people who think like them. Autistic adults, like me, who disagree with them are, of course, not allowed to speak about autism either. They tell every autistic who disagrees with them that they have "internalized ableism." They go as far as calling parents who express any morsel of negativity about autism, "martyr moms," and then shame them on social media. You can imagine how emotionally painful that is for parents whose lives are already on a roller coaster and who're doing the best they can raising an autistic child.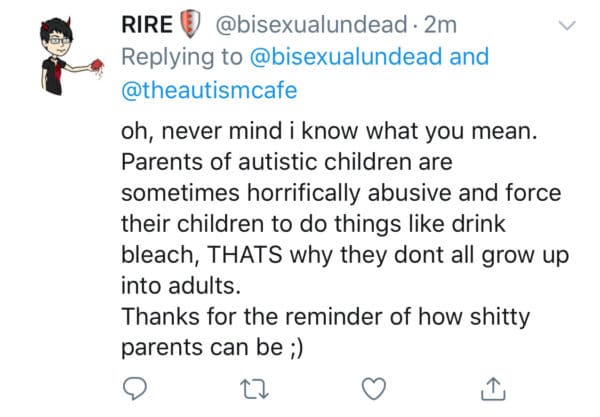 "Severe autism doesn't exist"

You read that right. They do not believe that severe autism exist. They deny it. They believe everyone is just as autistic as all other autistics. In reality, Charlie, like many others, can't communicate, care for himself, or keep himself safe without extended support and constant supervision.
Yet these people have the ability to get online to insult autism parents. Many of them are proudly self-diagnosed. They believe self-diagnosis is valid because doctors have failed them by missing their autism, and not everyone has enough money to go through a full therapeutic assessment (fair point). I feel like self-diagnosed autistic adults shouldn't speak for all autistics as they do by saying "we." Their "we" certainly doesn't include all autistic adults. It doesn't include me. I'm not against self-diagnosis as long as people don't use it as a weapon to be nasty to other autistics and parents of autistic children.



"Autism is not a disability, it's a gift."
They don't see autism as a disability so they don't see a need for medical research, therapy, or a cure. Totally their choice. If there were a cure, I'd take it for myself. I'm high-functioning, but autism affects me in ways that hinder my own happiness. ND activists call people in favor of a cure ableist, eugenists, and nazis. They fail to realize that for many autistics, autism is a severe impairment. There are many autistics with self-injurious behaviors, no way of communicating (whether verbal or non-verbal), and no self-care abilities. For these people, the chances of living an independent life are close to 0. The #ActuallyAutistic speak from a place of privilege, being able to speak about their views online and advocate for themselves. Some see autism as both a difference and a disability. I respect that.
"You can't love your child if you don't like autism."
I really wish people understood that you can be sad about your child being severely disabled and still love them with every fiber of your being. Hélas, they don't. I love Charlie so much, and everyone who knows me knows that is true. But if I could take his pain away, and give him a way to communicate, I'd do it in heartbeat.


"ABA therapy is torture."

They believe that ABA is abusive and a form of torture. They believe it's ableist because it's trying to take the autism away from the child. Charlie isn't in ABA therapy because we want him to be normal. We want him to be safe, independent, to learn to communicate, and to decrease his, and yes, our, frustration. We want to fade away the less functional and dangerous behaviors, like playing with the cats' litter box, swallowing rocks, and running in the street, to give him a better shot at life. I'm not trying to "fix" Charlie's autism.
One of of my followers was telling me about that one time she published a balanced yet pro ABA article on her page written by a young autistic man. He had ABA, felt he'd benefited from it, and liked his ABA team, many of whom remained close to him and his family. (That's actually the case for us too. I still speak with many of Charlie's therapists.) After a while, the autistic young man's mom quietly asked her to take the post off her website as he was getting nasty abuse online, and as a vulnerable autistic man was not able to take it. He was getting upset.

This is how it works: they bully people into being too scared to post positive experiences online about ABA. And then it becomes a vicious cycle, such that only negative experiences are found when you search online for ABA info.
I wrote an extended balanced post about ABA therapy here.

There are more issues about which I disagree with them. For instance, they think the puzzle piece symbol is harmful, as well as functioning labels and the terminology "person with autism." Basically, they're mad at the world and bully everyone who disagrees with them. See for yourself.

Note: Most of these were in response to my post about grieving my lost dreams.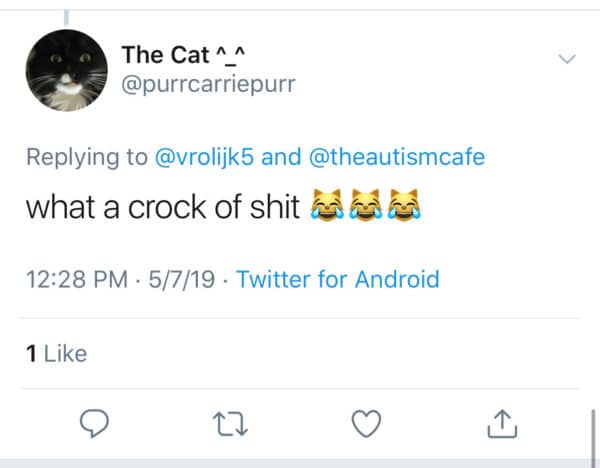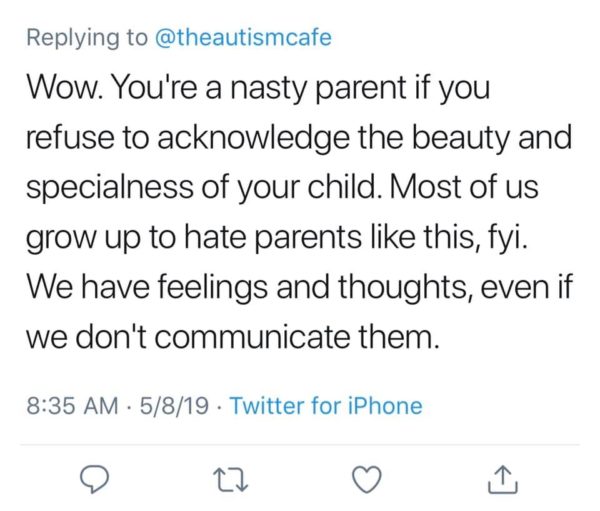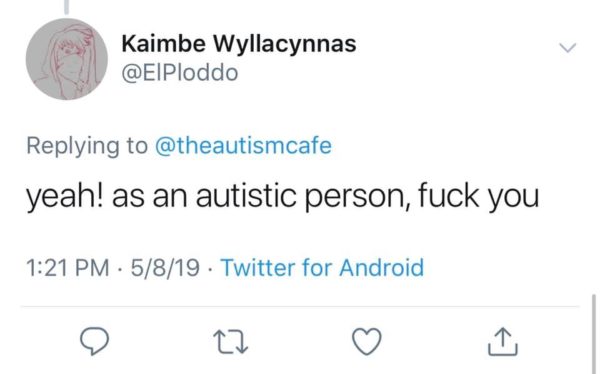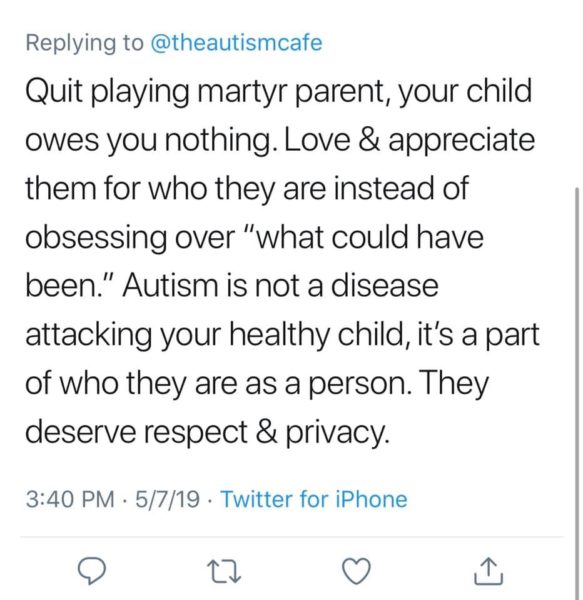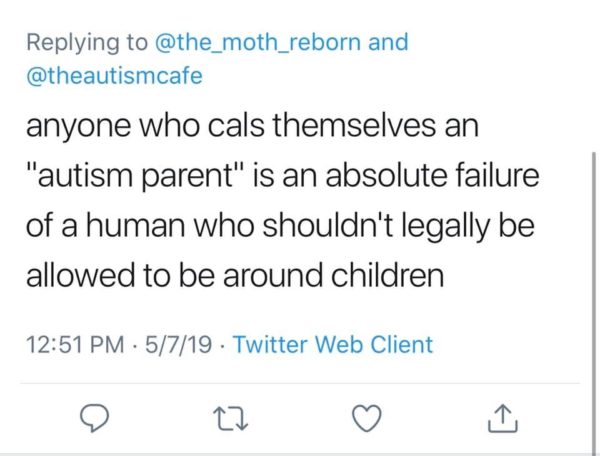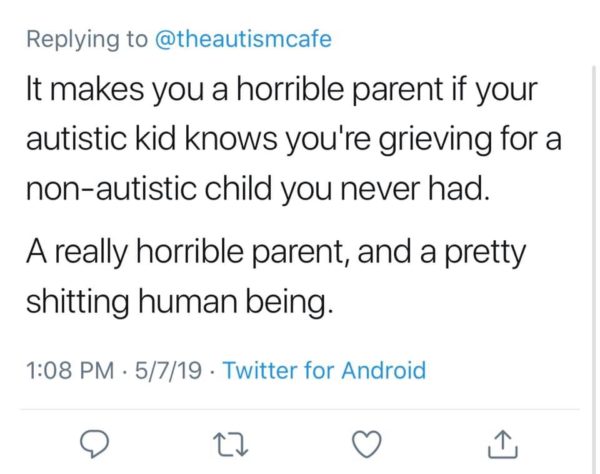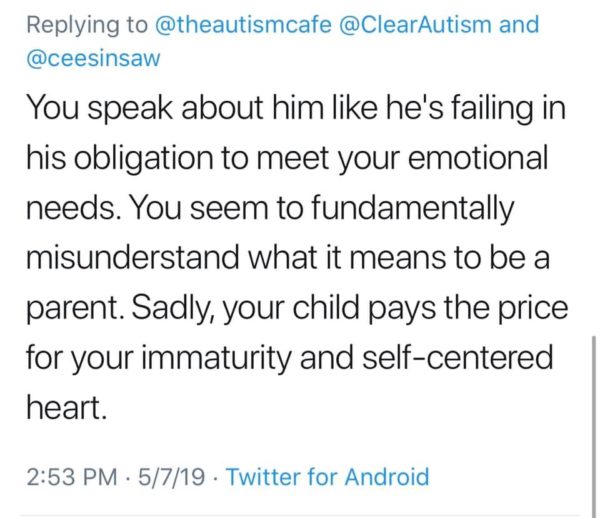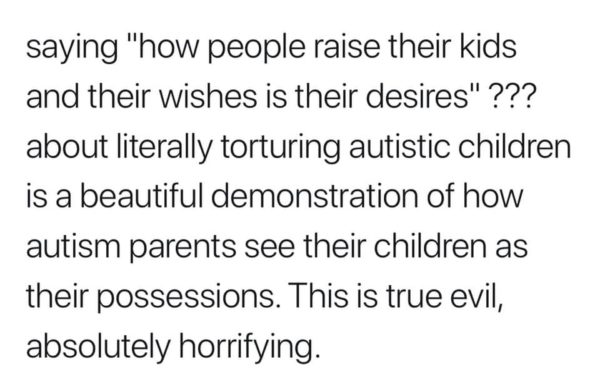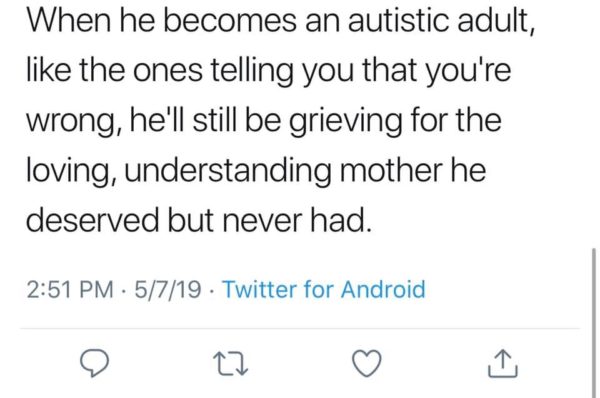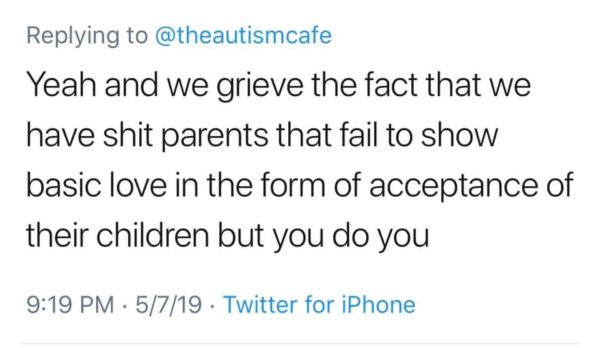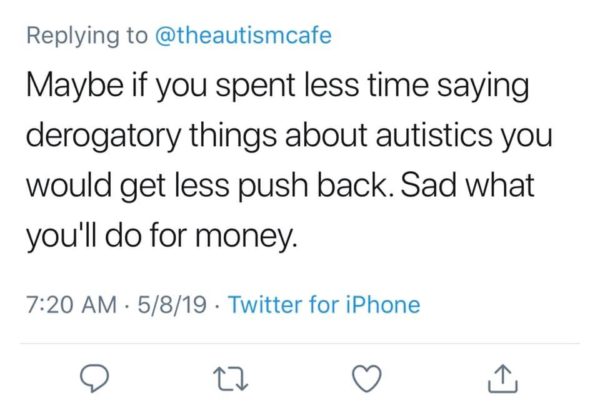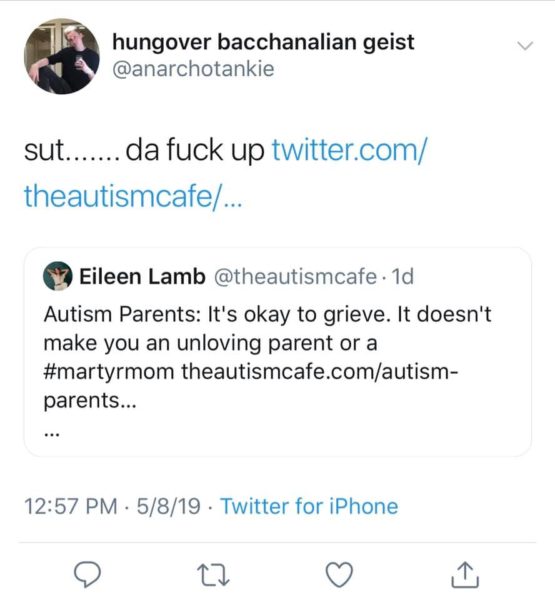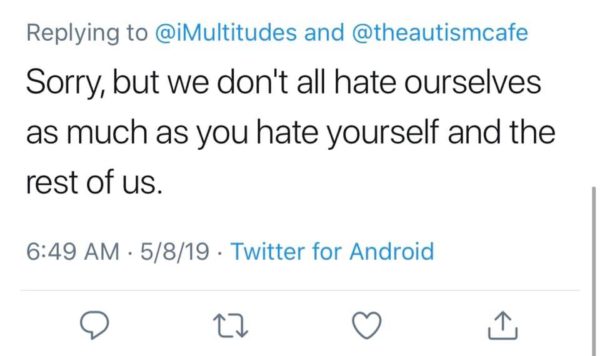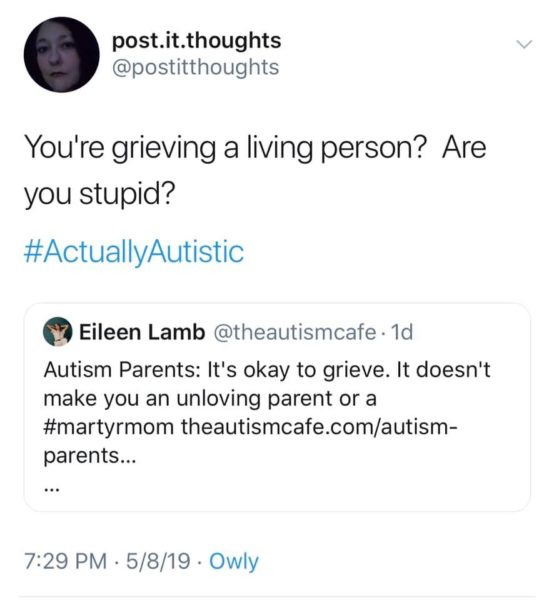 It's time to speak up for those who can't!
I know many of you are afraid to speak up because of a vocal minority, but if you agree that autism is a disability, if you agree that severe autism exists, and that parents should be allowed to speak about autism, then speak up too. If we allow this to keep happening, we take the risk that autism will be misrepresented and misunderstood even more than it is now. Severe autism exists. I see it every day.

Let's speak louder than the extremists in this neurodiversity movement, those who harass parents of autistic children online. I know we are a silent majority but because of the bullying the #ActuallyAutistic community is putting us through, many of you have chosen to stay quiet. I get it. I do. It's hard to get insulted online. It affects me too, but we've entered a vicious cycle. We need to speak up. I need you. Autistics who don't have the luxury to speak or express themselves on social media need you. You've got this. We can do this together.
Jude Singer, who coined the word neurodiversity, called the movement "cultish"
Judy Singer only meant for the term neurodiversity to apply to high-functioning autistic individuals. Not to people with severe autism, for whom autism is more than just a simple neurological difference.
"I want to make it clear that when I used the term 'autistic,' I am referring only to people with what is called High-Functioning Autism (HFA) or Asperger's Syndrome (AS), that is, people who have normal to high 'intelligence.'"
Read here.
Here's another great piece on the subject: