Scroll down to the end of this article for easy shopping!

I earn a small commission on some of these links, it comes at no additional cost to you. Thanks for your trust!
Why I love the Montessori education model
When Jude was 18 months, he was delayed in his development. Because his only peer model was Charlie, his severely autistic big brother, he wasn't learning age-appropriate skills. Our developmental pediatrician recommended that Jude start going to school to be around normally developing kiddos his own age, hoping he'd imitate them and learn that way. We did some research and ended up choosing a Montessori School that Jude started going to three days per week. I like the Montessori approach because it teaches children independence through play and gives them confidence. The learning is individualized for each child's unique needs and interests. The children are given choices and they make their own decisions about what "work" to do on their sweet little work mats.
Another Montessori principle is letting the child explore indoors and outdoors as long as it's done in a safe environment. These principles reminded me a lot of how I grew up in France, exploring my own surroundings with a lot of freedom. Since Jude is now thriving at school, I decided to turn his room into a toddler Montessori bedroom.
The advantages of a Montessori-style bedroom
If you're wondering what a Montessori bedroom is and what the advantages are, you've come to the right mom blog.
The idea is to turn your toddler's bedroom into a space where he's able to reach everything on his own, fostering their imagination, self-confidence, and independence. In the words of Maria Montessori herself:
"We must give the child an environment that he can utilize by himself: a little washstand of his own, a bureau with drawers he can open, objects of common use that he can operate, a small bed in which he can sleep at night under an attractive blanket he can fold and spread by himself. We must give him an environment in which he can live and play; then we will see him work all day with his hands and wait impatiently to undress himself and lay himself down on his own bed."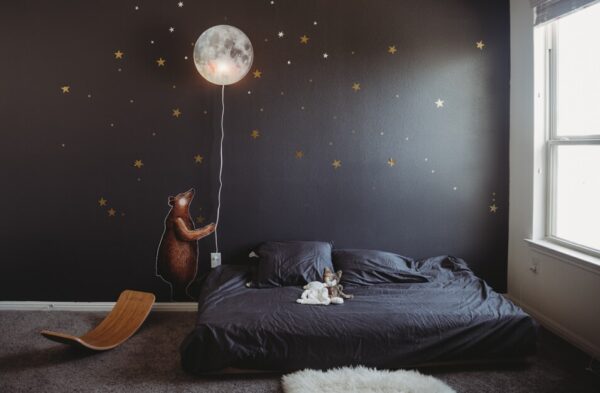 6 Steps to turn your toddler room into a Montessori bedroom
1 – Go Minimalist
First, you need to keep everything simple and minimalist. If you're a mom (or dad!), you've undoubtedly said the phrase, "this kid has too many toys… what a mess!" There are many benefits to only having a small amount of toys. I personally love wooden toys because they're durable, eco friendly, and encourage imaginative play. My favorite are Grimm's wooden toys. I also declutter a few times per year. We donate some toys, and the ones with sentimental value get put in a box that we hide for a few months.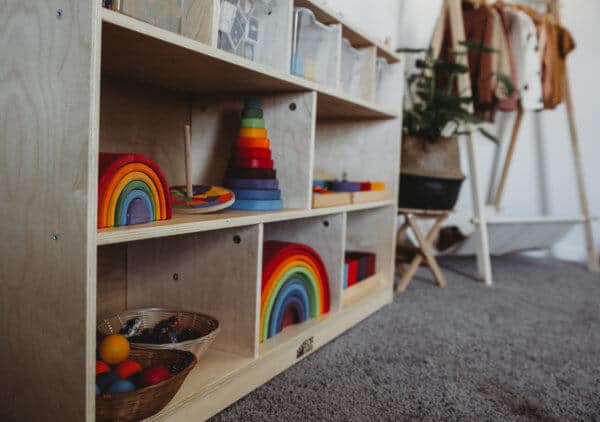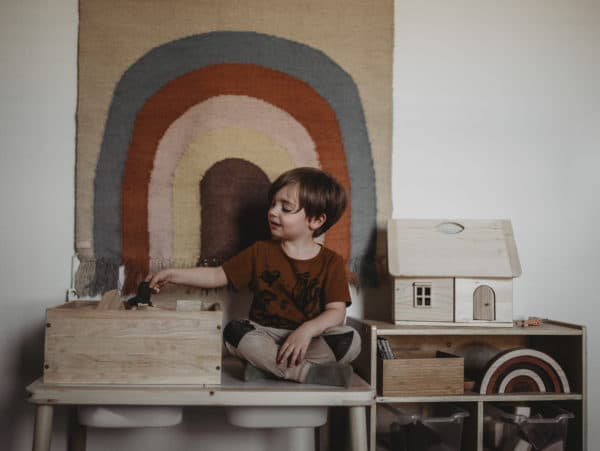 2 – Make Toys Accessible
Get furniture that allows your child to be independent. Get an open shelf so he can access his toys. We encourage Jude to clean up his "work" after he's done playing with a toy. The open shelf makes the process easy and encourages him to be more independent. Jude loves doing everything by himself now. It's a win-win situation for both parent and toddler. Another advantage? Look at how cute this Montessori shelf looks.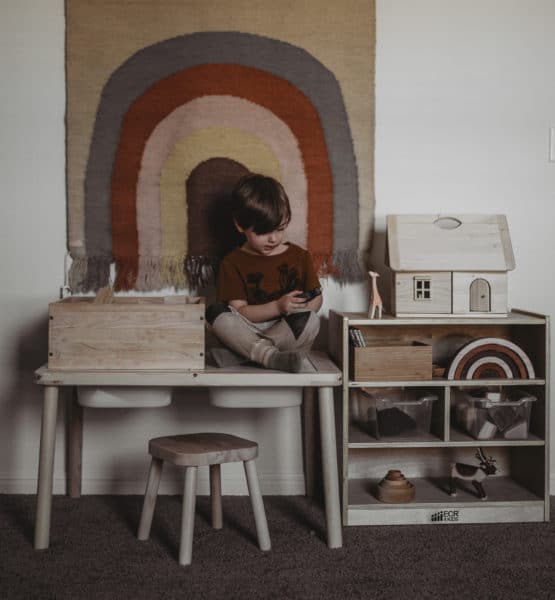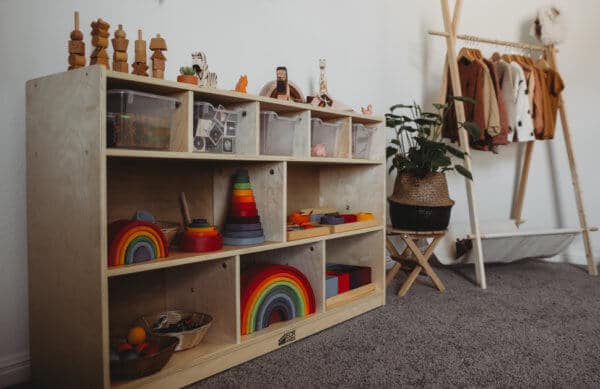 Make clothes accessible too. I made this clothing rack with my husband. It's super easy. See my DIY wooden clothing rack instructions here.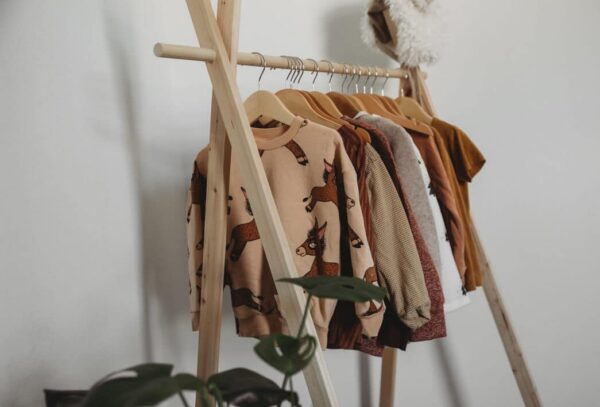 3 – Create a Workspace
It's important for your child to have his own space to create and work. We got this great table from IKEA that is the perfect size for Jude. I love the two bins underneath that store markers and paper. It would also make an amazing sensory table (waterbeads, rice, etc.). Right now, Jude uses his table to play with toys and especially to paint and draw. I love seeing him create and use his imagination.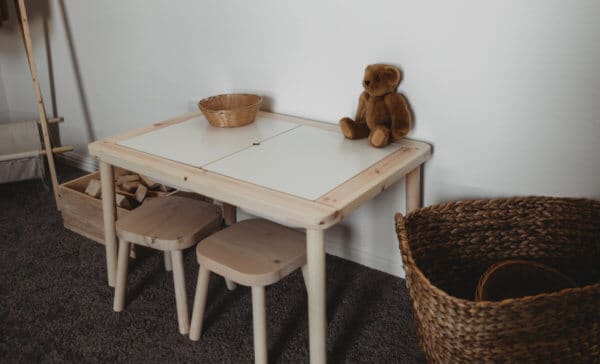 4 – Get a Floor Bed
There are many advantages to giving your child this other piece of freedom. There are benefits like the lower price, and that you don't even have to get a bed frame – just put a mattress on the floor, et voila! Another advantage is that they won't hurt themselves falling from the bed.
Got the stars stickers here on Amazon.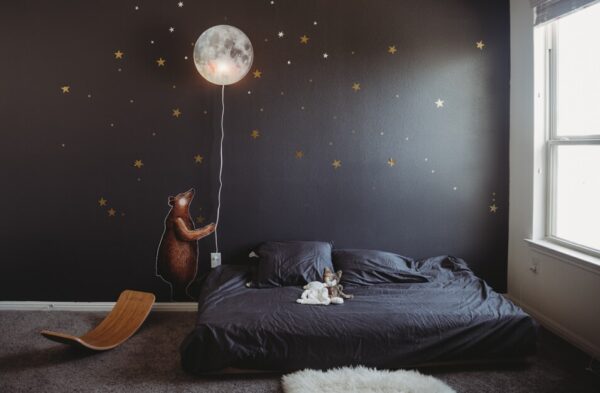 5 – Decorate Their Bedroom
We asked Jude to choose a theme for his bedroom. He said "stars and bears" so off to Pinterest I went to make it happen. I found the perfect wall decal and moon-lamp, and I'm totally in love with this wall in Jude's room. Because Jude was part of the decision process, he really appreciates his room and that makes it an inviting environment for him. It's a place where he wants to spend his time safely exploring and learning.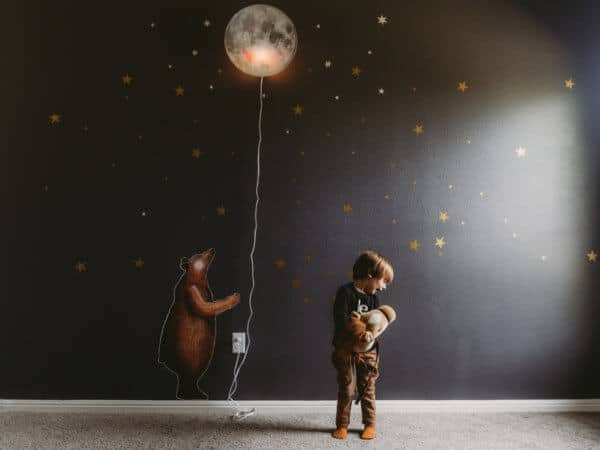 6 – A Reading Corner
Books are so good for children's development. We created a cozy area for Jude with two IKEA benches and a few wall shelves from Amazon. Jude loves that he can see his books. Just like with the toys, they're accessible. This area is right next to his bed so he can either go read in bed or sit on his cozy bench with pillows.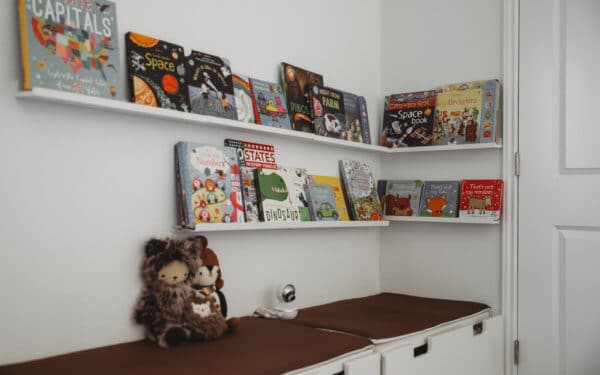 Finally, security is important so make sure all the furniture is secured to the wall, and that the bedroom is baby-proof, even with older kiddos. Remember that what works for one child may not work for another, so search for Montessori inspiration online and experiment.