15 AWESOME BOOKS FOR TODDLERS AND CHILDREN
Books are such a great way for toddlers and children to learn about the world around them. Here's a list of some of our favorite books currently, in 2020. There are so many more but I kept it to 15 for this blog post. Click on titles below to easily check them out on Amazon.
1 – Dragons Loves Tacos:
A #1 New York Times bestselling phenomenon, this deliciously funny read-aloud from the creators of Robo-Sauce and Secret Pizza Party will make you laugh until spicy salsa comes out of your nose.

Kitten's First Full Moon is an acclaimed modern classic, from one of the most celebrated and beloved picture book creators working in the field today. This memorable character and her suspenseful adventure are just right for the very youngest child. It is Kitten's first full moon, and when she sees it she thinks it is a bowl of milk in the sky. And she wants it. Does she get it? Well, no . . . and yes. What a night!

3 – The Rainbow Fish:
The Rainbow Fish is an international best-seller and a modern classic.

Eye-catching foil stamping, glittering on every page, offers instant child appeal, but it is the universal message at the heart of this simple story about a beautiful fish who learns to make friends by sharing his most prized possessions that gives the book its lasting value.
4 – In The Night Kitchen
From the acclaimed author-artist Maurice Sendak comes a Caldecott Honor-winning tale of a fantastical dream world. This comic fantasy will delight readers of all ages with playful illustrations and an imaginative world only Sendak could create.

In the Night Kitchen is the classic story of Mickey's adventures in the bakers' kitchen as they prepare our morning cake. "Milk in the batter! Milk in the batter! We bake cake and nothing's the matter!" the bakers sing.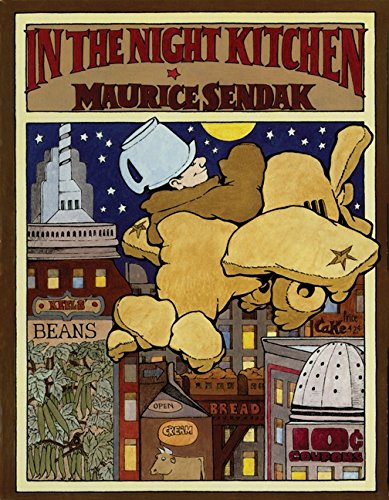 The cat walked through the world, with its whiskers, ears, and paws . . . In this glorious celebration of observation, curiosity, and imagination, Brendan Wenzel shows us the many lives of one cat, and how perspective shapes what we see. When you see a cat, what do you see?

6 – Where The Wild Things Are:
Where the Wild Things Are is fifty years old! Maurice Sendak's Caldecott Medal-winning picture book has become one of the most highly acclaimed and best-loved children's books of all time. A must for every child's bookshelf. This picture book is an excellent choice to share during homeschooling, in particular for children ages 4 to 6. It's a fun way to learn to read and as a supplement for activity books for children.

7 – Look Inside Space:
This is a great fun flap book packed with interesting information about space, and the amazing things that float through it – stars, moons, comets, and the planets of our solar system. Each double-page spread has a stunning colour illustration, and several flaps to lift to find out more about what's going on in the scene – such as what goes inside the International Space Station, how astronauts visited the Moon and what they did there, as well as the history of astronomy, from Galileo to the Hubble Space Telescope.

8 – Pokemon Encyclopedia:
Gotta catch 'em all! Immerse yourself in the Pokémon universe with this ultimate guide to the Pokémon animated series. Become a true Pokémon expert with this ultimate guide to the Pokémon animated series! 272 pages jam-packed with Pokémon stories, lessons, facts and figures, this amazing book features Pokédex references of each explored region, and the Pokémon encountered throughout Ash's incredible journey. The Pokémon Encyclopedia is the definitive reference for key characters, battles and places – it's an absolute must-have for all Pokémon fans. Immerse yourself in the Pokémon universe and learn the highest levels of Pokémon training. Gotta catch 'em all!

Giraffes Can't Dance is a touching tale of Gerald the giraffe, who wants nothing more than to dance. With crooked knees and thin legs, it's harder for a giraffe than you would think. Gerald is finally able to dance to his own tune when he gets some encouraging words from an unlikely friend.

With light-footed rhymes and high-stepping illustrations, this tale is gentle inspiration for every child with dreams of greatness.

10 – Animals in Underwear

:
From alligator to zebra – with a goldfish, iguana, yak, and even a unicorn in between – there's no better way to learn the alphabet than with animals… in underwear!

11– Little Unicorn is Angry

:
Little Unicorn's rainbow-colored mane is magic–it shifts to a single color when he's feeling a particularly strong emotion. It seems like a storm comes over him when he's angry, and his mane turns bright red. But when he repeats a special three-step breathing exercise, the clouds clear and his rainbow returns–and if he ever feels angry again, he'll know just what to do.

With simple, accessible artwork and the universal character appeal of unicorns, each Little Unicorn story allows children and caregivers to talk about and work through specific moods.

A spare, patterned text and glowing pictures explore the origins of light that make a house a home in this Caldecott Medal-winning bedtime book for young children. Naming nighttime things that are both comforting and intriguing to preschoolers—a key, a bed, the moon—this timeless book illuminates a reassuring order to the universe.

13 – Mix It Up

:
An interactive picture book from the New York Times bestselling "Prince of Preschool"
Great for toddlers, preschoolers, and early readers to learn about combining colors in a fun and imaginative way.
A mess free way to learn about transforming colors and following directions.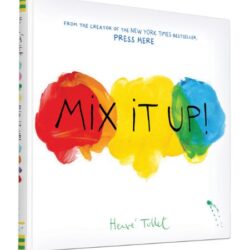 14 – What Makes a Rainbow

:
A rainbow of ribbons magically appear when you open the pages of this innovative book! Toddlers will love listening to the charming story and seeing a different colored ribbon with the turn of each page. The last page is sure to delight with all the colors of the rainbow. What a fun way to learn colors!

15 – Frederick

:
Winter is coming, and all the mice are gathering food . . . except for Frederick. But when the days grow short and the snow begins to fall, it's Frederick's stories that warm the hearts and spirits of his fellow field mice. Winner of a 1967 Caldecott Honor, Frederick has been cherished by generations of readers.