This post is sponsored by Teamson, all opinions expressed are my own.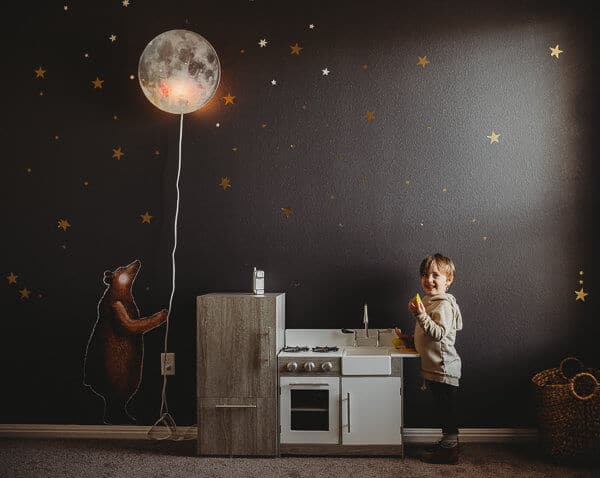 Since Jude was a baby, he's always shown interest in cooking. He learned how to crack an egg as he was learning how to talk. His daddy loves cooking and I love eating so I'm not surprised he's caught on to our love for good cuisine. When it comes to choosing toys, I'm big on open-ended and pretend-play toys because of their great benefits for children's development. We got this play kitchen from Teamson Kids and Jude plays with it hours every day.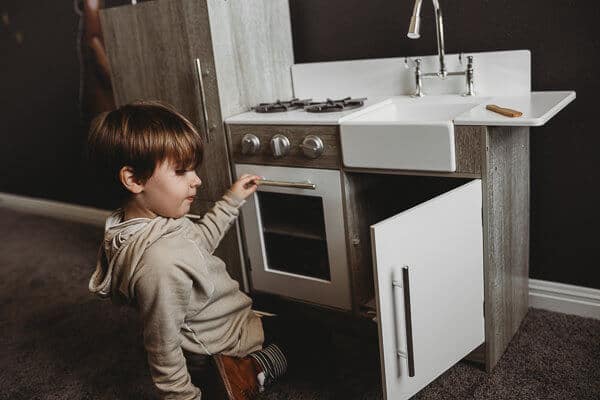 The benefits of a play kitchen
First of all, I love that Jude is so interested in cooking, I think it's important for children to have a hobby. I often wonder if Jude will want to become a chef when he grows up. Time will tell! Our Teamson kitchen has been a great help in keeping Jude entertained and happy. As a mom I love it even more because of the benefits it has on his development. Here are the main 3 advantages of a play kitchen and how it teaches kids important skills.
1 – Language and communication
First of all, a play kitchen is great at encouraging language and communication. Jude's been learning tons of new words like "stir," and "bake" and also the name of different foods and dishes. Kitchen role-play has been great at helping widen Jude's vocabulary.
2 – Pretend-play skills and imagination
Another benefit of a play kitchen has to do with pretend-play skills and imagination. I love that this Teamson play kitchen has a little oven and fridge because they multiply the role-playing possibilities. Jude pretends to cook food on the stove, and even wears oven mitts as he gets his food out of the oven. He creates his own recipes and then has us try them, warning us first if the food is too hot.
3 – Independence and confidence
Finally, I love that this play kitchen gives him a sense of independence and confidence. This is something he's loved since he started going to Montessori school. He's quite the independent child and likes to show us that he can do everything by himself. As a mom, I take this opportunity to teach Jude important skills, like keeping his kitchen clean, and putting things away when he's done cooking.

Why we love Teamson
This play kitchen from Teamson is gorgeous. I love their unique designs. The colors are neutral, so it fits really well with our home decor, and the details are super cute. There's a sink, an oven, and even a separate cabinet that Jude has been using as a fridge and freezer. And look at that sweet little telephone. I was honestly surprised that Jude knew this was a phone as it looks much different than the smartphones he's used to. It's so sweet to see him pretend-call us when dinner is ready.
Teamson Kids has more than just play kitchens, they also have the cutest step stool that turns into a chair. I love the minimalist design! They also have tons of other great items for kids across all of the Teamson family of brands on Teamson.com, including Fantasy Fields hand-crafted furniture and Olivia's Little World doll accessories. They're having a great holiday sale right now with price cuts ranging from 15-50% off. Plus, if you use my Promo Code TeamsonTAC20 you can get an additional 20% off your purchase through December 14th, 2018, including on sale items. The cutoff to get your products before Christmas is December 14th. Happy shopping!
And, one last thing, the Teamson family of brands is giving you a chance to win $3,000 cash and a selection of toys from @TeamsonKids, @OliviasLittleWorld, and @fantasy.fields! Click here to enter: bit.ly/TeamsonSweeps-TAC