Autism, mistakes, ABA therapy and
CPS
I debated sharing this for obvious reasons, but I believe this will be helpful for many parents. I also know a lot of you follow me for my honesty and vulnerability, so it didn't feel right keeping this a secret now that it's behind us.
A few weeks ago, Charlie pushed a chair up to the counter to access our vitamin cabinet, which also has some of the kids' medicines. He grabbed a bottle of children's melatonin gummies, opened the child-resistant lid, and ate most of the gummies. We called poison control right away, who told us we needn't worry—what he ate was not dangerous to his health. Still, as parents, we felt terrible. Sure, Charlie was fine, but what if he'd gotten something worse than melatonin gummies? And what if I hadn't noticed right away? 
As you may have guessed, the cabinet was not childproofed. Because of what happened, we ordered locks the same day and kept the cabinet sealed with several feet of Charlie-proof Gorilla tape along the edge of the door.
A couple of weeks later, Charlie ate a dog treat. It was in one of those large ceramic jars and was sitting against the back of the kitchen counter against the wall. Again, we took action right away by moving where we store the dog treats to the pantry. The pantry already has a child-proof doorknob cover and self-closing hinges that Willy installed, so it always shuts and locks by itself.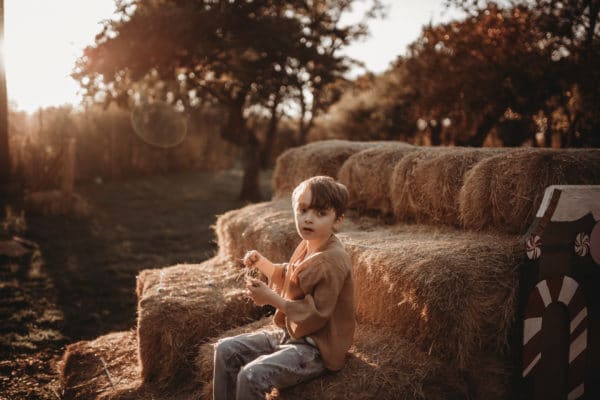 Mistakes happen and we take full responsibility
Willy and I take full responsibility for the incidents that happened. We're good, loving parents, but we're also busy, flawed humans. Raising a severely autistic child who has no sense of danger means you either need to have eyes on them at all times, or have a highly-secured environment if you're going to, say, step out to go to the bathroom. It only takes a second for something bad to happen. It's stressful, but it's our responsibility. We know it. 
We told our team of therapists what had happened because while securing cabinets is our responsibility as parents, we rely on them to help Charlie gain useful and fundamental skills. PICA (eating non-edible items) is common among autistic children, and Charlie doesn't have the skill-set to discriminate between consuming safe and unsafe items. So we went to our ABA team hoping they could help. 
Instead of support from our BCBA (Board Certified Behavioral Analyst), we heard a knocking at the door a few hours later to announce that because of those two incidents, she filed a report with CPS. No warning, no meeting with us to express concern. She didn't even check to see if we had hidden the dog treats and secured the cabinet. She reported us to the same agency that takes children away from abusive and neglectful parents.
The next day, a woman from CPS was at our door, interviewing us, photographing dozens of details in our home, talking to Charlie's therapists, and even talking to and photographing Jude. She saw that our house was safe. We have locks on all dangerous cabinets, drawers, and doors, as well as a custom-built barrier on top of our second-floor half-wall to prevent kids from falling or climbing over. We proactively got this before we even moved in. And that was it. The case was closed.
My feelings about this CPS report…
While this is technically behind us, I'm still emotionally affected by the events that took place. It was so hurtful to have someone I trust question my ability to be a good mother. I'm my own worst critic and felt absolutely terrible after both of these incidents. It took courage and trust to admit to Charlie's therapists that he got into melatonin gummies and dog treats. No one likes to admit they screwed up, but I did because it was the best thing I could do for Charlie and wanted to get help. I put away my ego and fear of judgment and did the vulnerable thing of admitting what happened to his ABA team. Never in a million years would I have thought that they'd report me to CPS. I feel betrayed.
The process brought our family closer together in the end, but I'm not sure yet how this will affect our relationship with Charlie's therapists moving forward. Will I feel comfortable sharing our future struggles with them? I don't right now, but I hope I can move past these feelings because the truth is, Charlie needs their expertise. 
As always, in hard times, there are lessons to be learned. This series of events is no exception, and it's why I'm sharing it with you. 
PSA:
Even if you believe your house to be totally secure, make another pass over to double-check existing child-proofed areas, and to identify new spots that need securing.