Thank you Bona for sponsoring this post, all opinions expressed are my own.
One year in our new home, hardwood floors as good as new
We've lived in our house for a year already. I can't believe it! I feel like just yesterday I was packing our little apartment, and getting ready to move into our first home. We all love it here, and I'm so happy to have a place to call home. Charlie likes his big room with a window to the woods behind. Jude loves having his own bedroom with all his toys, and I love having space for all my plants, and an office too. 
One of the downsides of having a bigger house is that it's harder to maintain and keep clean. Don't get me wrong, I love having the space, but finding the balance between work, me-time, and keeping the house clean isn't always easy. Plus, it seems like with every added week, we own a new thing that seems specifically designed to make our floors dirtier. 
To that effect, we added a sweet golden retriever to our family this year! And as much as we love our (not so) little Georgie, he makes keeping the house clean even harder. Our backyard gets muddy from the sprinklers, and George inevitably covers our entire downstairs,  and its beautiful hardwood floors, in brown, dirty footprints. Oh, footprints covered in long golden dog hair, because everything here is covered in long golden dog hair now. Yeah. And this isn't even to mention the two kids I have, and their messy proclivities too! You know, mom life… 🙂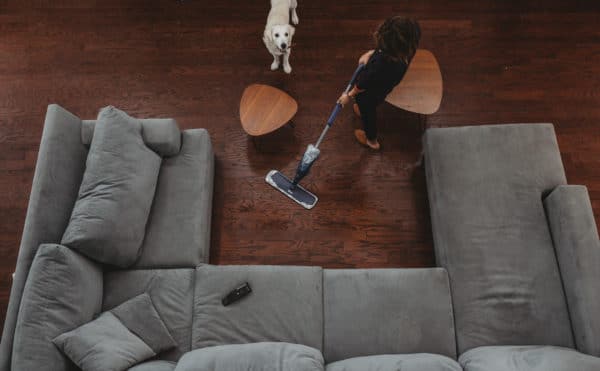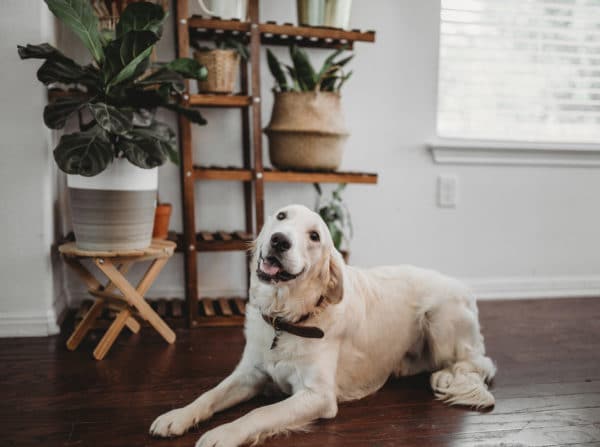 How to best take care of hardwood floors
It's my first time having a place with hardwood floors, so I did some research to make sure I was using the right products to clean and maintain them. I obviously want our floors to stay shiny and in great shape for as long as possible. I used to use disposable mopping products, but they never trapped the dirt well enough, and I had to use a full box of pads just to clean my whole house properly. I sought out an alternative, eventually, and came across Bona Hardwood Cleaner. Bona Premium Spray Mops are similar to the stuff I was already using, but thicker and sturdier, no batteries to have to buy, and with a much wider mop that uses microfiber and isn't disposable. The spray doesn't leave a slippery or sticky residue on the floor, and the large microfiber sliding pad removes dust, dirt, and grime. The wood gets clean, and it stays shinier because I'm not dragging around as dirty a pad like before. Bona is currently offering these fun, value priced Essentials collections at a discount for new home, new Mamas and more!
My first thought when I used our Bona mop was, "wow, it's big!" And indeed, the mop is wider than any other brands I've used. It's 16.75″ wide with rubberized corners, meaning each slide across the floor cleans more. Let's be real here, the faster the better when it comes to cleaning. Bona ends up being faster, cheaper, and better for the environment.
Bona: faster, less money, and cleaner
We have a few different types of floors in our house. A few of our bedrooms still have carpets and we're thinking of replacing some of them with hardwood floors too, but it's quite the project. Our bathrooms have tiles, though, and Bona has a great tile cleaner that's compatible with our Bona mop. Just as convenient and fast and easy to use as the Hardwood Cleaner. I just swap the bottles and that's it.
The Essentials Collections consist of a perfectly curated selection of Bona products that give you the tools to tackle (and tidy) life's most memorable moments, like moving into a new home. 
Use code essentials2019 to save on The Essential Collections on their website here.
At the end of the day, our house isn't always perfectly clean but Bona definitely makes it a lot easier. And if it's easier, it's faster. And if it's faster, I'm more likely to do it. And that's a big win for me.