This shop has been compensated by Collective Bias, Inc. and its advertiser. All opinions are mine alone. #DotComDIY #CollectiveBias
Hi there! I'm Willy, Eileen's husband, and I'm taking over The Autism Cafe today. I'm a car enthusiast and I'll be writing here occasionally on topics sometimes related to autism, and sometimes related to cars. Today, I'm going to talk to you about things that are important to me that I teach our two boys, Charlie and Jude.
What I want to teach my children
Among other things, I want to teach them ways they can save money, save time, and become more self-reliant. These are lifelong goals I'm working on myself, and skills I work to improve on an ongoing basis.
There's actually one thing relatively new in my life that allows me to put into practice all three of these skills (saving time, saving money, and being more self-reliant), and that thing is learning basic car maintenance. For example, doing an oil change is something you can easily do at home, and I'm going to show how simple it is by going over the steps here.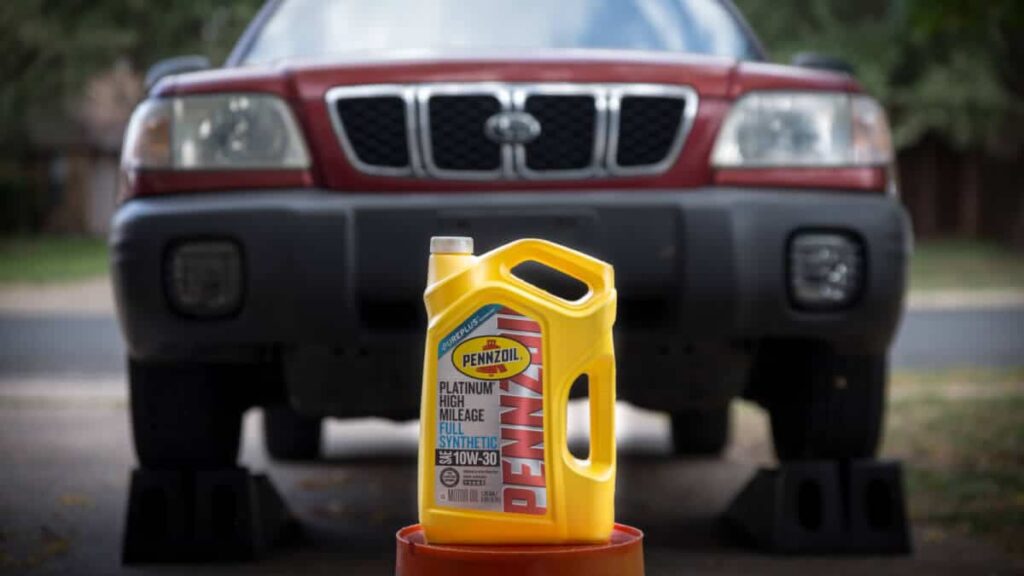 How to do an oil change at home?
I – Choose your oil.
I chose Pennzoil because Pennzoil Platinum® High Mileage Full Synthetic satisfies our car's requirements for oil, and exceeds the industry standards by up to 20% at keeping pistons clean. Beyond that, Pennzoil helps clean out sludge that lesser oils leave behind.
Everything I've read says that synthetic oils really are a smarter choice than conventional oils, and when vehicles reach 75,000 miles it's time to make a switch to high mileage oils. Our car is at almost twice that mileage so I don't mess around with just any oil.
This oil has something Pennzoil calls PurePlus® Technology that uses a process that converts natural gas into pure synthetic base oil, which is proven to deliver less oil burn off than conventional motor oils made from crude oil. Sounds good enough for our old car!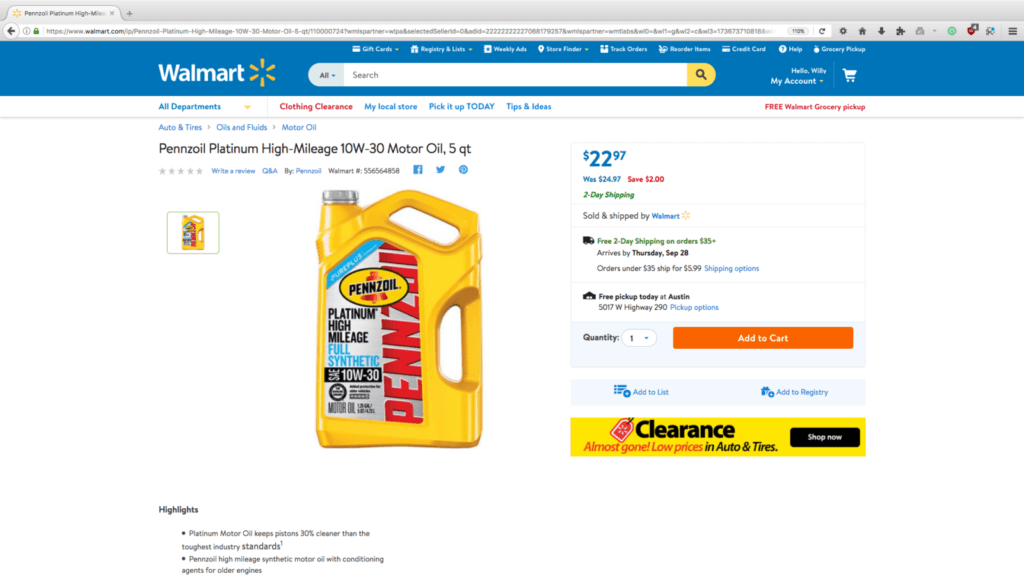 II – Order your supplies
I'm all about saving time, so I ordered Pennzoil from Walmart and they had some seriously budget-friendly options for Pennzoil oils. The ordering process was easy and intuitive, and all I had to do was order online and pick it up at the store. I could have even had it quickly shipped to the house if I wanted. Make sure, though, that you've checked your car's owner's manual in advance so you get the proper "weight" (e.g. 5w-20, 10w-30) oil for your car.
You'll also need:
a new oil filter (google the correct size for your car)
a new oil drain plug (ordered online or bought at a dealer, though many people skip this step)
a ramp (or a jack and jack stands) to elevate the front of the car
wheel chocks to prevent the car from rolling
a funnel for adding new oil
a wide-mouth container for the old oil to pour out into
safety goggles and rubber gloves
a wrench/socket for removing the oil drain plug
You can get most of these at Walmart.
III – The basic steps of an oil change
1. Lift the car off the ground.
Use a jack and jack stands or a ramp to get the front end of the car off the ground, using wheel chocks on the rear wheels to prevent them from rolling.
Let the car cool off for an hour if you were just driving it for a while.
2. Remove the old oil and filter.
Open the hood and open the oil cap under the hood to allow ventilation.
Place a wide container under your oil drain plug, open it, and let the oil flow out into it.
Unscrew your oil filter, making sure the container is underneath to catch the oil that comes out. Discard the filter.
Let the oil drain completely out of those two places.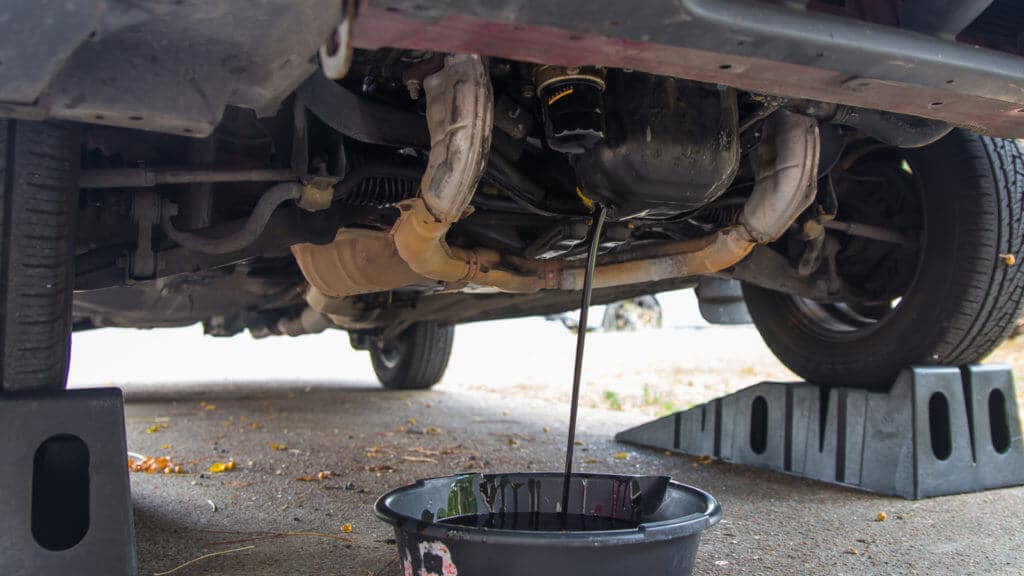 3. Add the new oil and filter.
Coat the rim of your new oil filter in a bit of new oil and hand-tighten it firmly, but not as tight as you can.
Install your new drain plug to the tightness your manufacturer specifies.
Check your manual to find your car's oil capacity.
Using a funnel, gently pour about 1 quart less than your car's capacity of new

Pennzoil

oil into where the oil cap once was under the hood.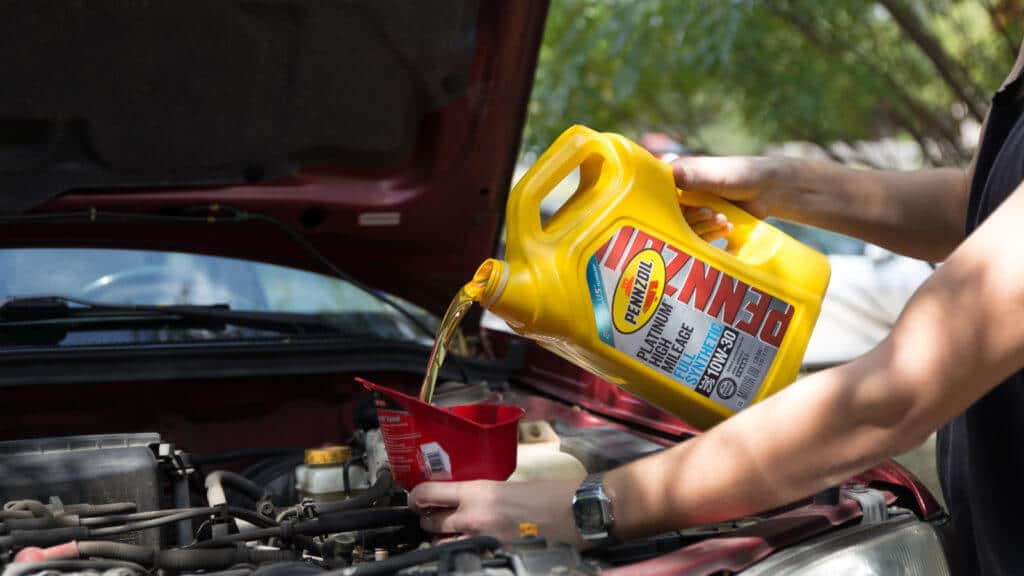 4. Lower your car and finish up.
Replace the oil cap, remove the wheel chocks, and lower your car off the jacks or drive it off the ramps. Turn the engine off.
Remove the oil cap again and check the oil level by wiping clean your car's dipstick, reinserting it, and reading the level.
Keep in mind that it may take the dipstick 30 seconds to register new oil added.
Keep adding oil, little by little, cleaning and checking the dipstick each time until the oil level reading is halfway between MIN and MAX. Don't overfill or underfill.
Replace dipstick and oil cap, and remember to recheck your oil level after you've driven the car a little, and regularly after that.
Bring the old oil to your nearest auto parts store so they can recycle it for free!

That's it. Basic car maintenance is a lot easier than it seems. I can't wait to teach Charlie and Jude how to do it because I always feel a sense of accomplishment after finishing an oil change, and I like to know that it was done right.
Even better, Walmart makes DIY oil changes even easier. Their ordering process is convenient, and you can do delivery, and in-store or curbside pickup.
Sweepstakes
If you're thinking about doing your first at-home oil change, now is a good time. There's a special offer. If you purchase any two qualifying Pennzoil products at Walmart and upload your receipt you can get $10 Ticketmaster Ticket Cash. Additionally, everyone who uploads their receipts is entered to win tickets to a Guns N' Roses concert as part of their "Not In This Lifetime" tour!