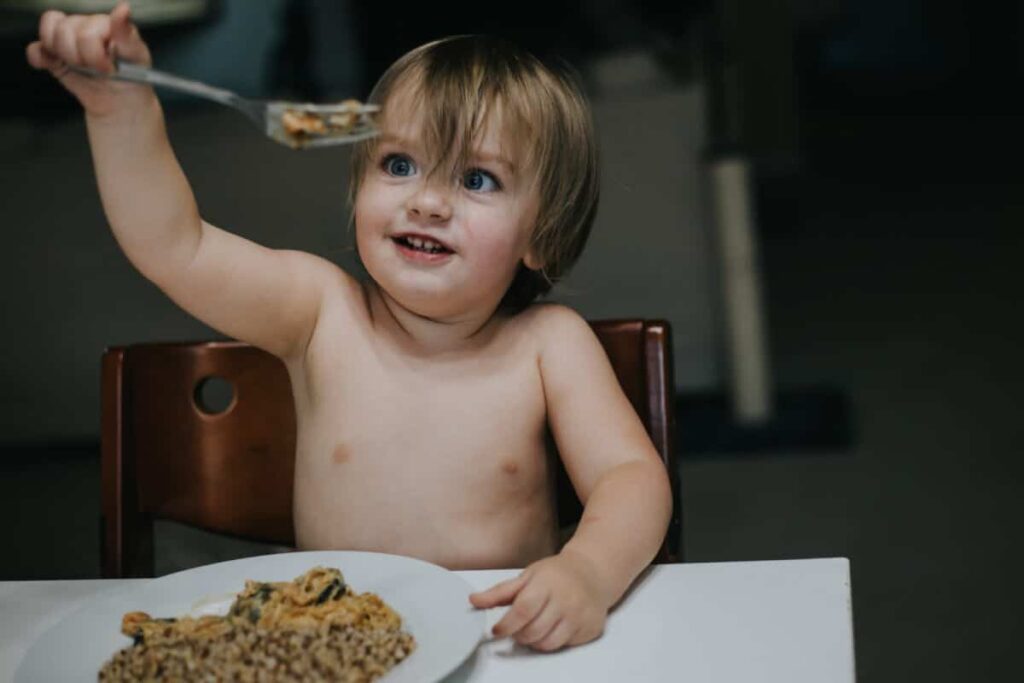 Being a working parent means it's hard sometimes to find time to cook nutritious food for my family. It's important though, so my husband and I came up with a few easy-to-make recipes that include veggies and Village Harvest Protein Blend. The recipe I'm going to share with you today is inspired from the French dish ratatouille. You'll travel to the French Mediterranean without leaving your home!
Healthy after-school snack options for the kids
The great thing about this dish is that it still tastes good when reheated. So many times, I've cooked a dish and saved the leftovers to then be disappointed the next day after I reheated it. For that reason, this ratatouille dish is a great healthy snack and meal option for children and adults alike.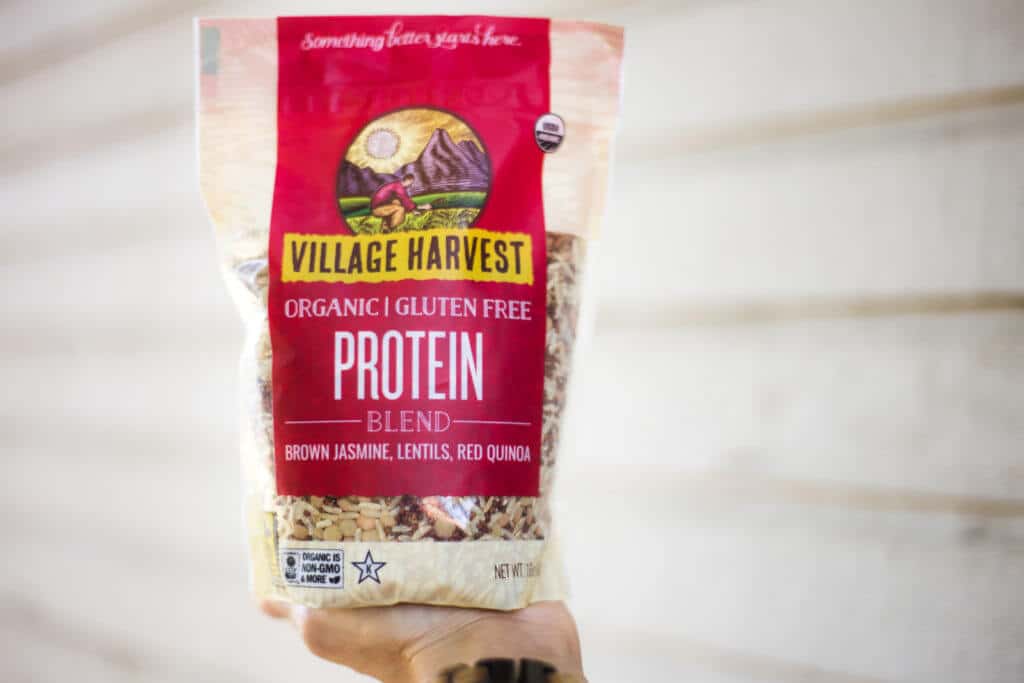 I used the Organic Protein Blend but you could use any number of Village Harvest's great blends. They offer a distinctive combination of healthy goodness with three Benefit Blend varieties: Organic Antioxidant Blend, Organic Ancient Grain Blend, and Organic Protein Blend.
You can see their three blends here —> clvr.li/VHblends
Village Harvest gives back
Village Harvest products are more than just rice, they are about discovering new possibilities at home in the kitchen. As a company, Village Harvest defines social sustainability as not only caring for our planet, but also the workers that help to bring whole, healthy grains to your door. Village Harvest has pledged 1% of their profits to run programs that give back to the farmers and local communities from which they source their products, and Village Harvest has pledged to donate 1% of their employees' time to charitable causes and sustainability efforts.
Village Harvest products are more than just rice, they are about discovering new possibilities at home in the kitchen, or thousands of miles away in the fields. The company's slogan is Something Better Starts Here.
Here's an easy meal for your entire family that tastes great… and is healthy too! In it, I used Village Harvest Organic Protein Blend
RATATOUILLE with VILLAGE HARVEST

INGREDIENTS:

1 box of Village Harvest

Organic Protein Blend

1 small onion
3-5 garlic cloves
3 zucchini
2 medium tomatoes
8-12oz bacon
2 tablespoons brown sugar
1 tbsp cooking oil
1-2 tbsp olive oil
8 oz. sour cream
Salt and pepper
Ras El Hanout spice blend
Pinch of Cinnamon

INSTRUCTIONS:

Heat pan with a thin layer of oil.
Preheat oven to 400F.
Slice zucchini into quarter-inch thick rounds, and chop onion into small-medium pieces.
Cook zucchini and onion in pan, stirring often until they're brown but not burnt.
Follow directions on

Village Harvest Organic Protein Blend

box. Begin that process now.
Cover baking sheet with foil and place one layer of bacon evenly across. Cook in oven for 12-15 minutes, flipping halfway through.
Peep and chop garlic into small pieces. Slice tomatoes into medium cubes.
Turn heat down to med-low on zucchini mixture. Add olive oil, garlic, brown sugar, and tomatoes. Stir regularly.
When bacon is done, chop into smallish pieces and add it, along with the sour cream, to the zucchini pan. Stir until mixed.
At this point, start liberally adding Ras El Hanout, tasting the mixture each time.
Add plenty of salt and pepper to taste, along with a pinch of cinnamon.
Keep tasting, adding more Ras El Hanout, salt, and pepper if needed. Stir.
Add small splashes of water if sauce is too thick. Turn down heat to low.
Serve hot, mixed with or next to a serving of Village Harvest on a plate.

Bon appétit!
We love Village Harvest products. They're tasty, and I know I'm feeding my kids good things. We eat all three of their unique mixes of gluten free rice and nutritious grains. If your store doesn't carry Village Harvest, I encourage you to complete a Product Request Form here: clvr.li/VHBRequest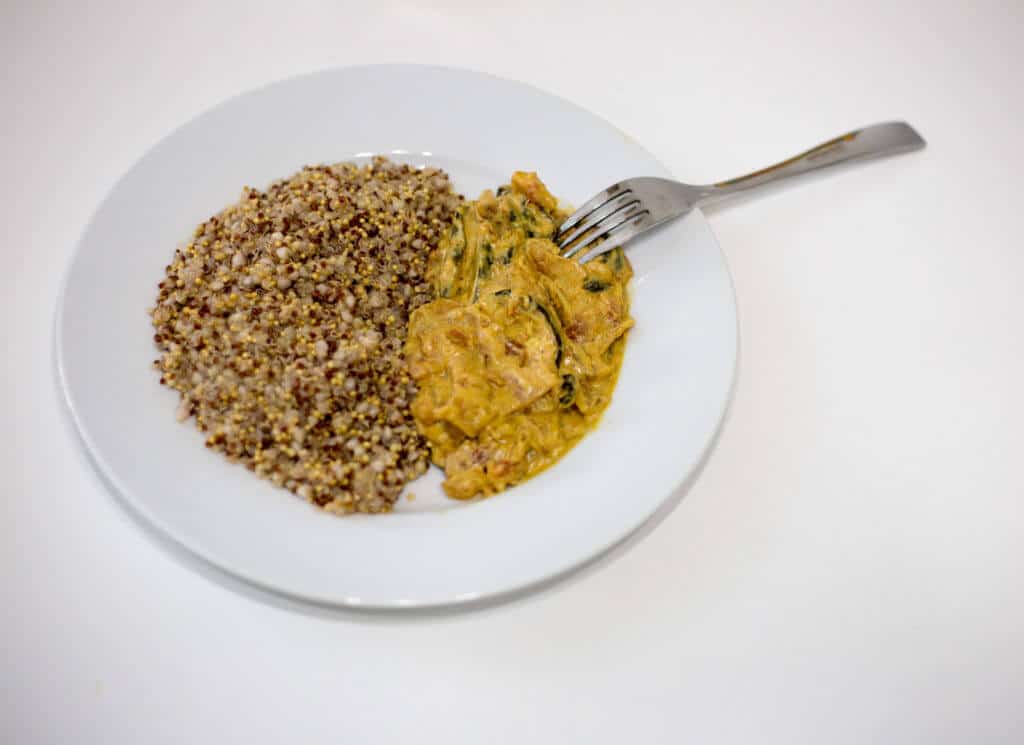 I was selected for this opportunity as a member of CLEVER and the content and opinions expressed here are all my own.