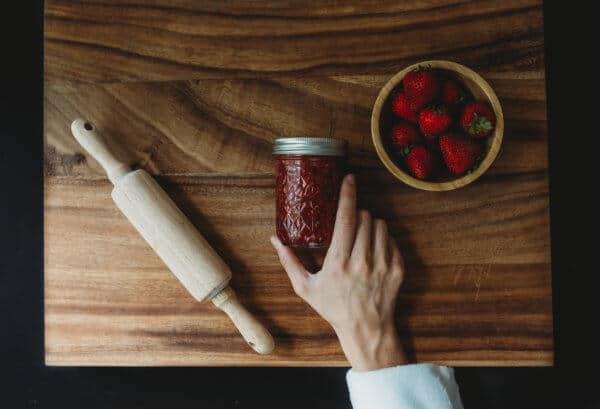 This post is sponsored by Newell Brands, makers of Ball® Fresh Preserving Products
Now that we're getting ready to move into our new house with its brand new kitchen, I'm so, so excited to learn more culinary and cooking techniques. In our tiny apartment, it was hard for me to get motivated to try new things sometimes because I lacked the physical space to do it. Not anymore! Not to mention, it's summer, so it's the perfect time to learn a new hobby and get out of my comfort zone. So I learned about food preservation with Ball® Jars and it's been a really fun experience.
Growing up in France, one of the most classic and yummy breakfasts we had was toast with butter and jam. To this day, it's still one my favorites. Classic. You know what makes it even better? Homemade mixed-berry jam! I'm going to share the recipe and process with you today so you can try it at home too.
Food preservation
To be honest, before I tried canning, I was intimated. I'm not an experienced cook and I wasn't sure I'd be able to do it myself but I was wrong. If I can do it, you can do it too. Canning has been a fun pastime for me this summer. Jude enjoys cooking so he helped me with the process a bit. We started with a small batch of the mixed-berry jam and it turned out great.
I love the idea of homemade food, beautifully preserved in a Ball Mason Jar. It's delicious and makes a great and thoughtful gift. Last weekend, Willy, Jude, and I decided to give this jam recipe a try and it was a great time.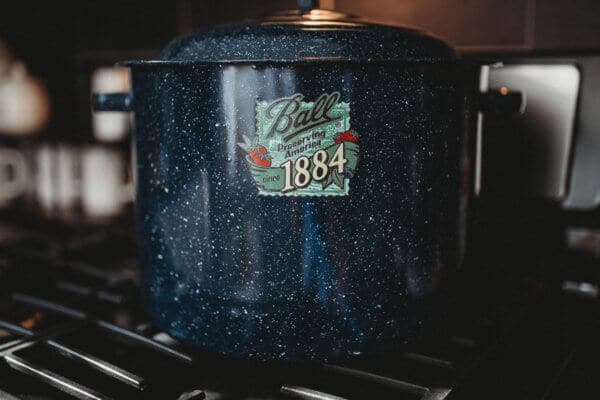 Canning: Mixed Berry Jam Recipe
Ingredients
6 cups of any berries you want, crushed

4 1/2 tbsp Ball® RealFruit™ Classic Pectin

3 cups sugar

6 Ball® 8 oz (Half-Pint) Jars

1 Ball® Canner with Canning Rack, or large stockpot

Ball® Utensil Kit (includes funnel, headspace tool, and jar lifter)

8 qt. saucepan

1 Wooden Spoon (for stirring)

Wooden cutting board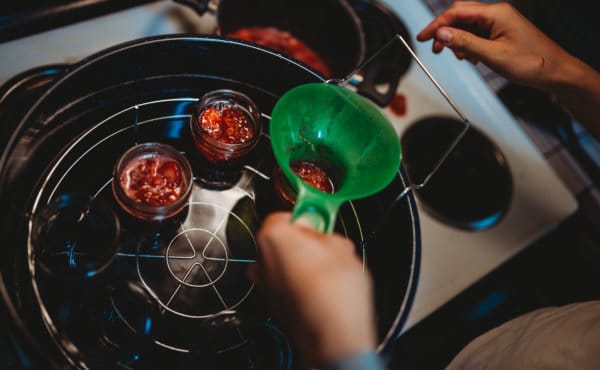 Directions
Wash everything you'll be using very well.

Heat your Ball jars partially submerged on a jar rack in a pot of hot (but not boiling) water.

Heat your crushed berries in a large saucepan.

When they're soft, slowly stir in your pectin.

Bring to a full boil and stir constantly for a few minutes.

Add all of the sugar, and stir until completely dissolved.

Return to a full boil for one minute.

Pour hot jam through a wide-mouth funnel into your hot jars,

Leaving 1/4 inch headspace

Clean the tops of the jars, and then screw on the lids

fingertip tight

.

Keep these jam-filled jars submerged in two inches of water in the large pot. Heat, and hold at a steady boil for ten full minutes, covered.

Turn off the heat, remove the cover from the pot, and let your jars stand for five minutes.

Fully remove your jars now to let them cool.

The next day, make sure the center of each jar's lid cannot be pressed in to make a small popping sound. (If it does, the seal was broken and the jam might be contaminated.)
Bon appétit!
See, it's easy. The jam was delicious and I'm so happy we tried it. I have a new hobby!
Next time, we're going to make roasted garlic tomato sauce. Stay tuned!