Thanks to Brentwood Home for giving us the gift of good sleep. All opinions expressed are my own.
It's fall, y'all!
I can't believe it's already been four months since we moved into our first home. We've gone through a lot the past months and we're just now finding our rhythm. Willy's back at school full-time, meanwhile I'm trying to juggle work-life and home-life while taking care of two opinionated kiddos. Needless to say, at the end of the day I look forward to crashing in bed with Willy and having a good night of sleep. If you're a mom, I'm sure you know what I'm talking about. Good sleep is the holy grail!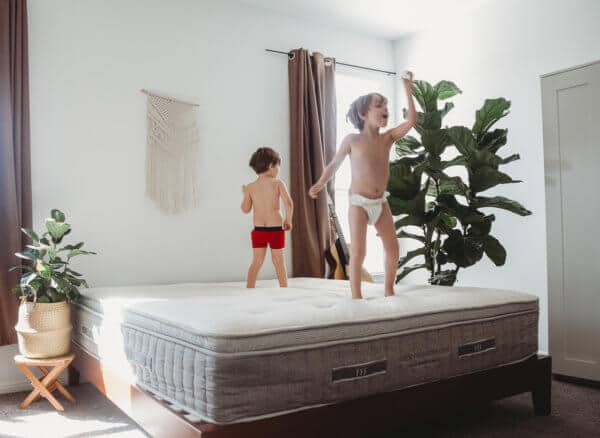 Luxury sleep at home
We got this amazing mattress from Brentwood Home, a company that's been handcrafting the finest luxury mattresses and bedding in Los Angeles, CA since 1987. I love products that are made in the USA and I wasn't disappointed with this mattress. It's high quality! Even Willy, who's picky when it comes to choosing a mattress, is thrilled with the Brentwood. Its firmness is perfectly judged. I get back pain from funky sleeping positions a lot so having a comfortable mattress is a necessity for me. After a good night of sleep, I feel better physically but also mentally and I can be a better mom and kick ass at work because of it.
Another cool feature is that Brentwood Mattresses are made of non-toxic materials with natural elements and these features too:
• Greenguard Gold Certified®
• CertiPUR-US Certified® foams


Family time
We are not the only one who love this mattress. The kids like to jump on it as soon as they get home. It's actually become their bonding time together. You'll hear Jude scream, "Charlie! Time to jump on the bed," and off they go! Jude likes to pretend he's a superhero with his cape. After dinner, we also read books in bed together. It's our special time.
Unfortunately for Willy and I, every night around 2am Jude join us in bed. I usually end up sleeping with his feet in my face while he lays across the bed. Toddlers don't understand the notion of personal space very well. Needless to say, I'm happy we got our Brentwood Mattress in King Size, so I can just slide away and put Jude in the middle.
Willy and I still manage to squeeze in some much needed alone time at other times of day. Shh! Don't tell Jude!

Brentwood Home
If you're on the fence, don't worry, you have a 120 Night Sleep Trial (for mattresses), and 30 days for other products (bedding, pillows, etc.). Brentwood Mattresses also have a 25 Year Limited Warranty. Imagine how old you'll be in twenty-five years. Take a look at their website and see for yourself. They have free shipping + free return pickups too.
Wishing you all a good night of sleep!