This is a sponsored conversation written by me on behalf of Charmin. The opinions and text are all mine.

Stock up on toilet paper for your spring family gathering
Spring is in full swing. It's the season for BBQs, backyard parties, and family gatherings. My mom and step-dad, Tom, are coming from France in a week and I'm extremely excited. In anticipation of their arrival we're doing some spring-cleaning and to get the house ready for them. I've been trying to declutter the house and make sure everything looks perfect. I haven't seen my mom in two years and basically, I want her to see that we have our act together while presenting her with an inviting house.
There will be lots of guests coming in and out of our house this spring so I want us to be prepared on all fronts. Speaking of which, there's one thing you can't forget: toilet paper. Running out of TP can be, well, awkward and frustrating, especially for your guests!
Make sure to save your guests the awkward moment texting you from the bathroom, "is anybody here?? You're out of toilet paper…" …with New Charmin Cushiony Soft 24 Ct Family Mega Rolls! One Family Mega Roll has more than five times the sheets of a roll of Charmin Regular Roll bath tissue. Not to mention, Charmin Cushiony Soft 24 Ct Family Mega Rolls is as soft as its name. Your bottom deserves the best too. And your guests' too.
Great deal
Amazon has a great deal right now so I took advantage of it and stocked up on Charmin's irresistibly soft Family Mega Roll Toilet Paper. Your guests will appreciate nice quality toilet paper with that unique cushiony touch. Right now you can save $3 on Amazon when you purchase New Charmin Cushiony Soft 24 Ct Family Mega Rolls. Simply use promo code: 3MEGACHARMIN. There's an additional $2 off coupon that can be applied at checkout for a total savings of $5.
Beyond spring cleaning and welcoming guests, there are a few more reasons why I always make sure we have a lot of TP at home: potty training and outdoor adventures with the kiddos.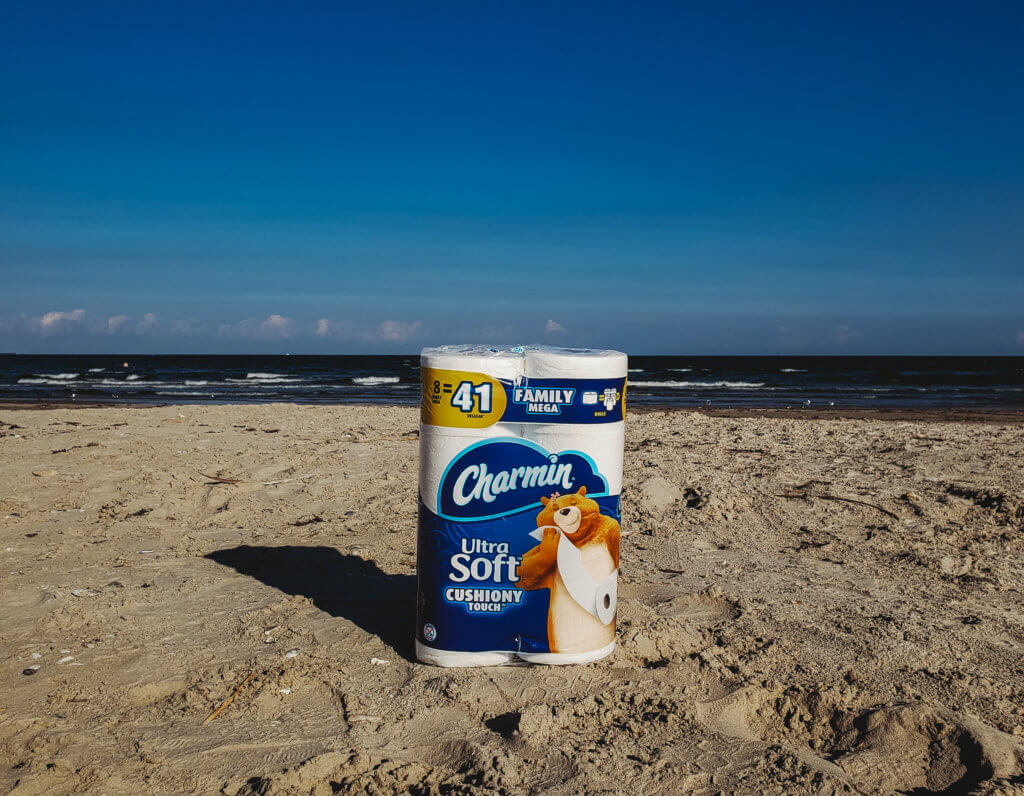 Potty training and outdoor adventures
I remember when we made the decision to start potty training Jude. His teacher at school told us that she thought Jude was ready. I was skeptical as he was just 2 years old and didn't show any signs of readiness at home with us. We agreed to give it a shot though because there's not much to lose, except maybe extra laundry – a lot of extra laundry – and some messes for a few days, right? I spent a lot of time cleaning messes the first week but he's been fully potty trained since then, which means that one more person is using the bathroom. And I'm happy to be making that transition easier for Jude with the super soft New Charmin Cushiony Soft 24 Ct Family Mega Rolls..
I'm also thankful we brought some rolls to the beach this weekend because Jude had to use the potty on the beach and well, there was no TP in the bathroom. Charmin to the rescue!
So if you're like me and you've been enjoying a little spring cleaning, preparing for some guests' arrivals, or even starting potty training, make sure to take advantage of this great sale. Now is the perfect time to stock up on the NEW Charmin Ultra Strong Clean Touch and Charmin Ultra Soft Cushiony Touch Toilet Paper, both sold on Amazon. Here's the coupon code one more time for you. Happy wiping! —> 3MEGACHARMIN