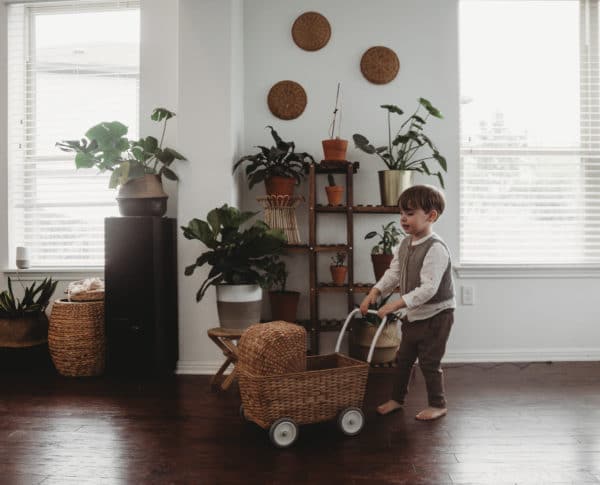 What are the advantages of a Montessori approach?
The biggest factor in our decision to adopt a Montessori approach with Jude is how it fosters independence in children. When Jude started going to Montessori school, I wasn't sure if it was going to work for us, but within a month, Jude's language skills and social skills exploded. On top of helping with his development, he became quite the independent little man! At home, he loves to do it everything by himself, whether it's washing his hands, getting dressed, or even helping with cooking.
We set up his room to help him gain independence too. All his toys are easily accessible on an open shelf. When it comes to choosing toys, I love wooden toys because they're timeless, high-quality, natural, and their open-endedness encourages Jude to use his imagination.
Where to shop for your toddler's Montessori toys
My favorite Montessori toys for the boys are Grimm's and Ostheimer wooden animals. You've seen them in my photos before. Both of these brands are available at Norman & Jules. They're a little boutique in Brooklyn that sells many of my favorite brands, but they also have an online store which I love. It's become my go-to one-stop place for Jude's toys and other Montessori items.
I got this awesome aviator set from them. Jude loves to pretend he's a pilot. How cute is this??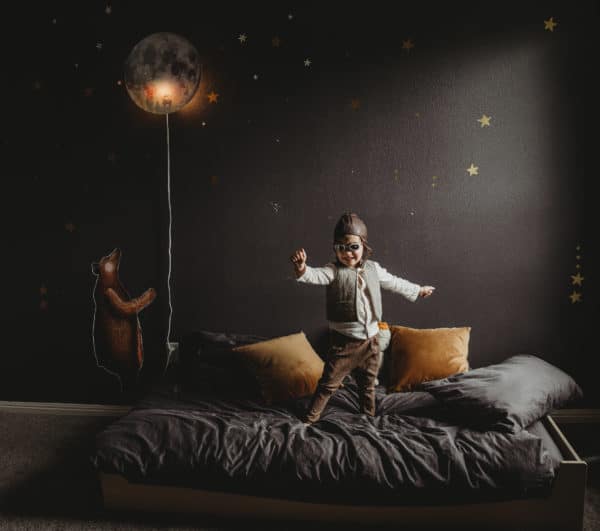 Banwood Bike, and woven rattan strolley
When I get toys for the boys, I think about how much they're gonna like them, how good they look, but most importantly how it's going to benefit them and their development.
Charlie's turning 6 this week and he still struggles with coordination, so riding a bike seemed like a perfect opportunity to work on these skills while still having fun. I fell in love with the scandinavian design of this Banwood Bike that I found on Norman & Jules too. We've been having so much fun with it. Also a key feature is that it has removable training wheels, so it will grow with the boys.
Jude loves this strolley made of hand woven rattan. He uses it to go pretend-shopping, and at the end of the night, we use it to clean up all his toys. It goes perfectly with our boho house decor.
If you're looking for inspiration and awesome montessori toys for your kiddos, Norman & Jules is the place to shop.