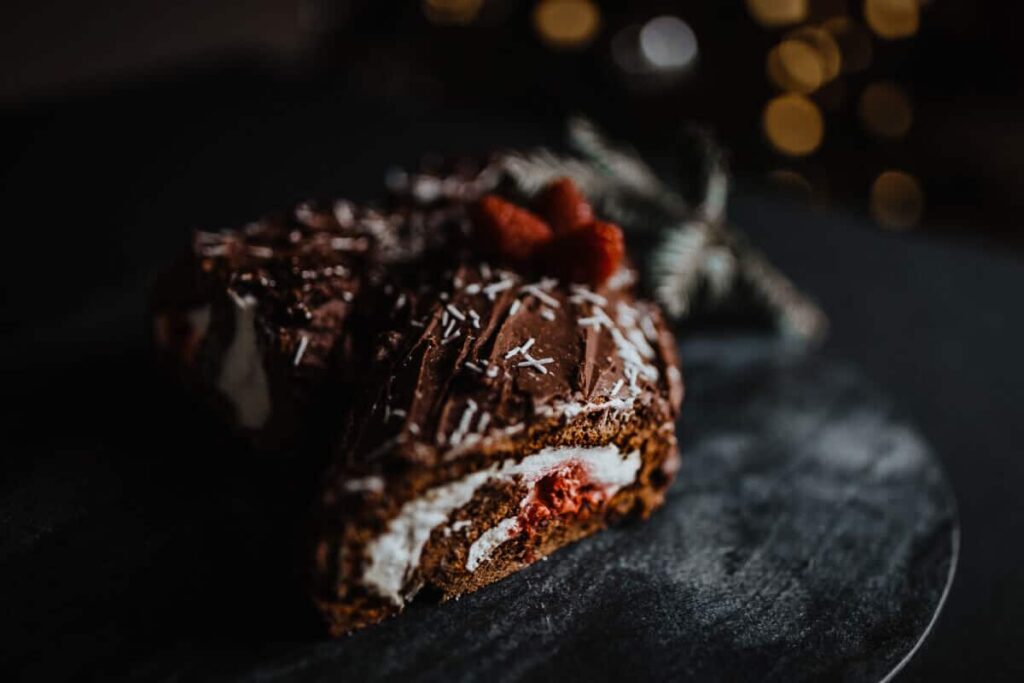 The Bûche de Noël tradition
From growing up in France, there are a few traditions that I miss. One of them is eating Bûche de Noël for Christmas. It's a thin, spongy cake rolled up to look like a log. It's delicious, visually appealing and brings back memories for me. My husband, Willy, is a great cook, and has been making Bûche de Noël for me the past three years. Here's the recipe.
Bûche de Noël Recipe
Ingredients:
8oz semisweet baking chocolate, chopped
1/2 cup all-purpose flour
2 cups whipping/heavy cream
1/4 cup unsweetened baking cocoa
1 cup sugar
1/2 lb fresh raspberries
5 egg yolks and white separated
2 tablespoons vegetable oil
1 teaspoon vanilla extract
1/2 teaspoon salt
Butter for greasing baking sheet
Materials:
15 x 10 x 1-inch backing sheet
1-quart saucepan
Electric mixer
3 mixing bowls
Large, clean kitchen towel
Instructions:
To make ganache, place small pieces of chocolate in a medium-size bowl. In a 1-quart saucepan, heat 1 cup of the whipping cream to simmering over medium heat. Remove from heat and cool for 1 minute. Now, pour hot cream over chocolate and stir until it's smooth. Let your ganache stand for 30 minutes until it's thickened and stir occasionally.
Preheat oven to 375°F. Grease baking sheet with butter, then line sheet with waxed paper and grease the paper with butter too.
In a large bowl, beat the egg yolks and 1/2 cup of the sugar with an electric mixer on high speed. Finally, add the vanilla.
In a medium bowl, beat the egg whites with a pinch of salt. We call this technique "Monter les oeufs en neige". You know you are done when you can turn your bowl upside down without your egg whites falling out. They should look fluffy and hard but not stiff like a meringue.
Stir in the remaining 1/2 cup of sugar to the yolk mixture, and then gently fold your egg whites into the yolk mixture.
Slowly incorporate the flour, a 1/4 cup of cocoa, and the salt into batter; folding gently until blended. Pour into baking sheet evenly and bake about 16 minutes or until done. Sometimes it cooks very quickly!
Now, Whip the remaining cup of heavy cream on high, adding sugar to taste, until it becomes whipped cream.
While the cake is baking, sprinkle cocoa powder on your clean kitchen towel. Take your cake out of the oven, lay the towel powder-side down on top, and immediately turn it upside down so the cake comes out onto the towel.
This is where it gets tricky and what will give your cake the log form. While your cake is still hot, spread the whipped cream evenly across the whole thing. Place raspberries into the whipped cream to taste as well.
Then, with your two hands along the long side, carefully roll it up. Roll it tightly, but not so tight that all the whipped cream squirts out. Be delicate. Then let it cool on rack for 30 minutes.
Cut about 1/4 of the cake off at a 45-degree angle, and place it along the side of the rest of the cake as pictured here. This is your branch coming off the log. Transfer cake to the serving platter.
Spread your ganache along the surface of the cake, and then run a fork along it lengthwise to simulate grain.
Sprinkle with powdered sugar and garnish with fresh raspberries.
Bon Appétit!