Potty training a child whether autistic or not can be challenging.
When Charlie was 2 1/2, we decided to give potty training a shot with the help of his ABA therapists. Having a child with autism, I worry about not knowing whether or not my son will ever be able to take care of himself. It's really important for me to teach Charlie self-care skills. He has several daily-living goals in therapy like toilet training, teeth brushing, and hand washing.
When Charlie's BCBA told us that she didn't see any reasons not to try potty training, I'm not gonna lie, I was skeptical. How was he supposed to understand the concept of peeing in the potty, let alone accepting sitting on the potty? It seemed impossible. To put it into perspective, when Charlie was 2 1/2, he had no words, no way of communicating (we were working on PECS with little success), he couldn't follow directions, he screamed an average of 60 times per hour and he had regression after regression. Well, I was wrong, it took a couple weeks of tears, accidents, and tantrums but after that, Charlie was able to pee on the potty. We still have to take him or else he won't go on his own. He's not fully potty-trained but if we remember to take him every hour or so, he will stay dry. It's a big success for us.
How to help your autistic child with potty training?
If your child is high-functioning, you may be able to use social stories, video modeling, or visual cues. For instance, you can use picture cards that describe the step-by-step process required to pee in the toilet. You can also use actual photos that you have taken of your child using the toilet if your toddler likes more concrete examples. Make sure to place these photos in the correct order of steps (ie: First take off pants, then take off underwear, then sit on the potty, etc.) and place it somewhere your child can easily see it.
Using visual cues or social stories wasn't an option with Charlie. He was too far behind in his development to understand any of it so we had to find another way to teach him property. I'm going to share with you what worked for us. Remember, all children are different and it may not work for you. That said, if you're consistent and follow this plan thoroughly, it should work! Before you start, you have to be sure you have time to commit to it. Potty training is a big commitment that requires careful planning, and you have to follow a strict plan. There isn't a miracle plan that fits all autistic children but this worked well for us.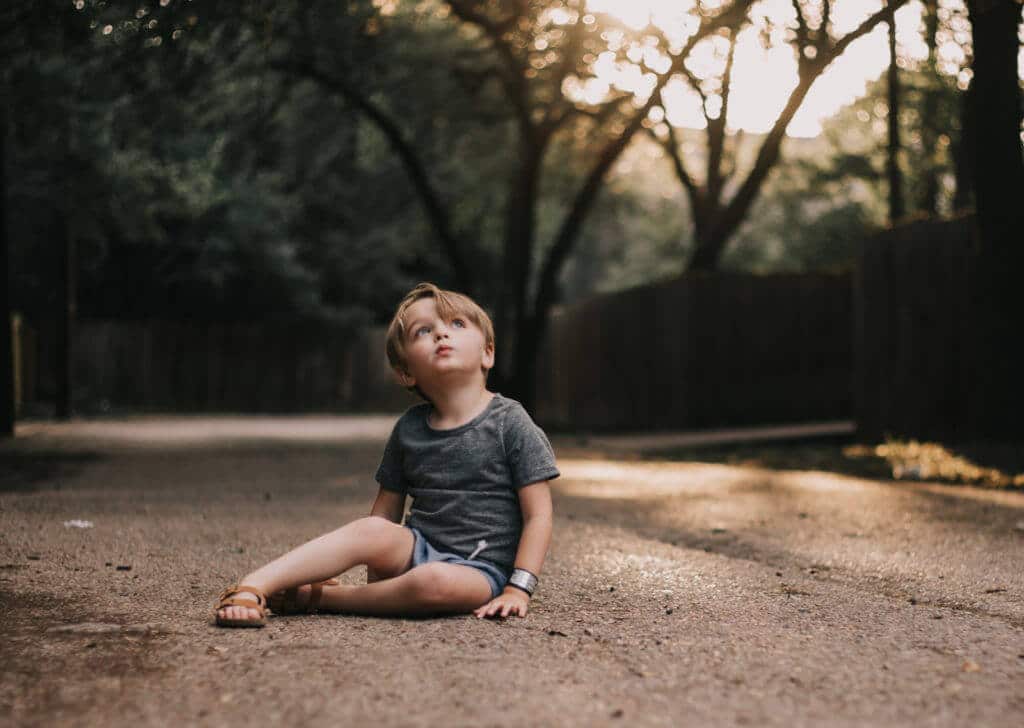 Here's how to potty train an autistic child in 5 easy steps.
1 – Make the bathroom fun.
If your child is anything like Charlie, he may not even want to come near the potty or enter the bathroom. You can make the bathroom fun by spending time in there with your child without placing any demands on him. Bring books, blanket, pillows, an iPad, or whatever toys your child really likes. Spend time in the bathroom just hanging out. Remember to make it fun! You want your child to associate the bathroom with a positive experience.
2 – Find a reinforcer.
Find something that your child loves, something he doesn't get often. It can be edible, like M&Ms or chocolate chips. Maybe stickers? Hot Wheels cars? You know your child best! Make sure that your child only gets access to your reinforcer of choice during potty time. For instance, if you choose chocolate chips, do not give your toddler chocolate chips outside of the bathroom. It's very important to keep your reinforcer highly motivating so your child associates potty with a highly preferred item. We chose M&Ms, Nutella, and cookies. We had to change often because Charlie's tastes are always changing.
3 – Bye-bye diapers
So now, you have your reinforcer and you made the bathroom fun. It's time to start the potty-training process. No more diapers except at night-time. This is very important. That's why you have to make sure that everyone is on board before you start the process. Put your child in underwear or training pants. There will be accidents, it's a normal part of the process.
4 – Set up a timer every 30 minutes
Set up a timer every 30 minutes and say "It's time to go potty". At first, you just want your child to at least sit on the potty. He probably won't want to sit at first, and that's okay. Be really encouraging when he does sit and give him lots of praise. Give him chocolate chips or whatever reinforcer you chose. In the beginning, make him sit for 15 seconds. You can set up a timer with your phone when he's on the potty and say, "ok you're gonna sit on the potty for 15 seconds and then you get chocolate chips". Show him the timer so he can see the numbers go down. Once he sat for 15 seconds, let him get up and give him the reinforcer you choose in step 1 like one chocolate chip. If he pees on the potty, give him 5 chocolate chips.
5 – Accidents
If your child has an accident, do not scold him. Explain kindly that pee goes in the potty. Take your child to the bathroom and have him repeat step 4. Charlie's therapists also recommended keeping a spreadsheet with the time you take your child to the bathroom, the amount of time he spent sitting on the potty, whether he peed or not, and an accident chart with the times as well.

Don't give up!
After a few days, I was about ready to give up with Charlie. He kept having accidents and he didn't even want to sit on the potty. He screamed bloody murder when we made him sit on the potty. It was hard. But after a few days of repeating the process of sitting on the potty every 30 minutes for 15 seconds, he got used to it. We had our first pee-success after about a week if I recall correctly.
2 years later, he has very few accidents as long as we remember to take him to the potty every hour or so. We're working on having him request to use the potty with his iPad. We're not quite there yet.
If potty training your ASD child doesn't work right away, it's okay. Be patient. There will be accidents and there will be frustration but if you stick to the plan, it will most likely work eventually. If your child is in therapy, ask for your therapist's support. It's important that everyone is on board and following the same plan for it to be successful. If after 3 weeks, you still haven't been successful, give yourself and your child a break and try again later. Remember that potty training a child with special needs is even harder than potty training a neurotypical toddler so don't be hard on yourself or your child.